YMMV •

Radar

•

Quotes

• (

Funny

•

Heartwarming

•
Awesome

) •

Fridge

•

Characters

•

Fanfic Recs

•

Nightmare Fuel

•
Shout Out

•

Plot

•

Tear Jerker

•

Headscratchers

•
Trivia

• WMG •

Recap

•

Ho Yay

•

Image Links

•

Memes

•

Haiku

•

Laconic

•
Source

•

Setting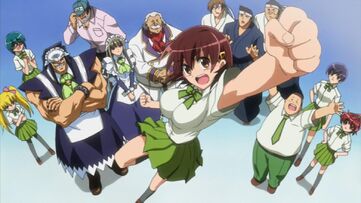 That's me, Maid Guy!
By and large, a show about breasts. And maids. But not put together.
In the history of anime, there have been robot maids, maids in debt, and teams of maids. A new kind of maid is here — the Maid Guy.
A ridiculously well-endowed highschool student named Naeka Fujiwara and her younger brother Kousuke are the last heirs in line to their grandfather's humongous fortune. Naeka in particular, since her 18th birthday is approaching. In order to protect them until Naeka's 18th birthday, their grandfather gives them two live-in maids. The first is Fubuki, a fine example of a Meido for Kousuke's tastes. The second...is Kogarashi, the Maid Guy. A monster of a man (in a dress) whose idea of service to his master is very rough around the edges.
Throw in more side characters from Naeka's school, Maid Guy's beyond-superhuman abilities, and a whirlwind of comedy begins. The anime series aired in spring 2008 as a Twelve-Episode Anime, followed by an OVD.
---
Tropes in Kamen no Maid Guy include:
 Kogarashi: So the clumsy maid is easy too.

Fubuki: Who are you calling "clumsy"?