Doctor Strange in The Multiverse o Madness - The Loop
Play Sound

YMMV •

Radar

•

Quotes

• (

Funny

•

Heartwarming

•
Awesome

) •

Fridge

•

Characters

•

Fanfic Recs

•

Nightmare Fuel

•
Shout Out

•

Plot

•

Tear Jerker

•

Headscratchers

•
Trivia

•

WMG

•

Recap

•

Ho Yay

•

Image Links

•

Memes

•

Haiku

•

Laconic

•
Source

•

Setting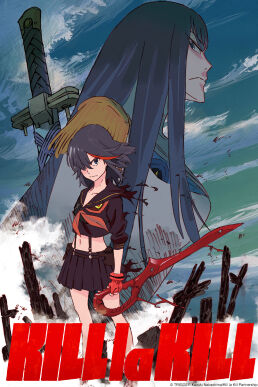 Kill la Kill (キルラキル, Kiru Ra Kiru) is an anime television series that premiered in Japan between October 3, 2013 to March 27, 2014 and ran for 24 episodes, with a 25th OVA episode that was released in September 3, 2014. The series is Studio Trigger's first original television anime project, directed by Hiroyuki Imaishi and written by Kazuki Nakashima, both of whom had previously worked together on Tengen Toppa Gurren Lagann, and with character designs by Sushio. A manga adaptation by Ryō Akizuki was serialized in Kadokawa Shoten's Young Ace magazine from 2013 to 2015. A videogame with a slightly divergent plot was released in 2019.
Kill la Kill is set at Honnōji Academy (本能字学園, Honnōji Gakuen), a fictional high school in Tokyo Bay set in post-apocalyptic Japan that is dominated by its fearsome student council, led by the VERY powerful Academic Alpha Bitch Satsuki Kiryūin and formed by her her henchmen, the Elite Four (四天王 shitennō) [Uzu Sanageyama, Ira Gamagoori, Houka Inumuta and Nonon Jazukure]. The council members wear special uniforms called Goku Uniforms (極制服 gokuseifuku, lit. high quality uniform, from gokusei + seifuku) that grant them superhuman abilities, which they use to oppress the rest of the school's students and staff...
Ryūko Matoi, a highschool girl wielding half a scissor-shaped longsword, transfers to Honnōji Academy in search of the owner of the other half of the scissor blade: the person who killed her father, the Mad Scientist Isshin Matoi. Defeated by the council after interrogating Satsuki over the killer's identity and whereabouts, Ryūko comes across a sentient sailor uniform she names Senketsu, who puts himself on Ryūko. Using Senketsu's special abilities, Ryūko stands up against Satsuki and the Elite Four to liberate Honnōji Academy from their iron grip and find out the truth behind her father's murder.
As she fights her way into Honnōji, Ryuuko makes a friend in a normal student named Mako Makasnshoku, whose humble family takes her in as a sort-of adoptive daughter. Then, she finds out that her father's past is deeply tied to Honnōji itself AND some of his old friends are still there (like the teacher Aikurou Mikisugi, actually a member of the anti-Honnōji rebel group Nudist Beach), and unlocks many truths, lies, and plans that are centered not just on Isshin, Satsuki and herself, but on the actual leaders of Honnōji: Satsuki's mother Ragyo Kiryūin and her henchwoman Nui Harime.
Tropes used in Kill la Kill include:
Abusive Parents: Ragyo Kiryuin is one of the worst anime parents ever. She not only emotionally abuses Satsuki, but also molests her (and onscreen, even!) has no qualms on beating her up if she rebels. Basically, Ragyo is the reason why Satsuki is the way she is — and Satsuki loathes her.

Even more, when her second daughter turned out at birth to not be "appropiate" for her experiments, she literally threw the baby girl down a chute; this caused her and Satsuki's father to take the child and run the fuck out in an attempt to start countering Ragyo's horrible plans for her and Satsuki. And who did that baby girl grow into? Well, she became Ryuuko.
If Nui is to be considered as Ragyo's adoptive daughter, then she also counts as this to her. Nui is Ragyo's creation, after all.

Academic Alpha Bitch: "Lady" Satsuki is the most over the top example ever, running Honnōji High like a dictator.
Acquired Situational Narcissism: In Episode 7, Ryuko develops a scheme to raise Mako's family into the upper echelons of society. Literally the second they move into a mansion, the family gets caught up in the life of luxury, and they all grow distant from each other. Satsuki, of course, is counting on this very trope, which is why she let Ryuko go through with her scheme in the first place. And unlike most examples of this trope, which fail to justify the need to remove riches before human decency returns, here, it's outright stated that living in luxury is a form of slavery, removing people's will to fight against classism and injustice. Siddhartha Gautama would be proud (well, provided he could look past the fact that this lesson is being taught in such a Fanservice-y anime).
Action Girl: Ryuko
Aesop Amnesia: Averted in Episode 8. Satsuki effectively strips the whole Academy of their ranks, and initiates a free-for-all where the last people standing become the new top dogs. Mako's family doesn't even bother to join in on the fighting; they outright state that after their recent Acquired Situational Narcissism incident, it'd be rather stupid to get caught up in rising through the ranks again.
All Men Are Perverts: Especially the ones in Mako's family.
Applied Phlebotinum: Subverted. Life Fibers seem like this at first, but are later revealed to have a very in-depth backstory that pushes them firmly out of this trope. If you're not concerned about spoilers, then you can read about them here.
Asskicking Equals Authority / Authority Equals Asskicking: Works both ways. In the Academy, your rank is directly proportional to your fighting prowess. The quality of your uniform, which enhances your fighting skills accordingly, is determined by your rank. It's like the principles of real-world capitalism, translated into fighting anime rules; the strong become stronger, and the weak become weaker.
Back-Alley Doctor: Dr. Barazo, Mako's father. Don't worry, he's killed more people than he's saved.
Beam-O-War / Loud of War: How Ryuko ultimately defeats Nonon.
Because You Were Nice to Me: Ryuuko is an aloof new girl, but Mako immediately latches on. her. Ryuuko at first pushes her away, unsure of what to think of a girl that she barely knows... but then she meets her family, and they let her live with them and pretty much take her under their wing. From then on, Ryuuko does her best to keep Mako safe to repay their kindness.
Bilingual Bonus: "La" is a Spanish article that must be used to refer to a female subject. Knowing this gives out that the killer Ryuko seeks is female.

And she turns out to be Nui.

Blood Knight: Ryuko, quite literally. Her superpowered clothing is even powered by blood!
Chivalrous Pervert: Senketsu, Ryuko's clothing. Even though it's uncomfortably intimate with Ryuko, and withholds its full power unless she fights half-naked, it's also fiercely protective, and would rather sacrifice itself than let her come to harm. It's actually quite heartwarming, in a weird way.
Combat Sadomasochist: Gamagoori.
Comically Missing the Point: This is basically Mako Mankanshoku's schtick, after her genkiness.
Dead Guy on Display: A Honnouji student tried to steal one of the Power Armor suits: as a result, he was executed and his naked body was hung in a Crucified Hero Shot with a sign saying (paraphrased): "This is a naked pig that tried to defy Honnouji Academy. And thus, justice was dealt."
Deceased Dad: Isshin Matoi, Ryuko's father. The plot kicks off with her wanting to avenge his death.
The Ditz: Mako.
Dark-Skinned Blond: Gamagoori. Apparently, his father is from the USA.
Dumb Is Good: Mako.
Eye Scream: Someone did this to Nui in the past.

That someone was Isshin Matoi, and he did it right before she killed him.

Much later,

Sanageyama

willingly subjects himself to this via having his eyelids sewn shut,

as a way to overcome his fighting weaknesses.

The Fake Cutie: Nui Harime, from the moment she first graces the screen. She almost never stops being cute and cheerful, even when killing in cold blood. The only times she isn't smiling are those when she gets stabbed in the eye, hears the name of someone who did it to her in the past, or finds herself at a disadvantage.
Five-Bad Band: The Student Council. Actually, a Five-Man Band: they're Good All Along.
The Fool: Mako. She may be dim, but she is luck personified. She may not know what she's doing most of the time, but you can rest assured that whenever she gets involved in any situation, her friends' and family's fortunes are going to change for the better.
Genki Girl: Mako.
Good All Along:

Satsuki and the Elite Four. Satsuki's whole life has been guided by her plan to punish Ragyo for throwing her little sister away at birth and abusing the fuck out of her, and the Four were on it.

Green Thumbs: The entirety of the Gardening club.
Hot-Blooded: Everyone in the series, one way or another.
Impossibly Cool Clothes: Senketsu.
Improbable Weapon User: Ryuko fights with one-half of a pair of giant scissors.
La Résistance: Nudist Beach, led by Mikisugi and his colleagues.

It was founded by Isshin Matoi.

Magnificent Bastard: Satsuki.
Mad Scientists: The entirety of the Biology club.
Mega Corp: REVOCS
Ms. Fanservice: Ryuko. Even though Satsuki shows an equal amount of skin when she transforms, Ryuko still gets considerably more Gainaxing and Panty Shots.
Musical Assassin: Jakuzure, the Non-Athletic Club Regulator, who also doubles as leader of the school marching band. All of her attacks are musical in nature: speakers that fire heavy bass shockwaves, razor-sharp musical notes, etc.
Nuclear Family: The Mankanshoku family.
Power Armor: The Goku uniforms, Senketsu and Junketsu.
Psycho for Hire: Nui Harime.
Sensible Heroes, Skimpy Villains: Zig-zagged. At first, Ryuko's outfit is much more risque than what the villains wear (though no more ridiculous). Then Satsuki dons her own superpowered outfit, which is even skimpier than Ryuko's. And it's a plot point: Ryuuko beng "sensible" limits her potential, whereas Satsuki being "skimpy" makes her a stronger fighter.
Seppuku: After Gamagoori loses to Ryuuko, he attempts to do this. Satsuki does NOT let him.
Stepford Smiler: Nui Harime.
Stripperiffic: Kamuis; they give Witchblades a run for their money.
Tongue Suicide: In episode 25, this was mention as one of the course of action.
Walking Shirtless Scene: Ryuko's homeroom teacher, Aikurō Mikisugi, when he's not in disguise.
Would Hit a Girl: All male characters will beat up women just as much as they'll beat up men. (In a World of Badass, showing chivalry to females is tantamount to suicide.)

The first character to demonstrate this trope is Fukuroda, from the first episode. He gives Ryuko a No-Holds-Barred Beatdown, and attempts to publicly execute Mako.
Category;Adult Swim