Wiki Targeted (Entertainment)
Play Sound

YMMV •

Radar

•

Quotes

• (

Funny •

Heartwarming

•
Awesome) •

Fridge

•

Characters

•

Fanfic Recs

•

Nightmare Fuel

•
Shout Out

•

Plot

•

Tear Jerker

•

Headscratchers •
Trivia •

WMG

•

Recap

•

Ho Yay

•

Image Links

•

Memes

•

Haiku

•

Laconic

•
Source

•

Setting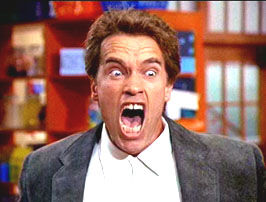 | | | |
| --- | --- | --- |
| |   "Who is your daddy and what does he do?" | |
Kindergarten Cop is one of Arnold Schwarzenegger's earlier comedic roles, following his comedy debut in Twins.
Arnold plays Det. John Kimble, a cop trying to put away drug dealer Cullen Crisp. Hoping to locate Crisp's estranged wife and son in order to draft them as witnesses, and having no information about them except the name of the school where the son goes, Kimble goes with his partner to find them. Initially it is his partner who is supposed to teach the kindergarten children with Kimble as the muscle, but when she gets food poisoning on the journey, Kimble has to do it.
Hilarity Ensues when tough guy Arnold turns out to be completely unprepared to take on the challenge of babysitting five-year-olds. Meanwhile, Crisp gets released from prison and sets out to find his family...
While the film was not what everybody expected thanks to deceitful trailers, it helped to type-cast Arnold as an action-movie actor, and was a moderate success.
Tropes used in Kindergarten Cop include:
| | | |
| --- | --- | --- |
| |  Twin Girls (in unison): Our mom says our dad's a real sex machine. | |
| | | |
| --- | --- | --- |
| |  Girl: I mean his wife took his kid and a couple of million... | |
Mood Whiplash: The principal pretends to throw a punch herself, still bathing in the afterglow of John beating the crap out of the abusive father. It's a cute and funny scene and oh holy shit, did they just cut to a corpse's face?! The juxtaposition is jarring, to say the least.

There's also the genuine joy on Crisp's face when he sees his son for the first time in ages, a stark contrast to the bastard we've been seeing throughout the film. Then the mood switches again later when he points a gun to his own son's head and any sympathy he got from you before flies out the window.

Papa Wolf: "You hit the kid, I hit you."

And don't forget the ending of the movie, which is

Kimble's showdown with Cullen, which includes him kidnapping poor Dominic and Kimble going after him.

Real Men Hate Sugar: John Kimble is visibly gargling at the taste of the sweet fruit jelly that the orderlies fed him as he lies bedridden in hospital. His visiting partner Phoebe points this out to the nurse.
| | | |
| --- | --- | --- |
| |   Phoebe: Nah, he doesn't wanna eat that. He's a tough guy. Tough guys don't eat jello. | |
They fed him Jello, never mind the fact that his arms worked just fine.

Red Shirt: Danny, the informant at the start of the film.
Ridiculously Cute Critter: The ferret.
Silence, You Fool: SHUT UUUUUUUUUUUUUUP!!!!!
Stern Teacher: Kimble finally settles on this as a teaching style. It works for him, being over six feet tall.
Trailers Always Lie: The trailer tries to fool you into thinking that there's just going to be a few introductory action scenes to ensure you know Kimble's a tough guy, before a movie full of jolly japes about him being overwhelmed by 5-year-olds. It's not. The film is better described as an action-drama, with emotional scenes of Kimble missing his own son and falling for a teacher, and a violent drug-dealer wanting his son back at any costs.
What Do You Mean It's Not for Kids?: Don't let the comedy claims fool you. The bad guy gets killed onscreen by Kimble, with multiple shots to the chest. Kimble takes three shots to his body. Some other characters are murdered. There's a kid who is beaten by his father. It's rated R for a reason.
What the Hell, Hero?: The lengths that Kimble goes to to get Cindy's testimony include shooting up a club, beating up kids in it, and threatening to stalk and harass her until she talks... which would DEFINITELY get him fired, but it works. It's even Harsher in Hindsight when that testimony

is what causes the bad guys to have Cindy killed.