House of the Dragon Trailer - The Loop
Play Sound

YMMV

•

Radar

•

Quotes

• (

Funny

•

Heartwarming

•
Awesome) •

Fridge

•

Characters

•

Fanfic Recs

•

Nightmare Fuel

•
Shout Out

•

Plot

•

Tear Jerker

•

Headscratchers

•
Trivia

•

WMG

•

Recap

•

Ho Yay

•

Image Links

•

Memes

•

Haiku

•

Laconic

•
Source •

Setting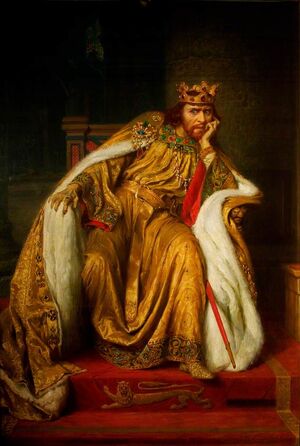 The life and death of King Iohn, or, in short, King John, is a play by William Shakespeare, thought to have been created somewhere between 1596 and 1598. It follows the life of John Plantagenet in his war against his rival, Phillip II of France, to his eventual death at the hands of a treacherous monk.
Tropes used in King John include:
 Life is as tedious as a twice-told tale

Vexing the dull ear of a drowsy man.

In another way, The Life and Death of King John tracks very closely to a play that is believed by most to have been published slightly earlier: The Troublesome Reign of King John. Shakespeare appears to have set out to write a much-improved version of that play, in which he succeeded by making John an Anti-Hero, removing the comfortable moral framework of the precursor, and removing a romantic subplot.