Doctor Strange in The Multiverse o Madness - The Loop
Play Sound

YMMV •

Radar

•

Quotes

• (

Funny

•

Heartwarming

•
Awesome

) •

Fridge

•

Characters

•

Fanfic Recs

•

Nightmare Fuel

•
Shout Out

•

Plot

•

Tear Jerker

•

Headscratchers

•
Trivia

•

WMG

•

Recap

•

Ho Yay

•

Image Links

•

Memes

•

Haiku

•

Laconic

•
Source

•

Setting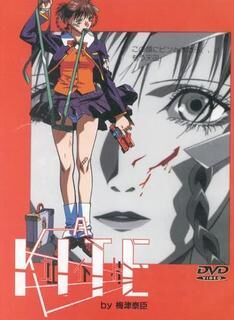 Kite is an Anime series in the action genre, written and directed by Yasuomi Umetsu. Originally released as a two-part OVA in 1998 by Japanese studio Green Bunny, it has since been edited for release in North America as a single "movie" by Media Blasters (general release) and Kitty Media (Kite: Director's Cut and Kite: Special Edition.) The original series was followed in 2008 by a sequel, Kite Liberator.
In Tokyo, a string of bizarre, unsolved murders have the police confounded and the media in a frenzy. The only known connections are the killer's use of exploding bullets, and the fact that each of the victims were famous, wealthy, or powerful individuals. Akai, the lead detective in these cases, knows more than he is letting on--not only have he and his partner ordered each of the killings, but many of them have been carried out by his lover and adopted daughter, Sawa.
Under the pretense of "cleaning up the city" by getting rid of corrupt politicians and child molesters that are outside the reach of the law, Akai uses Sawa as his personal assassin. Holding misguided affection for Akai after he "rescued" her as a child from the scene of her parents murder, Sawa has done his bidding for years without question. When she meets her male counterpart, a young man named Oburi who has been trained by Akai's partner "Kanie", Sawa begins to question her role in life and the events that led her there. However, Oburi and Sawa soon find out that giving up their current lives will be no easy task, for Akai is not the kind of man that will take "no" for an answer.
Kite is infamous for its extreme violence and depictions of graphic rape, some of which appear to involve victims who are clearly underage. Like Umetzu's similar work Mezzo Forte, it has received three releases in North America: A "General Release" with most of the sexual content removed, a subsequent "Director's Cut" that leaves most of the controversial material intact, and a "Special Edition" that is presented as being totally uncut.
Kite Liberator follows a new young female assassin named Monaka, who poses as a waitress in a maid cafe and kills criminals as "the Angel of Death" by night (said cafe also serves as the Front Organization). There are two primary storylines: one about the older brother of one of Monaka's past targets seeking revenge, and the other about Monaka's astronaut father coming home from space... wrong. Additionally, the sequel features a cameo by Sawa, now all grown up, Older and Wiser waitress colleague of Monaka (and a single mother). What Liberator doesn't feature is gratuitous rape and sex scenes. Your Mileage May Vary on that one...
---
Tropes used in Kite include:
| | | |
| --- | --- | --- |
| |    Sawa to Oburi's cats: "Be patient, my friends. Very soon, Oburi will come home to us — right?" | |

The following tropes are inherent spoilers. View at your own risk.
Spoiler Tropes