YMMV •

Radar

•

Quotes

• (

Funny

•

Heartwarming

•
Awesome

) •

Fridge

•

Characters •

Fanfic Recs

•

Nightmare Fuel

•
Shout Out

•

Plot

•

Tear Jerker

•

Headscratchers

•
Trivia

•

WMG

•

Recap

•

Ho Yay

•

Image Links

•

Memes

•

Haiku

•

Laconic

•
Source

•

Setting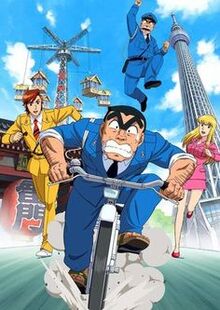 Kochikame (short for Kochira Katsushika-ku Kameari Koen Mae Hashutsujo, which translates to This Is the Police Station in Front of Kameari Park in Katsushika Ward) is a comedy manga in Weekly Shonen Jump written by Osamu Akimoto. The main character is Kankichi Ryotsu, a lazy, street-wise cop with Salaryman tendencies, like playing Pachinko, betting at the horses or trying his luck at custom get-rich-quick schemes. Some times, he even does police work.
Worthy to mention is that the manga did not have numbered chapters and was almost never considered to participate for the regular popularity polls in WSJ [1], basically meaning Mr. Akimoto could continue the series as long as he wanted. The series' heavy anti-cancellation armor showed for DECADES: it ran for FOURTY YEARS, from 1976 to 2016, with more than 1700 chapters. There were 200 manga volumes produced and more than 360 episodes aired on Japanese TV), which made Kochikame the longest-running manga series in history [2].
The series owed its longevity (and lack of chapter numbers) to the fact that it hardly ever used continuing plots. Instead, each chapter is a self-contained comedy tale, usually involving Ryotsu trying to get rich via some sort of scheme, which invariably backfired horribly. The straightforward plots meant that generations of Japanese kids were able to enjoy the series without prior knowledge of previous stories. The series remained fresh by taking most of its humor from pop culture and real world events: often Ryo's latest scheme involves capitalizing on some current fad or event in the news.
In its 30th anniversary (2006), Mr. Akimoto was awarded with many Shueshia's (and other publishers as well) artists making Crossovers with his series, such a event being legendary since when artists are invited to pay a homage to Long Running series in Jump, said artist will likely draw a character from the series with his own artstyle and not much else; Kochikame got actual crossovers, full self-contained stories and appearing in other Jump series as a Cameo, it also made some artists who were working in nothing at all to get off their seats and make a story just for this ongoing legend.
Even after the manga officially finished in 2016, it didn't automatically "die". Shueisha reprinted the issue that included the final chapter on December 31, 2016, marking the first time a Weekly Shōnen Jump issue has ever been reprinted. Akimoto created a new chapter of Kochikame for the 42nd issue of Weekly Shōnen Jump on September 16, 2017. And from March 2017 to June 2019, Akimoto serialized a sequel in the seinen magazine Ultra Jump. Titled Ii Yu Da Ne! (いいゆだね!, "What a Nice Bath!"), it is set in a sentō next to a police station in Shitamachi, Tokyo.
---
Kochikame provides examples of:
| | | |
| --- | --- | --- |
| |  "He can be run over by a train and nothing will happen to him!" | |
Semi-subverted on an episode where he is actually hit by a train and he does die, but of course he's alive and kicking by the end of the episode.

Non-Idle Rich: Nakagawa and Akimoto are prime examples, being REALLY rich and also very competent cops. They're not over Crimefighting with Cash, though, usually at Ryotsu's request.
Nosebleed: Ex mercenary cop, Volvo Saigo is very unaccustomed with women. He gets a nosebleed whenever he's in sexual contact, physically or mentally, with a woman.
Only Sane Man: The Chief, Akimoto and Nakagawa. Usually, since all three lose it from time to time.
Otaku: Oh, so many. Ryotsu himself loves video-games and anime collectibles like scale models. Hard-boiled, tough-as-nails Sakonji is addicted to dating sims, much to his own shame. Honda likes manga for girls and Idols, while his girlfriend and fellow policewoman Nana Otohime is a popular mangaka.
Perpetual Poverty: Ryotsu's convoluted money-making schemes always fail miserably, usually after an initial degree of success.
The Pirates Who Don't Do Anything: Though he's always wearing the uniform, years worth of chapters can go by without Ryo being shown doing any actual police work.

Completely averted in The Movie which turns the series into a cop thriller, with mixed results.

Shout-Out: The in-series Dating Sim "Dokidoki Memorial", a parody of Tokimeki Memorial. It even has for its main heroine a character named "Saori Saotome", written with composite kanjis of the names of Tokimemo heroines Saki Nijino ("Sa"), Shiori Fujisaki ("Ori"), and Yumi Saotome, and is voiced in the anime version by Shiho Kikuchi, the seiyuu of Tokimemo heroine Miharu Tatebayashi.
Status Quo Is God: There is some sort of vague and nebulous continuity, but every major change (such as Ryotsu leaving the Police Station "for good" or getting engaged) is undone before the end of the episode.

Transsexual

: And a good-looking one... Ai "Maria" Asato, pre-op transsexual copper extraordinaire. Eventually he becomes a real woman by pure Applied Phlebotinum.
Trouser Space: Special Detective Kitano who only wears a necktie, a speedo, and pistols often pulls out a banana or a cell phone from his speedo and is not space consuming. His items don't don't appear when he fights completely unarmed by removing his weapons and his speedo.