Cobra Kai Season 4 - The Loop
Play Sound

YMMV •

Radar

•

Quotes

• (

Funny

•

Heartwarming

•
Awesome) •

Fridge

•

Characters •

Fanfic Recs •

Nightmare Fuel

•
Shout Out

•

Plot

•

Tear Jerker •

Headscratchers

•
Trivia

•

WMG

•

Recap

•

Ho Yay

•

Image Links

•

Memes

•

Haiku

• Laconic •
Source

•

Setting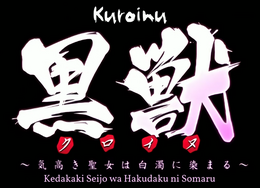 Kuroinu is one of the most popular hentai in The New Tens, composed of four OVAs (from 2012) and two special episode (released in 2018) based off a visual novel created by Liquid. An official manga adaptation was also created.
An epic battle was taking place for more than several hundred years between two countries, one of Humans and the other of Dark Elves. The humans hired a group of mercenaries, the Kuroinu group, but they betrayed them to form their own nation: the Sex Empire. And now, the Kuroinu army, led by the Villain Protagonist Vault, has begun to conquer every single land, extending their influence and sexually enslaving the women around them — their specific targets are Olga alias the Queen of the Dark Elves, her bodyguard Chloe, and the Seven Princess Knights of the Human Realm (Celestine Lucross, Claudia Levantine, Prim Fiorire, Alicia Arcturus, Kaguya, Maia and Luu-Luu).
A sequel to the visual novel was released in 2018 that takes 150 years after the original story.
Tropes used in Kuroinu Kedakaki Seijo wa Hakudaku ni Somaru include: