Jurassic World: Dominion Dominates Fandom Wikis - The Loop
Play Sound

YMMV •

Radar

•

Quotes

• (
Funny

•

Heartwarming

•

Awesome) •
Fridge

•

Characters •

Fanfic Recs •

Nightmare Fuel

•
Shout Out

•

Plot

•

Tear Jerker •
Headscratchers

•
Trivia

•

WMG

•

Recap

•
Ho Yay

•
Image Links

•

Memes

•

Haiku

• Laconic •
Source

•

Setting
Dark Elves
Olga Discordia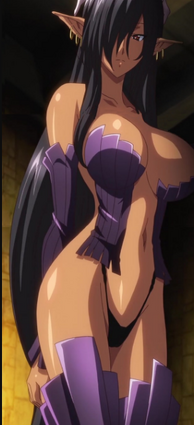 The Queen of the Dark Elves. Olga rules the Northern region of the land of Eostia where the dark elves and monsters reside. Being a noble, she tends to look down on others, and doesn't show much emotion for the things happening around her. She is stated to be a powerful sorceress, and has been at war with Celestine for hundreds of years. She, along with her right-hand woman, Chloe, were captured by the Kuroinu mercenaries at the beginning of the story after Olga's magical abilities suddenly started to decline, allowing the mercenaries to convince Olga's monsters to preform a coup d'etat against her.
Chloe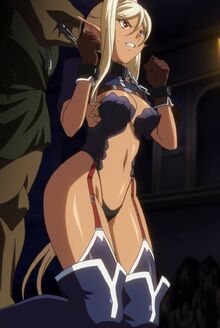 A young dark elf who has swore loyalty to Olga, and has faithfully served her as Olga's personal servant. She is the daughter of a male human and a female dark elf, making her half-human and half-elf. She spent most of her childhood as a slave for the aristocrat, Sir John Mandeville, before being rescued by the dark queen. Chloe is very serious about serving Olga, and as such, she can get angry very fast if somebody badmouths her dear queen. Chloe, along with Olga, was captured by the Kuroinu mercenaries at the beginning of the story.
The Seven Princess Knights
In General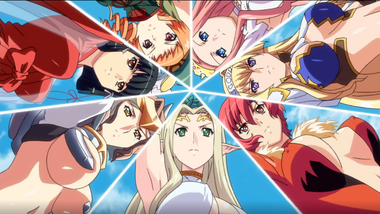 The seven princess knights are the leading figures of the land of Eostia's allied forces. They were chosen by Celestine to help her govern her territory. Each princess is assigned to guard a fortress within the continent.
Celestine Lucross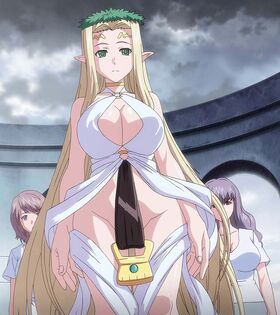 The High Queen of the Continent and leader of the allied forces. Celestine is a high elf and apparently the "Reincarnation of the Goddess". She was the one who organized the princess knights by selecting seven individuals, including herself, to be the rulers of her territory. Ultimately, she was final princess knight to be captured by the Kuroinu mercenaries.
Claudia Levantine
A holy knight and the commander-in-chief of the allied forces. Claudia is the strongest fighter among the princess knights, and acts as Celestine's bodyguard. She was trained by one of the allied forces's strongest soldiers, her father figure and mentor, Grave Levantine. She would later marry her mentor's biological son, Klaus. However, despite being married for some time, she and Klaus were unable to produce any children, much to Grave's dismay. Claudia was the second-to-last princess knight to be captured after being betrayed and defeat by Grave.
Alicia Arcturus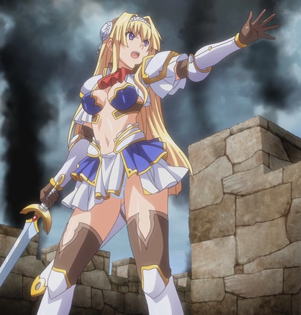 Referred to as the "Princess Knight of Iris". Alicia is a prestigious noble who is the only daughter of Eos, well-known and very honored through the army. Alicia is the older cousin to fellow princess knight, Prim, who she views and refers to as her younger sister. She also serves as Prim's personal bodyguard. Alicia was the first princess knight to be captured, after choosing to surrender to save her kingdom's captured nuns.
Prim Fiorire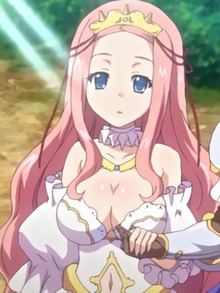 Alicia's younger cousin and a princess with a lovely appearance and gentle characteristics. Despite being Alicia's cousin, Prim views her more as an older sister, and referred to her as such. Prim is the second princess knight to be captured shortly after Alicia's surrender.
Kaguya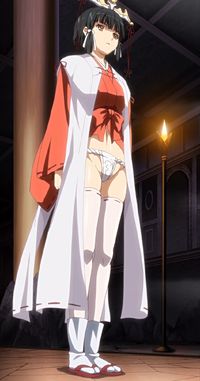 The head shrine maiden of the continent and a foreigner from the far east. Kaguya is stated to have a quite personality and is extremely devoted to her religion. Like Olga, Kaguya possesses some magical abilities and can inflict curses. She is the third princess knight to be captured (fifth in the OVA version).
Maia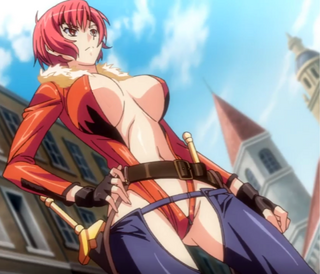 A wandering mercenary and former member of the Kuroinu group. When she was a member of Kuroinu mercenaries, she fell in love with their leader, Vault who once saved her life. She was also very popular among their ranks, before leaving the group after she was chosen by Celestine to be one of the princess knights. She is the fourth princess knight to be capture (third in the OVA version) after being defeated by Vault.
Luu-Luu
An axe-wielding leader of the halflings. Halfling are small, child-like, solely female race of half-humans that can mate with any other species. Luu-Luu, like the rest of her species, has superhuman strength (despite her small frame), and is skilled in manufacturing weapons. She is the fifth princess knight to be capture (fourth in the OVA version).
Kuroinu Mercenaries/ Black dog Mercenaries/ Sex Empire
In General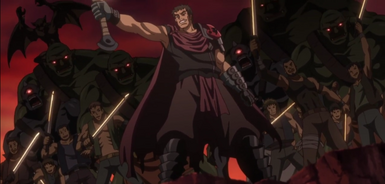 Originally a rowdy bunch of mercenaries that were hired by the Princess Knights to help them defeat Olga and her monster forces. However, once they were able obtain Olga's resources and convinced her monsters to join their side, the mercenaries declared their independence from the rest of the country. Their goal is to create an empire where the woman are forced to appease the sexual desire for the men of the country.
Vult
The "King of Mercenaries" and leader of the Sex Empire. An outlaw who works to fulfill his desires. Looks like a man in his late 30s. He possesses strong leadership skills and is also a gifted strategist. His personal combat skills are excellent, and he's a man filled with carnal lusts at heart. He lives for the flames and struggles of war and actively spearheads the pillaging and rape of others.
Kin
One of Vult's two Co-Dragons and the groups residential spell caster.
Hicks
Vult's other Co-Dragons and field leader when Vult isn't around.
Grave Levantine
A legendary warrior from a family of knights that is the father to Klaus and father-in-law to Claudia. Grave was original Claudia's mentor who trained his adoptive daughter to be holy knight, hoping that when she and Klaus marry, that they would be able to produce a child that while grow up to be a powerful warrior. Unfortunately, Claudia and Klaus were not able to produce any children, despite being married for some time. Fearing that his bloodline will end with him and Klaus, he joins Kuroinu Mercenaries so that he can personally rape and impregnate his daughter-in-law without repercussions.
Shamuhaza
A foreigner from the far east that can control insects and has a history with Kaguya. His ultimate goal is to have his former friend give birth to a insect that can rival God.
Beardsley
An advisor for Alicia's family. With his betrayal, he allowed Vault's forces to invade the kingdom.
Other Characters
Knight Commander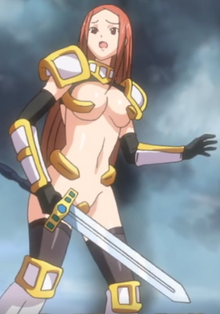 A commander that works under the Seven Princess Knights. In the visual novel she works under Claudia, while in the anime she works under Alicia. In the visual novel, her squadron was captured by a horde of trolls when the Kuroinu Mercenaries attacked Claudia's fort. In the anime, she and the rest of Alicia's citizens were captured when the princess surrendered her fort.
Nuns
A group of nuns who lived at Princess Alicia's kingdom before it got invaded by the Kuroinu forces and they were captured. They served to break Alicia into willingly surrender.
Klaus Levantine
Klaus is the son of Grave Levantine and the husband of Princess Knight, Claudia.