YMMV •

Radar

•

Quotes

• (

Funny

•

Heartwarming

•
Awesome) •

Fridge

•

Characters

•

Fanfic Recs

•

Nightmare Fuel

•
Shout Out

•

Plot

•

Tear Jerker •

Headscratchers

•
Trivia •

WMG

•

Recap

•

Ho Yay

•

Image Links

•

Memes

•

Haiku

•

Laconic

•
Source

•

Setting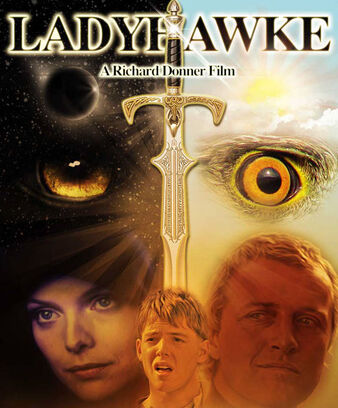 The story takes place in a fantasy medieval setting and starts with a young thief named Phillippe the Mouse escaping from an inescapable prison through its sewers. Said prison and the lands around it are controlled by a Corrupt Church led by a Bishop who is none too pleased to hear of Phillipe's escape, since the prison is supposed to be inescapable, after all. The Bishop sends his soldiers out to kill Phillipe, but just as they catch up with him Phillippe is rescued by the mysterious Navarre, who is accompanied everywhere by his Cool Horse and hawk.
Navarre turns out to have been the former Captain of the Bishop's guards, and he has a score of his own to settle with the Bishop. See, the Bishop was lusting mightily over a young woman named Isabeau, but Navarre and Isabeau fell in love and when it looked like they would escape the Bishop, he cursed them so that by day Navarre would be human and Isabeau a hawk, while by night Isabeau would be human, and Navarre a wolf. As a result, while the two lovers may be together, they are always separated. Now Navarre is looking to get revenge, and to use Phillippe's knowledge of the sewers that lead into the Bishop's fortress to his advantage.
The film contains a number of both veteran actors (such as John Wood, Rutger Hauer, and Leo McKern) and young actors who would go on to become household names (Matthew Broderick and Michelle Pfeiffer) so despite the times that it veers into camp it is often well acted.
Tropes used in Ladyhawke include:
 Imperius: Thank you for trying, and for standing up for the truth.

Phillipe: I should have known better. Every moment of happiness in my life has come from lying.
| | | |
| --- | --- | --- |
| |   Phillipe: I told the truth, Lord! How can I learn any moral lessons when you keep confusing me this way? | |
At the end of Phillipe's and Isabeau's near-capture at the monastery:
 Guard: Where's the woman?

Phillipe: She flew away.

Guard: WHERE IS SHE?

Phillipe: God's truth, she flew away!

Guard: YOU L-AAAGH!!! (Guard is shot by Navarre and falls.)

Phillipe: (beat)... It pays to tell the truth, Lord. Thank you. I see that now.
| | | |
| --- | --- | --- |
| |  Navarre: This sword has been in my family for five generations. It has never known defeat, until now. | |
| | | |
| --- | --- | --- |
| |  Phillipe: (to Imperius) When you kneel before the altar, how do you get up again? | |
 Phillipe: I believe he was heading south, toward Aquila.

Guard: Then we ride north, sir!

Phillipe: It's impolite to assume someone is a liar when you've only just met them!

Guard Leader: And yet you knew we would... we ride south.
| | | |
| --- | --- | --- |
| |   Phillippe (to Navarre): No offense, sir, but I talk to God all the time, and He never mentioned you. | |
 Imperius: Remember-

SPLASH!

Imperius: Walk on the left side.
Mercy Kill:

Ultimately subverted.

Non-Human Sidekick: Both Navarre and Isabeau are this to each other.
Ooh, Me Accent's Slipping: Matthew Broderick does an alright job for the first 15 minutes, then we're basically just watching Ferris Bueller swanning about Medieval France.
Our Werebeasts Are Different: As the result of a Curse, Navarre turns into a wolf at night, and his lady turns into a hawk during the day.
The Queen's Latin: If we infer from the names we can guess the film is set in France, yet everyone speaks with received pronunciation, or ...tries to.
The Reveal:

Imperius didn't betray the lovers. Marquet did - to replace Navarre as the Captain of the Guard.

Shape Shifter: Navarre and Isabeau.
Sinister Minister: the Bishop.
Soundtrack Dissonance: Medieval setting with Alan Parsons Progressive Rock music. Kind of a Base Breaker.
Star-Crossed Lovers: Invoked by the Bishop on Navarre and Isabeau.
Stepping Stone Sword: A sword is at one point used to anchor a rope for people to cross thin ice.
Sword Fight: Surprisingly realistic ones, at that.
Sword Plant: Several times, for different reasons.
Throwing Your Sword Always Works: If you're Navarre.
Unexplained Accent:

Rutger Hauer

, a Dutch actor, acting in a film set in Medieval France, adopts an American accent.
What the Hell, Hero?: At one point, Navarre flips out at Philippe

for supposedly losing his sword

. He gets called out first by Mouse, who tells him he's being selfish with his fixation on revenge, but doesn't really snap out of it until

he sees the cuts all over Philippe's chest-- which he inflicted, in wolf form, when Philippe saved his life.

Yandere: The Bishop. He puts a cruel curse on the two lovers so they can never see each other. All because the woman doesn't want him.