Doctor Strange in The Multiverse o Madness - The Loop
Play Sound

YMMV

•

Radar

•

Quotes

• (

Funny

•

Heartwarming

•
Awesome

) •

Fridge

•

Characters

•

Fanfic Recs

•

Nightmare Fuel

•
Shout Out

•

Plot

•

Tear Jerker

•

Headscratchers

•
Trivia •

WMG

•

Recap

•

Ho Yay

•

Image Links

•

Memes

•

Haiku

•

Laconic

•
Source

•

Setting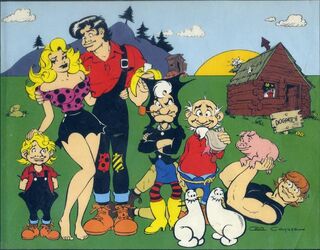 A seminal and long-running (1934-1977) newspaper comic strip by Al Capp, which detailed the bizarre lives and loves of the hillbilly inhabitants of Dogpatch, USA. The title character was the perpetually 19-year-old big-hearted lunkhead, the son of spitfire Pansy "Mammy" Yokum and the dull-witted useless Lucifer "Pappy" Yokum. For much of the early years of the strip, the marriage-fearing Abner was pursued aggressively by the lovely Daisy Mae Scragg; in 1952, Capp gave in and let her finally marry Abner. The strip was known for its vicious satire of current events, initially from a more liberal perspective though switching to a conservative bent in its twilight years as Capp grew older. Many of the storylines focused on the innocent Abner being placed in positions where he was easy prey for corrupt villains.
At the height of its popularity, it ran in over 900 newspaper in North America and Europe and an estimated 70 million Americans read it every day. The wedding storyline became a major media event, even making the cover of Life magazine. Al Capp became a regular face in television during the height of the strip's popularity in the golden age of newspaper comics, and one of the few cartoonists to remain a public figure in his own right. Eventually, time took its toll and in 1974, Capp, feeling the previous five years of his strip were terrible and his health failing rapidly, called it quits. The strip's swan song received even more massive coverage in the press, with many calling it the end of an era. Capp himself passed away in 1979.
During the strip's run, it was adapted into two films, a Broadway musical (which served as the basis for the second film), a radio serial that ran from 1939 to 1940 and five short animated films made by Columbia Cartoons in 1944. While the series itself never became a television show (despite an unsold pilot airing just once on NBC in 1967), Fearless Fosdick, a ruthless parody of Dick Tracy, briefly spun-off into his own 13-episode puppet show that was swiftly canceled, while the Shmoo appeared in two Saturday Morning Cartoon series for Hanna-Barbera in 1979 and again in 1980-1984 (both times sharing billing with Fred Flintstone and Barney Rubble). A theme park, Dogpatch, USA, opened in 1968, though it was largely unsuccessful for most of its life and closed in 1993 (though most it is still standing).
While far more obscure in the decades since its ending, the strip left a legacy at extreme ends of the pop-culture spectrum by introducing both Sadie Hawkins and Julie Newmar to the world, as well as endless productions of the musical in high schools around the United States. It is also credited with introducing several colloquialisms into the English language, including "schmooze", "irregardless", "druthers", and even the word "schmoo" has entered into at least four separate fields of science.
Due to the sheer length of the comic, a comprehensive reprint has yet to reach completion. Through the decades, numerous smaller collections of storylines were released, until 1988 when Kitchen Sink Press attempted the mammoth task of reprinting the series in its entirety, reaching 27 volumes before the company unfortunately went under in 1999, getting the series only to 1961. IDW began another attempt at a reprint in 2010, starting all the way from the beginning and so far having released 2 volumes out of a projected 21 volumes.
United Features Syndicate continues to run free daily reruns of a select number of classic Li'l Abner strips on comics.com (though these are hardly complete, jump from plot to plot without conclusions to many of them, and rerun the same storylines over and over).
---
Provides examples of: