Jurassic World: Dominion Dominates Fandom Wikis - The Loop
Play Sound

Quotes

•
Headscratchers

•
Playing With

•

Useful Notes

•

Analysis

•
Image Links

•

Haiku

• Laconic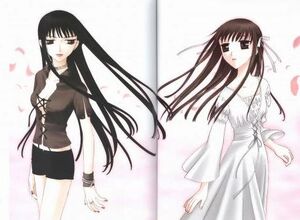 This is a character contrast trope. Both female characters are decidedly feminine, but in different ways. The Light feminine is generally angelic and feels love. The Dark feminine is generally devilish and plays with desire. In the Tomboy and Girly Girl contrast, either type applies. When a love interest is involved, it's likely to lead to a Betty and Veronica love triangle: Betty being the Light feminine, and Veronica being the Dark feminine.
As with any two character trope, the two characters have to have some sort of relationship with each other, be it friends, family, love interests, or rivals for a love interest, so the two characters can be playing the traits directly off of each other.
The dark feminine character is not necessarily a villain or a whore but can also be half of a good girl, bad girl or naughty and nice pair. The Light Feminine, on the other hand, can show a less than wholesome side or even get some dark feminine traits. Remember not to put a square peg in a round trope, and that Dark Is Not Evil AND Light Can Be No Good at times.
Compare The Three Faces of Eve. The Spear Counterpart is Noble Male, Roguish Male.
Examples of Light Feminine and Dark Feminine include:
Pictured above: Fruits Basket has Tohru Honda (Light) and Isuzu "Rin" Sohma (Dark). Tohru is a Yamato Nadeshiko All-Loving Heroine who cares for everyone around her, hides her own bad feelings and dresses modestly (save for her school uniform's Magic Skirt), while Rin is a Miss Fanservice Broken Bird who is very blunt about what's in her mind and wears very sexy clothes.

Later, Tohru gets to play this straight with Akito Sohma, a Bifauxnen who rules the Sohma clan through fear and abuse, but is deep down a Broken Bird who's terrified of abandonement.

Gundam Seed Destiny invokes the trope with the softspoken, Yamato Nadeshiko-like Idol Singer Lacus Clyne and her much Hotter and Sexier Body Double, Meer Campbell.
Nanako Misonoo and Mariko Shinobu from Oniisama e..., contrasting with the Bifauxnen and Ladette duo of Rei Asaka and Kaoru Orihara and the Tomboy and Girly Girl deals between Nanako and Tomoko Arikura. While cute, mild-mannered Nanako sits firmly on the Yamato Nadeshiko spectrum, Mariko is a fair-skinned, raven-haired Yandere (with shades of Tsundere) from day one.
In Yu-Gi-Oh!, Mai Valentine/Kujaku plays Dark Feminine to first Tea/Anzu's and then Serenity/Shizuka's Light Feminine.
There's more of one of these duos in Bleach. I.e., Rangiku Matsumoto is a good Dark Feminine due to her Bottle Fairy and Ms. Fanservice sides, and she has two prospect Light Feminines: Barrier Warrior Orihime Inoue and Nice Girl Momo Hinamori, with whom she occasionally doubles as Lovely Angels.
Mawaru Penguindrum gives us Himari Takakura (Silk Hiding Steel Girl Next Door) and either Masako Natsume (Action Girl Large Ham) or Yuri Tokikago (Badass Normal who swears by the Rule of Glamorous).
Detective Conan: Yukiko Kudo and

Sharon Vineyard aka Vermouth.

Puella Magi Madoka Magica:

Homura Akemi embodies both sides. She starts as "Light" as she's a shy, clumsy and kind Meganekko, then switches to Dark as she reinvents herself as a Tall, Dark and Bishoujo Dark Magical Girl.
For Madoka, it's Mami (Light) vs. Homura (Dark) (but see also the spoilered part above). For Mami, it's Madoka (Light) vs. Kyouko (Dark). For Yuma, it's Mami (Light) vs. Kyouko (Dark).

Fullmetal Alchemist has the Elric brothers, Roy Mustang, and Mustang's five subordinates versus the Big Bad and the seven Homunculi, who represent the seven deadly sins. There's one female in each group of eight - the Action Girl Riza Hawkeye is Light Feminine, The Vamp Lust is Dark Feminine.

Counting the ladies in the Amestrian Military, Riza is the Light Feminine to the Lady of War Olivier's Dark Feminine.

Princess Tutu has Ahiru/Duck as Light Feminine and Rue as Dark Feminine. The former is a cheerful and clumsy Genki Girl whose mission in life is simply to her love interest Mytho to smile. The latter is an elegant and aloof Ojou who also loves Mytho, but in a far more possesive way and has a Dark and Troubled Past with him. Both girls have white and black costumes of their respective Magical Girl personas, Princess Tutu and Princess Kraehe. Also, they're both based on Odette and Odile from the ballet Swan Lake. Uncommonly, the Dark Feminine "wins" here: this is because Ahiru's love was mostly based on sincere yet child-like admiration (plus she comes to truly love another man), while Rue loves Mytho deeply and sacrifices herself for him when he needs it. Plus their "roles" were crafted by Drosselmeyer so he can have the tragedy he wants REALLY badly, and stepping out of them helps everyone Screw Destiny.
Bitter Virgin has manipulative, vain Kazuki as Dark Feminine and meek, childlike Hinako as Light Feminine.
Umineko no Naku Koro ni has kind, motherly Shannon and decadent, sadistic Beatrice.

Of course, since the two are one and the same, Beatrice becomes more Light Feminine as the series goes on

.
Sara Uchida and Akiko Hashou from Kasei Yakyoku. On one hand, Sara is the Light: she's a kind, quiet, lovely maid who dreams of a better future and tends to wear kimonos. On the other, Akiko is the Dark: she's straightforward, kind of The Tease, determined to have control of her own life as a "new woman", and mostly dresses in Western style.
In Kimagure Orange Road, Madoka and Hikaru began as a Tomboy and Girly Girl duo but moved into this as teenagers. The Light Feminine Hikaru is giggly, cheerful and naive while the Dark Feminine Madoka is a sexy and tough Broken Bird.
Natsu e no Tobira: Ledania is the Light, as a shy and teenaged Woman in White with gentle and quiet behavior plus blond hair; Sara is the Dark as an older and sex-aware adult woman with Raven Hair, Ivory Skin looks. The story has them as Foils: the chaste Ledania is a symbol of passive innocence who can only watch as everything goes to Hell, while the sensual Sara is more of an "adult lover" and The Tease who dramatically "moves" the plot as she appears. Plus they have romantic ties to Marion, but Ledania has her Love Confession rejected by him whereas Sara takes his virginity and keeps him as her lover for some time. Uncommonly for this trope there isn't actual animosity between them, probably because Ledania is too shy to be clingy and Sara

knew from the beginning that her and Marion's deal was temporary

; heck, there's a scene where a terrified Ledania comes sobbing into Sara's home to tell her and Marion about the upcoming Duel to the Death between Jacques and Lind, and Sara comforts her over it.
In Bone, Rose is the Light Feminine, while her twin sister Briar is the Dark Feminine.
Batman Forever has Two-Face's molls, Sugar (Drew Barrymore) and Spice (Debi Mazar). Subverted in that both of them are "bad", and "Sugar" is probably worse because she gives The Riddler the cube with the information about Bruce Wayne's Secret Identity.
Black Swan: Discussed.
Gentlemen Prefer Blondes: Russell is the Dark Feminine, while Monroe is the Light Feminine.
Iron Man 2: Pepper Potts and Natasha Romanoff/"Natalie Rushman".
Sunrise: The Woman from The City is the Dark Feminine (hedonist, cheater), while The Wife is the Light Feminine (goody-goody all the way through).

To All The Boys I've Loved Before

: Lara Jean (light) and Chris (dark), also Lara Jean (light) and Genevieve (dark).
Gone with the Wind: Melanie is the Light Feminine, while Scarlett is the Dark Feminine.
The Jack Weyland book Michelle and Debra has the obedient Michelle as the light and her rebellious best friend Debra as the dark.
The two leading ladies in Nathaniel Hawthorne's The Blithedale Romance. Priscilla is the demure, fragile, domestic (read: conservative) Light Feminine; Zenobia is the mysterious, sensual, outspoken, transcendental feminist (read: liberal) Dark Feminine.
In Animorphs, Cassie and Rachel have shades of this: Cassie is a down-to-earth Friend to All Living Things who only fights the Yeerks because she has to, while Rachel is a borderline-Dark Action Girl who honestly enjoys the war on some level, despite having the appearance and fashion-obsession of a supermodel. Despite all this, they're also best friends.
Ellony Leckery and Pharinet Palindrake in Chronicles of Magravandias, Ellony being a straight example of The Ingenue while Pharinet is something of a Yandere when pushed. Other female characters in the story, particularly those who fill similar roles or are related to them or are named for them are more balanced between the two extremes.
In an apocryphal Abrahamic mythology, Lilith (the first wife of Adam) represents the Dark Feminine — while Eve (Adam's second wife) is the Light Feminine.
Non Sequitur: Kate is the Light Feminine, while Danae is the Dark Feminine.
Shin Megami Tensei I has Yuki (Light) and Yuriko (Dark)

Yuriko is actually Lilith, making this a religious shoutout.

Catherine: Catherine is the Dark Feminine, while Katherine is the Light Feminine.
Dragon Age Origins: Leliana is the Light Feminine, while Morrigan is the Dark Feminine. Leliana is eventually revealed as a subversion of the trope, while Morrigan will defrosts as the game progresses. Hence standard BioWare deconstruction takes place. The same pattern is followed in the sequel Dragon Age 2 with Merrill (light) and Isabela (dark)
The two female love interests in Mass Effect 1 are Liara (young, naive, virginal academic) and Ashley (gun-toting, suspicious of aliens, snarky soldier) largely follow the trope.
Final Fantasy X: Lulu is the Dark Feminine, while Yuna is the Light Feminine.
Overlord: The potential queens fall into this. In the second game, the first two mistresses fall into Tomboy and Girly Girl — but also serve as a collective "Light Feminine" to the third.
The light goddess Palutena and and dark goddess Medusa of Kid Icarus are literal examples of this trope.
The Yamato Nadeshiko Lilly Satou from Katawa Shoujo is the girly girl to her Bifauxnen sister Akira, AND the Light Feminine to Shizune Hakamichi's Ms. Fanservice Dark Feminine.
Ar tonelico II: Melody of Metafalica: Cloche (Light) vs. Jakuri (Pitch Black). Luca is kinda shady.
Aoi Shiro: Nami (Light) vs. Kohaku (Dark - she's not even very feminine), former lovers (or something to that effect).
Akai Ito: Yumei (Light) vs. Nozomi (Dark), archenemies. Both of them are very feminine.
Touhou: Reimu vs. Marisa, rivals. Satori vs. Koishi, sisters. Keine vs. Mokou, very close friends. The Aki sisters.
The Florian Sisters of Magical Girl Lyrical Nanoha As Portable: The Gears of Destiny. The caring Idiot Hero of a big sister Amita serves as the Light Feminine, while the coy, flirty, and cynical little sister Kyrie serves as the Dark Feminine.
Chun Li and Juri Han from Street Fighter IV. Both women are Kick Chicks, but while Chun Li is an Action Girl who's very firmly on the side of good, Juri is a mix of Bastard Girlfriend and Dark Action Girl. Chun-Li can potentially lampshade it, as both ladies have had quite the Dark and Troubled Pasts but are such opposites that, in SF V, Chunners can openly ask herself why she and Juri are so different.
G.I. Joe Scarlett is light feminine while Jinks is dark feminine.
With regard to Northern Water Tribe social norms, in the first season of Avatar: The Last Airbender, the dutiful, self-sacrificing Yue is Light Feminine and rebellious Action Girl Katara is Dark Feminine. However, Katara is arguably the Light Feminine when compared to the series' other Action Girls due to her unofficial status as everyone's mom.
Total Drama: Heather is Dark Feminine while Lindsay is Light Feminine.

Zoey is Light Feminine while Dakota is Dark Feminine. Zoey's rival for Mike's affection Anne Maria is also a pretty good Dark Feminine.

In the episode "Green Isn't Your Color" of My Little Pony: Friendship Is Magic we start off by learning that Fluttershy and Rarity spend time together at the spa every week. Rarity talks Fluttershy into modeling for her as a way to further Rarity's fashion career because nopony is going to have Fluttershy's elegance and poise. Fluttershy reluctantly agrees at Rarity's insistence even after Fluttershy isn't going to be modeling Rarity's designs. Over time Fluttershy becomes more uncomfortable with the attention but stays with it because she doesn't want to let Rarity down while Rarity becomes more jealous so much that she wants Fluttershy to fail and by the end they tell each other how they were feeling and strengthen their friendship.