Cobra Kai Season 4 - The Loop
Play Sound

YMMV •

Radar

•

Quotes

• (

Funny

•

Heartwarming

•
Awesome

) •

Fridge

•

Characters •

Fanfic Recs

•

Nightmare Fuel

•
Shout Out

•

Plot

•

Tear Jerker

•

Headscratchers

•
Trivia

•

WMG

•

Recap

•

Ho Yay

•

Image Links

•

Memes

•

Haiku

•

Laconic

•
Source

•

Setting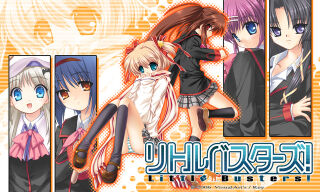 Little Busters! is Key Visual Arts' sixth Visual Novel. Like Clannad and Planetarian, it is entirely "clean", although an "adult" version was released which featured additional heroines.
Little Busters! tells the story of protagonist Riki Naoe, who is a member of the titular Little Busters, a group consisting of four boys and one girl who have all been close friends since childhood. The other members are the leader Kyousuke, his shy and quiet sister Rin, the muscle-obsessed Masato and the kendo user Kengo. The story begins one day in the Little Busters' second year of high school, when they decide to play a game of baseball but need more players. Riki recruits five new girls to join them: childlike Komari, troublemaker Haruka, big-sisterly Yuiko, frail Mio, and But Not Too Foreign Kudryavka.
And thus begins a laid-back and certainly not horribly depressing Dating Sim-type Visual Novel with a touch of Fighting Game, wherein you (as Riki) try to befriend the various girls, while getting into fights with the other Little Busters and several other people at your school. Or at least, they'd like you to think that's what it is. But it's Key Visual Arts, so of course there's more to it than that.
(Before reading the list of tropes, note that some of them are, in and of themselves, spoilers.)
Not to be confused with the song by The Pillows that was featured in FLCL
The characters sheet is under heavy construction here.
At LONG LAST getting an Anime-Adaptation.
---
This game provides examples of:
| | | |
| --- | --- | --- |
| |   Riki : No, we weren't on a mission. | |
 Schoolboy : "Now Rin-sama pick a title for that Loser."

Rin : "Waste."

Masato : "Uwaaa! I don't want this title!!!"
| | | |
| --- | --- | --- |
| |   Everyone: Muscles yay yay! Muscles yay yay! | |
| | | |
| --- | --- | --- |
| |  Saigusa : "Saigusa Haruka changed jobs from 'Useless' !" | |