Doctor Strange in The Multiverse o Madness - The Loop
Play Sound

YMMV •

Radar

•

Quotes

• (

Funny •

Heartwarming

•
Awesome

) •

Fridge

•

Characters

•

Fanfic Recs

•

Nightmare Fuel

•
Shout Out

•

Plot

•

Tear Jerker

•

Headscratchers

•
Trivia

•

WMG

•

Recap

•

Ho Yay

•

Image Links

•

Memes

•

Haiku

•

Laconic

•
Source

•

Setting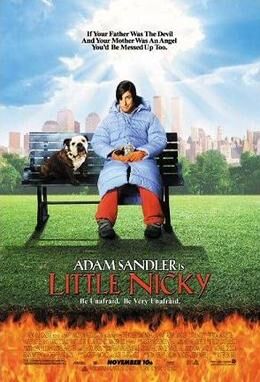 A Black Comedy film starring Adam Sandler as the eponymous Nicky, the third son of Satan (Harvey Keitel) and the female angel Holly (Reese Witherspoon) plus his dad's favorite.
After Nicky's two older half Big Brother Bullies Adrian (Rhys Infans) and Cassius (Tommy Lister Jr.) escape from Hell, the Gates of Hell literally freeze over. No new souls can enter, so Nicky must journey to Earth and bring his brothers back. Meanwhile, due to this, Satan's power is weakening and his body literally begins to fall apart. And Nicky goes through many adventures as he looks for Cassius and Adrian, even finding a girlfriend named Valerie (Patricia Arquette). . .
Mike Nelson has gone as far as calling it "the worst comedy ever made", though it remains a Cult Classic. It also has many, MANY cameos... including Ozzy Osbourne
---
This film contains examples of:
 Grandpa: Alright, boys! Enjoy your new home!

Cassius and Adrian: Oh nonononononono..!!!

Hitler: HOLY SCHNIT!!!
 Nicky: Release the good.

[shoots rainbows out of hands and group of bunnies appear]

Nicky: Yes, they're furry.

Demon: Bunny, bunny, bunny, bunny!
Celebrity Power: What ultimately defeats the Big Bad? Ozzy Osbourne, who was summoned from an orb that was given to Nicky by God.
Cool and Unusual Punishment: "Are there boobs on my head?!" "Yeah, big ones."
Deal with the Devil: Subverted. Dan Marino wants to sell his soul to Dad, but he's rejected because Dad thinks he's too much of a nice guy to go to Hell... and because he's a Jets fan.
Death as Comedy: "I got hit by a bright light... that was attached to a lot of metal..."
Detect Evil: The blind preacher can sense Nicky

and his son

's demonic presence, but doesn't seem to sense

their

angel blood.
Deus Ex Machina: See Celebrity Power above. Possibly one of the strangest Deus Ex endings in history.
Dumb Is Good: Nicky is far dumber than Adrian. One character even flat out remarks that there's no way Nicky can outsmart him.

It's implied that Nicky isn't dumber because he's good, so much as because he's suffered a lot of head trauma over the years. Thanks to his brothers.

Even Evil Has Standards: Even with the sympathetic portrayal of the demons, it's the Big Bad Adrian who balks at seeing Clint Howard in drag and dancing barechested.
| | | |
| --- | --- | --- |
| |   Adrian: Well... maybe not that horrible... but still pretty bad. | |