YMMV •

Radar

•

Quotes

• (
Funny

•

Heartwarming

•

Awesome

) •
Fridge

•

Characters

•

Fanfic Recs

•

Nightmare Fuel

•
Shout Out

•

Plot

•

Tear Jerker •
Headscratchers •
Trivia

•

WMG

•

Recap

•
Ho Yay

•
Image Links

•

Memes

•

Haiku

•

Laconic

•
Source

•

Setting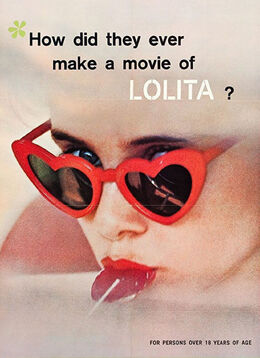 Lolita, light of my life, fire of my loins. My sin, my soul.

—Opening lines

Lolita is a 1955 novel, Vladimir Nabokov's wacky road-trip "romance". Chronicling the misadventures of erudite pedophile Humbert Humbert and his stepdaughter/kidnappee Dolores Haze. The action takes place between 1947 and 1952. Chock-full of convoluted wordplay, multilingual puns, and allusions to everything from entomology to Edgar Allan Poe. Originally written in English and set in the US, but had to be published in France as pornography because no one else would touch it. Nabokov himself pointed out that this is probably the main reason why parents don't name their daughters "Lolita" any more.
This is where we get the terms "Lolita Complex" or "Lolicon" in Japan, and the slang for "lolita", meaning a sexually attractive and/or promiscuous young girl.
Adapted into two films, one by Stanley Kubrick, the other by Adrian Lyne. Trope Namer for Lolicon.
---
Tropes used in Lolita include: