Obi-Wan Finale - The Loop
Play Sound

Quotes

•
Headscratchers

•
Playing With

•

Useful Notes

•

Analysis

•
Image Links

•

Haiku

• Laconic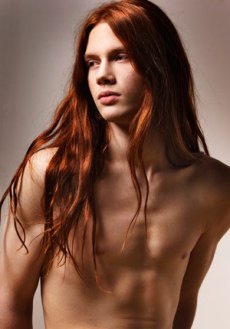 How do you make a Pretty Boy even prettier? Give him long (shoulder-length or longer), flowing tresses of glossy hair. Bonus points for wearing it loose, no matter how impractical this may be.
If he's not the type for just sitting around looking pretty he might also be a Badass Long Hair. Villainous versions are likely to also be a White-Haired Pretty Boy. A lot of these fall under Viewer Gender Confusion (for some people), because Long Hair Is Feminine (if the confusion occurs in-universe, it's an example of Dude Looks Like a Lady). Related to Rapunzel Hair.
Examples of Long-Haired Pretty Boy include:
Anime and Manga
Loveless: Soubi, Nisei, and the male Zeroes
Finder Series: Feilong
100% Perfect Girl: Jarte's secretary Benjamin
Ai no Kusabi: Iason, many of the Elites in general and Guy.
Kyo Kara Maoh!: Gunter and Saralegui
The Crimson Spell: Havi
The Yu-Gi-Oh! series is guilty of this trope. You've got Bakura, Pegasus, Otogi, Espa Roba, Marik, Dartz, and Sigfried.
Descendants of Darkness: Dr Watari, Sohryuu and Nagare (Hisoka's father).
Inuyasha: Sesshoumaru, so much. Naraku, maybe, when he's not shown as an Eldritch Abomination Gonk. There's also Bankotsu, Kouga and the eponymous Inuyasha himself.
Fushigi Yuugi has Hotohori, Nuriko, Tomo (without the makeup), Tatara, Tenkou, and Renhou's demon form. Its prequel series Fushigi Yuugi Genbu Kaiden adds Uruki, Hikitsu, and Hagus to that list.
Rurouni Kenshin: Kenshin
Yu Yu Hakusho: Kurama (in both Youko and human form), Karasu, Itsuki, and Shishiwakamaru. Sakyou, meanwhile, has more of a mullet.
Several characters by CLAMP, especially in their shoujo series:
Code Geass: Xingke and Clovis. There's also V.V., though he's more of a Cute Shotaro Boy than a Bishounen.
Bakuretsu Hunters: Marron Glace.
Revolutionary Girl Utena: Touga, Akio, and Saionji
Blade of the Immortal: Anotsu (practically the token bishonen in this manga).
Ah! My Goddess (movie version): Celestine
Berserk: Griffith
Escaflowne: Allen Schezar
Saint Seiya: Shiryu, Shun and Hyoga (and countless secondary characters, most notably Shaka and Mu. Lots of Badass Long Hair also applies).
Zetsuai 1989: Koji
The Tyrant Falls in Love: Souichi, whenever Slipknot Ponytail is in effect.
Saint Beast: Quite a few: Shin, Luca, and Lucifer for sure, Gai possibly. Rey is by far the worst offender.
Naruto: Haku, Neji, Dan, Deidara, Itachi, and Kabuto.

And Benten from the filler.
Inoichi Yamanaka is an older example.
Sasuke in Curse Seal Level 2 form.

Sakura Gari: Souma (before his Important Haircut) and Youya

aka Sakurako

.
Senkou no Night Raid: Natsume.
D.Gray-man: Yu Kanda, Jasdevi and maybe General Cross (he's not really a boy).
Fruits Basket: Ayame and Ritsu Sohma
Saiunkoku Monogatari: Half the cast, starting with Shi Ryuuki and Shi Seiran, and also especially including Ko Kijin and Sa Sakujun.
Kiniro no Corda: Azuma Yunoki.
Full Metal Panic!: Leonard Testarossa and Kurz Weber.
Peacemaker Kurogane: Souji Okita, Susumu, Yoshida, Hijikata, Kichisaburo, Maro, and Tetsunosuke.
07-Ghost: Hakuren Oak.
Pandora Hearts: Vincent,

Jack, even though he keeps it braided

, Ernest, Leo,

flashback!Break

, and Rufus Barma. Also, Gilbert's hair is long enough that he can tie it back with a hair ribbon.
Black Butler: Aleister "Viscount Druitt" Chamber, Prince Soma, and the Undertaker.[1]

Chapter 67 gives us Edgar Redmond.

Sukisho: Sunao, Matsuri, Professor Aizawa, and Nanami.
The titular Id.
Mononoke: Kusuriuri.
Ranma 1/2: Tsubasa Kurenai, Konatsu the Kunoichi, Saffron, and Mousse.

Some would say Male Ranma also counts.

Princess Princess: Yuujirou Shihoudani
Kannazuki no Miko: Tsubasa
A Kiss To The Prince: Yu-Jen
Bleach: Byakuya, Ukitake, Szayel, Rose and Ilforte.

Manga flashbacks show Shinji and Yumichika were this in the past, but they've since cut their hair to jaw-length.
Power-ups can temporarily result in characters gaining longer hair such as Grimmjow, Ulquiorra,

Ichigo

and

Aizen

.

Gankutsuou: Andrea and Peppo.
Outlaw Star: Harry
Nana: Takumi Ichinose.
Katekyo Hitman Reborn: Future!Mukuro, Squalo, Kikyo, Nosaru, Daemon Spade, and Basil.
MAR: Rolan
Kaleido Star: Leon Oswald
Kaze to Ki no Uta: Arion "The White Prince" Rosemariné and Jules de Ferrier.
Air Gear: Shalott and Kaito.
Utawarerumono: Hauenkua.
I''s: Jun Koshinae.
D.N.Angel: Krad; his blonde ponytail is easily longer than he is-this is noticeable when he flies and his hair has to catch up with him.
Axis Powers Hetalia: China and Germania. And France, since his hair is long enough that he can pull it back. (especially when he shaves his beard like in Hetaween 2011). Also, Lithuania.
Black Bird: Sagami
Uragiri wa Boku no Namae wo Shitteiru: Takashiro Giou, Kanata "Reiga Giou" Wakamiya, and Isuzu Fujiwara. Also

Luze, Luka's younger twin brother

Excel Saga: Il Palazzo.
RahXephon: Dr. Itsuki Kisaragi
Gintama: Zura Zurako Katsura. And Kamui.
Immortal Rain: Rain
Sailor Moon: Fisheye, Nephrite, Zoisite and Kunzite. Also, Ali (his alien form) in the anime only Doom Tree arc. And Fiore (his alien form) in the Sailor Moon R movie. And Artemis (his human form) in the manga.
Psyren: Oboro Mochizuki and Future!Shao.
Speed Grapher: Tsujido and Suitengu.
Vampire Knight: Kaname and Rido
Basilisk: Gennosuke and Yashamaru. Also Hyouma, who's prettier than both of them.
Mahou Sensei Negima: Negi Springfield during his lightning-god form when his hair is at its longest.
Nabari no Ou: Raikou Shimizu.
Rosario Plus Vampire: Fong-Fong Wong
Death Note: Mello and Mikami
Beelzebub: Natsume and Athrun. Himekawa as well, when his hair is brushed down (and not in a pompadour) also counts as a White-Haired Pretty Boy.
Heroman: Joey
Inazuma Eleven: Terumi "Aphrodi" Afuro.
Gundam Wing: Duo Maxwell and Zechs Merquise.
Shaman King: Asakura Hao.
Dragon Knights: Rune
Amatsuki: Bonten
Oniichan to Issho: Masashi
Gorgeous Carat: Florian, although Azura has longer hair and also applies (he just happens to be the resident White-Haired Pretty Boy and the Big Bad as well).
Claymore: Isley of the north
Swan: Aoi and Lucien
Nightwalker: Cain and Shido
Ookami-san: Taro Urashima
Digimon Frontier: Kouji Minamoto
Pretty Cure: Mukadia of Yes! Pretty Cure 5 GoGo, Souler of Fresh Pretty Cure, Cobraja of Heartcatch Precure and Baritone of Suite Pretty Cure.
Narutaru: Norio Koga
Read Or Die TV: Junior
Samurai Champloo: Jin, especially in the last scene.
Trinity Blood: Abel, Hugues, Isaak, Cain and Virgil to name a few.
Future GPX Cyber Formula: Karl Lichter von Randoll, in his SAGA and SIN incarnations.
Yumeka Sumomo's The Day I Became A Butterfly: Uka
Fairy Tail: Freed Justine. He even has a Beauty Mark.
Magical Girl Lyrical Nanoha StrikerS: Verossa Acous
Shugo Chara: Nagihiko Fujisaki. Justified because he's a crossdresser.
Mobile Suit Gundam Unicorn: Full Frontal
Monochrome Factor: Shirogane
Pokémon: Nando
Angel Sanctuary: Rosiel
Corsair: Jean-Hughes D'Aubigne and Canale Delacroix.
Macross Frontier: Alto Saotome a.k.a. Hime-sama.
The Secret Agreement: Iori
Kiri from Wild Rose and Olgrius and Shui from Wild Wind, as per Author Appeal.
Magical X Miracle: Half the male cast (Glenn, Yue, Francis, Ardi, the king), and even of those male characters who aren't, most still have at least shoulder-length Go Nagai Sideburns.
Gakuen Heaven: Kaoru (whose hair is pink) and Naruse.

Chara Cafe Relish Ni Oide

: Kaida Reiji
Patalliro: Jack Bancoran and Maraich, plus all lover boys/Swedish assassins.
Bt'X: Fou Lafine; Bt'X is by the creater of Saint Seiya and shares many stylistic features with its predecessor.
GetBackers!: Kazuki
Fullmetal Alchemist: Edward, as he's Bishonen and has long hair in the first anime. Al counts in The Movie

but he cuts his ponytail after becoming stranded in Germany

.
Here Is Greenwood: Shun Kisaragi
Mawaru Penguindrum: Sanetoshi Watase
Tsukigasa: Azuma.
Reimei no Arcana: Caesar. He cuts his hair in Chapter 8 after Nakaba is forced to get her red hair dyed. Adel, Nakaba's relative and the heir to the Senan throne.
Hellsing: Luke Valentine.
No. 6: Nezumi's hair is long enough to tie back, and he's certainly bishie enough.
Black Cat: Charden Flamberg.
Aburatsubo from Magic Users Club. He's tall, has long red hair, and is gorgeous.
Karakuridouji Ultimo: Rune and Jealous/Jealousy.
Angels Feather: Reiya Wakabayashi.
Yunoki of Kiniro no Corda.
Hatenkou Yuugi: Alzeid's brother.
Comic Books
Not that there's anything "Pretty Boy about him, since he's a big muscular dude, but The Mighty Thor deserves a mention for his long blonde hair. He ain't called Goldilocks for nothin', true believers!
Ditto for Doc Samson.
Film
The Lord of the Rings: Legolas in the film adaptation is a live-action example of this trope.

Even more surprising for the Lord of the Rings movie, since Legolas is primarily a bowman-- which would definitely conflict... particularly since the only thing keeping his hair from getting tangled in the bowstring, is a small braid over his right ear.
Most (if not all) elves in The Lord of the Rings movie are this.

The Man in the Iron Mask

: Philippe/Louis.
Don Juan Demarco: The eponymous character, played by Johnny Depp.
In Mad Max 2: the Road Warrior, the character Golden Boy might count, being the (boy?)friend of Wez and having, by comparison, a rather handsome face and long, flowing, blonde hair.
Literature
Every male character from the Anita Blake series.
Every male character from the Merry Gentry series.
Roiben from the Tithe novels by Holly Black. Another elf...
Prince Roger McClintock
The Lion in Winter: King Philippe
Possibly teenage Mowgli in The Second Jungle Book.
Fablehaven has Bracken, who is tall, willowy, youthful, and has long, soft silver-white hair.
Vanyel Ashkevron from Mercedes Lackey's Velgarth universe. Also Firesong.
Pick a male Tolkien's elf. Any male Tolkien's elf. Except Cirdan and Mahtan (who are long-haired, but don't look like pretty boys).
Numair from the Tortall Universe. There is definitely overlap with Badass Long Hair, especially in the second book in which he turns a man into a tree.
Live Action TV
The Groosalugg from Angel falls under this trope, until he and Cordelia go on vacation, and he cuts it short... And familiarily...
Duncan MacLeod from Highlander, until season 6 when the actor got tired of it.
In Criminal Minds, Reid[2] had longish hair in the earlier seasons but it was shoulder-length in season five. Later on in the season, Reid got a haircut. Crowning Moment of Funny when the team sees Reid's new hair.
| | | |
| --- | --- | --- |
| | Hotch: What? Did you join a boy band? | |
Music
Mythology
Theater
Video Games
Golden Sun: Felix, Piers, and Alex. Alex returns in Dark Dawn under a Paper Thin Alias, flowing tresses intact.
The Final Fantasy series' general design philosophy for male characters makes this trope present in abundance:

Even since the beginning--Red Mage's and White Wizard's original sprites were long haired pretty boys (okay, we can't tell if they're pretty, precisely — or guys, for that matter — but it's Final Fantasy in the Yoshitaka Amano era. Odds are good that they are).

Warrior of Light becomes one in Dissidia, which was based on Amano's art for the Warrior class.

Final Fantasy II has The Emperor and his Rapunzel Hair. Firion counts as well, when he's given longer hair.
Final Fantasy IV has the ever-so-pretty Cecil (who is sometimes drawn with short hair, but rarely). In the sequel, his hair's yet longer...but still not as long as Kain, with his long, straight, lovely blond hair.
Final Fantasy VII: Veni, veni, venias! Ne me mori facias! Sephiroth! Let's not forget Vincent Valentine, though.
Final Fantasy VIII has Irvine. Save a horse, ride a cowboy, indeed. Laguna too, when he was younger.
Final Fantasy IX has Kuja, bishiest of all.
Final Fantasy X has Seymour Guado (although how pretty he is may be subject to debate).
Final Fantasy XII has Larsa and Vayne Solidor, and Al-Cid Margrace.
Final Fantasy XIII nearly avoids the trope, but Cid and Rygdea keep the tradition alive.

Chrono Trigger: The boss Flea. The chest padding in the game art doesn't help.

Super Punch Out

: Kabuki dancing boxer Heike Kagero (long purple hair, even).
Kingdom Hearts: Xehanort, Xemnas, "Ansem", Saix, Marluxia, Riku, Vexen... Yeah, Kingdom Hearts is the master of Long Haired hotties.
Street Fighter: Vega

Ken too, especially in the Alpha series.
Alex, also. 'Dat ponytail.

Tales of Symphonia: Zelos Wilder and

Mithos

Yggdrasill.
Dynasty Warriors: Several examples, most notably Zhang He and Zhou Yu.

There's also Zhao Yun, Zhuge Liang, Ling Tong and Jiang Wei.

Samurai Warriors: we have Ishida Mitsunari, Akechi Mitsuhide and Sasaki Kojiro.
Warriors Orochi: Taigong Wang, if he wore it loose that is.
Okami:

Waka

How does he keep it under that hat?

Sengoku Basara: Akechi Mitsuhide and Maeda Keiji. Sanada Yukimura is of the rat-tail variety, but qualifies when he lets it down.
Infinite Space: A few male characters (including the main character), most notably Lord Roth, who has waist-length hair.
Assassin's Creed II: Ezio. His hair is usually in a ponytail, but does reach his shoulders. And damn, is he a pretty boy.
World of Warcraft: Lots, most notably Arthas Menethil and Kael'thas Sunstrider.
Tales of Vesperia: Yuri Lowell, plus Duke.
Star Ocean: Ioshua Jerand from the first game, and Dias Flac from The Second Story/Second Evolution. Meanwhile, Albel Nox from Till the End of Time has twin rattails that reach past his waist.
.hack//G.U. games: Endrance, crossing into Dude Looks Like a Lady territory. Also, Kuhn.
Tales of the Abyss: Luke, before his haircut, his original Asch, and Jade. Also Van and Peony.
Harvest Moon has been fond of this lately. Julius and Jin come to mind.
The King of Fighters: Duo Lon.
Mortal Kombat: Raiden doesn't initially come off as this, but take away his hat and cloak, and you're left with a rather pretty man with a glorious mane of white hair.

Partially lampshaded in Mortal Kombat 9 where, upon learning they are fighting for the safety of Earth, Johnny Cage asks Raiden, "What should we do, besides standing around looking pretty?"

The Fire Emblem series has had plenty of these, dating as far back as Nabarl from the very first game. Perhaps the most famous examples are Lucius from Blazing Sword and Soren from Path of Radiance.
Guilty Gear has quite a few, with Testament standing out in particular.
Soul Series: Siegfried Schtauffen. He used to have short hair in Soul Blade, but it's grown out a lot in later games.
Web Comics
Annyseed The sinister Mr Coldsteem.
Monsterful: Jacob Bottom Button, the Rag doll boy.
Girl Genius: Maxim, who was originally meant to be nothing more than a joke sketch of a Pretty Boy Jagermonster.

Paradis

has angels as this, specifically Gabriel.
A Broken Winter: While both Kuroda and Reisen have very long hair, Reisen lets his fly in true pretty-boy style. Kuroda keeps his in a neat tail.
Erik of Ménage à 3.
Web Videos
Western Animation
↑ Grell Sutcliff doesn't actually count because Word of God has "confirmed" her to be a trans woman. YMMV on whether or not that's true, though.
↑ Bonus Points for his in-series nickname being Pretty Boy.