Wiki Targeted (Entertainment)
Play Sound

YMMV

•

Radar

•

Quotes

• (

Funny

•

Heartwarming

•
Awesome

) •

Fridge

•

Characters

•

Fanfic Recs

•

Nightmare Fuel

•
Shout Out

•

Plot

•

Tear Jerker

•

Headscratchers

•
Trivia

•

WMG

•

Recap

•

Ho Yay

•

Image Links

•

Memes

•

Haiku

•

Laconic

•
Source

•

Setting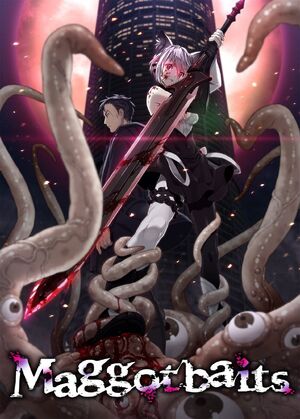 A 2015 H Game.
The city of Katou, Japan, was once a prosperous metropolitan region, but the appearance of female supernatural beings that were soon nicknamed "witches" led the japanese government to quarantine the region, or more exactly discard it. Anyone can enter or leave if they want and can, but the place became completely lawless. As expected criminals, fugitives and illegal immigrants soon flooded the place, and as someone would expect from a place without laws, crime became rule.
In the present, a group known as "Witch Hunters" appeared on this city, hunting and torturing witches for the amusement of despicable people. An ex-cop, Shougo Tsunuga, leds a group of witches in trying to stop these people.
Developed by Clock Up. Released in English by MangaGamer in October of 2019.
---
Tropes used in Maggot Baits include: