She-Hulk Trailer Dropped - The Loop
Play Sound

Quotes

•

Headscratchers

•

Playing With •

Useful Notes

•

Analysis

•

Image Links

•

Haiku

• Laconic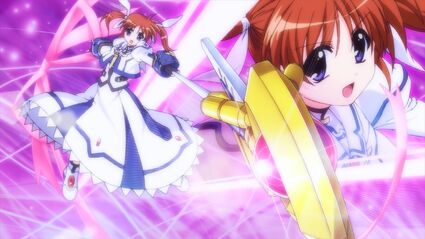 The intersection of Magical Girl with Superhero(ine).
In Japan, the extended growth-to-maturity metaphor Magical Girl archetype can mean a variety of things; some do more than use their powers to improve or complicate their lives. Some go out and battle Dramatic Evil, usually with a lot of mystic firepower and weird outfits (usually a glammed-up Mini-Dress of Power) and called attacks. This is not magic for magic's sake; the character rarely finds this enjoyable but gets morally cowed into it.
The action-oriented Magical Girl Warriors have the extra bonus of appeal to male demographics, so they can be very lucrative; in this case they often resemble Distaff Counterparts of Japanese superheroes, particularly Sentai and other Henshin Hero characters. Importers of Magical Girl series to the West tend to favor these characters, so Magical Girl Warriors tends to become the established trope over Cute Witches.
They can also be Kicking Ass in All Her Finery, if the girl is outright Badass and her dress is frilly enough.
The Dark Magical Girl mostly appears in Magical Girl Warrior series. Not to be confused with the unrelated Magic Knight.
---
Examples:
Anime and Manga
The earliest prototype was Go Nagai's Cutey Honey franchise, which slowly mutated and grew to have an unexpected female fanbase whenever the Fan Service level fluctuated heavily.
Pretty much cemented by the enormous popularity of Sailor Moon, which introduced the Sentai elements to the genre.
One of the most popular show of this type in Japan appears to be Futari wa Pretty Cure and its sequels/spin-offs.
Parodied in the Seinen series Pretty Sammy.
Parodied also within the Shojo demographic with Ai to Yuuki no Pig Girl Tonde Buurin about a girl who transforms into a superpowered.... pig.
Revolutionary Girl Utena particularly embodies the "growing up as a struggle" metaphor, with the added bonus of Gnostic metaphor thrown in for good measure. This was emphasized way more in the anime than in the manga, however.
Pictured above: Magical Girl Lyrical Nanoha is a Seinen example that starts as a standard Magical Girl Warrior anime then takes a more militaristic bent after its first season. Contrary to the trope description, Nanoha thoroughly enjoys using her magical abilities to befriend the living hell out of people.

In the StrikerS season, the girls are in a military, so they are literal magical girl warriors.

Mermaid Melody Pichi Pichi Pitch is a cross of this and Magic Idol Singer.
Shikabane Hime is a rather dark variant - the magical girls are undead corpses who must kill 108 other corpses in order to get into Heaven. Also, they use guns.
Mahou Sensei Negima has many examples.

The Show Within a Show Magical Girl Biblion is a parody of this, complete with in-universe Rule 34 Doujinshi that typically follows these character types. Since Chisame cosplays the characters featured there, her Pactio Card turned her into one with a cyberspace theme.

Mai-HiME and Mai-Otome. Both have strong elements of Deconstruction.
Puella Magi Madoka Magica, which viciously deconstructs the idea of young girls fighting eldritch horrors in their spare time.
Nurse Angel Ririka SOS, considered a forerunner to Nanoha.
Sweet Valerian features three girls who transform into superpowered monster-fighting bunny rabbits.
Kämpfer adds a Gender Bender twist - main character Natsuru turns into a girl whenever he transforms.
Cardcaptor Sakura has elements of this; Sakura's mission is to capture all Clow Cards, sometimes using direct combat, sometimes by using other means. In later seasons after she capture all cards, she must turn the cards into her own cards, by applicating it in various task, often involving some kind of combat.
Magic Knight Rayearth crosses this with Swords and Sorcery.
Invoked in Mao-chan, where aliens Earth is being invaded by aliens so cute that figthing them is viewed as bullying, forcing the heads of Japan's defense forces to have their cute granddaughters fight the aliens.
Makeruna Makendo adds a kendo theme.
Hyper Speed GranDoll is a very close follower of Sailor Moon, except with more of a sci-fi feel.
Dream Hunter Rem is one of the earliest examples.
Fate/kaleid liner Prisma Illya comes courtesy of the Nasuverse.
Magical Canan actually uses this term to describe their magical girls (Mahou Senshi.)
Fushigiboshi no Futagohime starts of as a Cute Witch series before becoming this.
Senki Zesshou Symphogear follows in the footsteps of Mermaid Melody Pichi Pichi Pitch by crossing this Magic Idol Singer.
Himiko, and Kosumo via organ donation, in Towa Kamo Shirenai.
Yuki Yuna is a Hero is another deconstruction.
Comic Books
Fanfiction
Literature
In

High School Girls RPG

, you have the Magical Girl extension allowing you to play just that type of character.
Video Games
If you think about it, Final Fantasy X 2 presents a Video Game example.
Mystica from Fading Hearts. Ryou meets her in the forest while he is fighting shadow monsters.
In the Fire Emblem games, the cast will sometimes include young female magic users who fit in the archetype well. Some of them are: Linde (Archanea games), Mae and Delthea (Gaiden and its remake Echoes), Tine/Linda and arguably Julia (Genealogy of the Holy War), Miranda (Thracia 776), Lilina (Binding Blade), Nino and maybe the promoted Serra and Priscilla (Blazing Blade), Illyana (Tellius games), a magic-oriented Female Avatar or a Lissa or Female Morgan promoted into Sage/reclassed into Valkyrie (Awakening), an also magic-oriented Female Avatar and Ophelia (Fates), Annette and Constance (Three Houses). . .
Webcomics
El Goonish Shive: In the later comics

Elliot

gains a super-heroine spell after already having the ability to shapeshift into virtually any conceivable female human form including transformation of clothes.
Web Original
Fey of the Whateley Universe. Down to the backstory, the ancient Faerie who rides along in her head, her ability to summon armor magically, and a magical battle in Boston in which she and The Necromancer spent most of the fight trying to intimidate each other by calling their attacks.
Western Animation