Cobra Kai Season 4 - The Loop
Play Sound

YMMV •

Radar

•

Quotes

• (

Funny

•

Heartwarming

•
Awesome

) •

Fridge

•

Characters •

Fanfic Recs

•

Nightmare Fuel

•
Shout Out

•

Plot

•

Tear Jerker

•

Headscratchers

•
Trivia

•

WMG

•

Recap

•

Ho Yay

•

Image Links

•

Memes

•

Haiku

•

Laconic

•
Source

•

Setting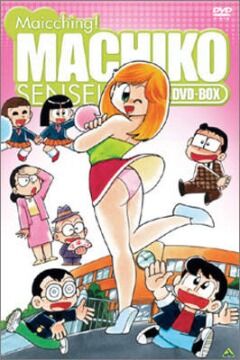 New science teacher, Machiko Mai, is a young and attractive woman with healthy mind and body. Being around her makes everyone happy. Students like to play practical jokes on her, but no matter how many times they cause troubles, she does not get upset. She always tries hard to understand her students.

—Studio Pierrot's description of the series

Maicchingu Machiko Sensei is a series that could be best described as a loose compilation of Fan Service or Ecchi, starring a female schoolteacher and her pervy students. It aired in The Eighties in Japan as a kids' show. It had a lot of controversy with the Moral Guardians but somehow managed to survive.
Machiko Mai, a young and inexperienced teacher, is taking her first job as a teacher to a group of elementary students. Unfortunately (for her), Machiko's students, lead by resident troublemaker Kenta, think it's utterly hilarious to grope her, flip her skirt, or find new and exciting ways to get rid of her clothing. Even worse, the very universe itself seems to think it's funny too; despite her best efforts, almost every adventure ends up with her at least slightly humiliated (ie: stripped to her bare pantsu if not completely naked).
Add a cast of ninnies and perverts, a standard children's show plot, and you have one of the most infamous Ecchi series in history.
It is finally getting an English release, 30 years after the manga started, courtesy of Anime-RG.
---
Tropes in the series include:
The Ace: Machiko is skilled in literally everything and can learn anything in a short time (she learn Frisbee and Shuriken Throwing overnight!). Kenta is also one, except for studying.
Action Girl: Despite being a victim of a lot of pranks, Machiko often gives back as much as she takes. She's more athletic than the rest of the staff (including the phys ed teachers), able to pick up skills like skateboarding in one or two tries, and knows martial arts of some kind — several episodes involve her beating the crap out of someone who goes too far. (One memorable instance of this involved her breasts popping free from her shirt from a thief who had taken her as a hostage, which she used as a the start of a breast-and-karate-chop combo.)
Barbie Doll Anatomy: Averted; see Nipple-and-Dimed below. The "Box" mangas went even farther, with Machiko's naughy bits being non-explicitly visible a few times.
All Men Are Perverts: The entire school seems to be perverted.
Beach Episode: Of course.
Because Destiny Says So: It does not matter how, it does not matter where, it does not matter when — somehow, someway, Machiko will lose her clothing, usually in the most humiliating way possible.
Betty and Veronica: An interesting variation. Machiko the teacher is the Betty for being closer to Kenta in a lot of antics, while Madoka who is one of his circle of friends but also the class madonna is Veronica
Big Ball of Violence: One episode ends with all the characters getting into a fight with this effect. And, of course, Machiko loses her top in the melee.
Body Paint: A couple of instances of this in the manga. Played for Laughs, of course. It would have helped if Kenta's plan hadn't involved painting Machiko solid black (instead of, say, trying to paint clothing or somesuch).
Catch Phrase: "Maichchingu" ("Shame!"). Something she says after something happens to make her lose an article of clothing, get groped, or have her skirt flipped up. Which happens Once an Episode (at least).
Censor Steam: Completely averted, as in most shows of the era. Kids' show!
Children Are Innocent: They really, really aren't. Some of them aren't up to speed on the Ecchi parts of her situations, but all of her students at least think it's funny.
Chivalrous Pervert: Kenta and Fukuoka-sensei. Special note goes to Fukuoka-sensei, who is teaching elementary students nude figuring drawing.
| | | |
| --- | --- | --- |
| |   Fukuoka: A female in the nude is the apogee of beauty. | |
↑ (Although it could be said the censoring isn't for any particularly moral reasons, but to create DVD Bonus Content.)