Quotes

•
Headscratchers

•
Playing With

•

Useful Notes

•

Analysis

•
Image Links

•

Haiku

•

Laconic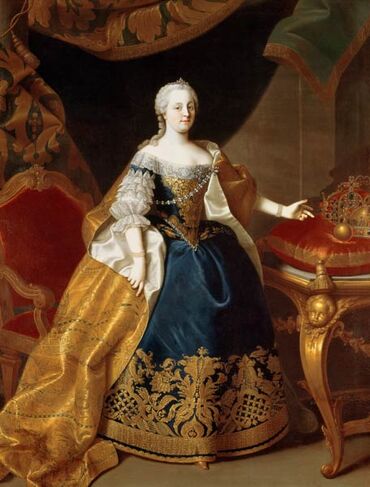 | | | |
| --- | --- | --- |
| | Among all the monarchs of that faithless age, the nearest to a man was a woman. Maria Theresa of Austria was a German of the more generous sort, limited in a domestic rather than a national sense, firm in the ancient faith at which all her own courtiers were sneering, and as brave as a young lioness. Frederick hated her as he hated everything German and everything good. | |

Maria Theresa (or, in German and Latin, Maria Theresia) von Habsburg was one of the most remarkable rulers in European history. When her father died in 1740 without male issue she came to the Habsburg throne. She was young, amiable but oversheltered, and her father had amazingly neglected to train her properly. Despite those crippling disadvantages she learned on the job. During her forty-year-long reign, she defended her territory from neighboring rulers as well as beginning many social reforms, which her son Joseph would expand, and is admired by many to this day - except children, who usually only remember that she had the bright idea of mandatory basic schools.
One of her children was Marie Antoinette, who became even more famous than her mother, although for very unfortunate reasons.
Most people aren't aware that she never held the title Holy Roman Empress, because it didn't exist. She was arch-duchess of Austria and King of Hungary and Queen of Bohemia, and had dozens of other titles in her own right, but for the first five years of her reign, the title of Holy Roman Emperor went to the duke of Bavaria. When he died, her husband got it, and so she was the HRE's wife. Additionally, she was the last 'actual' Habsburg. Her children would have belonged to the dynasty of Lorraine, but due to the prominence of the Habsburg dynasty, her children became von Habsburg-Lothringen.
---
Provides Examples Of: