Doctor Strange in The Multiverse o Madness - The Loop
Play Sound
"It seems to me you lived your life like a candle in the wind

Never knowing who to cling to when the rains set in

And I would've liked to know you, but I was just a kid



Your candle burned out long before your legend ever did"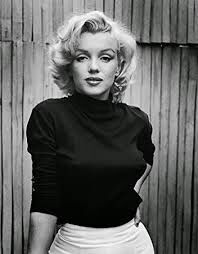 The most famous of the "Blonde Bombshells".
Born in 1926 to a mentally unstable mother and a missing father, she was placed with foster parents and lived there until she was seven. Her mother was bizarre and once tried to kidnap her from her foster parents by stuffing her in a bag. A few years later her mother bought a house and they lived together, but a few months later her mother had a mental breakdown (the first of many). She was then moved into foster care as a ward of the state and her later guardian Grace McKee was the one who got her into movies. However her guardian got married and she was sent to an orphanage, and then to a string of foster homes (it is unclear how many).
Several families wanted to adopt her but she ended up going back with Grace. Grace's new husband repeatedly attempted to sexually assault her and she was sent to her great-aunt Olive's. This didn't last long either because one of Olive's sons sexually assaulted her. She was moved to her aunt Ana's, who she had a good relationship with, but Ana had health problems and went back to live with Grace. This was also short since Grace's husband found a job elsewhere and wanted to move without her, and they ended up approaching her current boyfriend's mother so she could get married.
At 16 she married, but her husband was a Marine and was shipped to the Pacific, so she moved in with his mother.
Norma Jeane Baker was working in a factory during World War II when someone took a picture of her for a magazine. This small event would eventually lead to her fame as the actress Marilyn Monroe.
Before then, she took up a successful modeling career after having dyed her brunette hair to blonde. She got some small acting jobs, but nothing big, although she did agree to change her name, which included taking on her grandmother's surname. At one point she posed nude for photos when she had no other jobs. These photos would end up on a calender, and eventually the first issue of Playboy. Marilyn headed off a scandal by admitting she posed, because she had no other way to pay her bills.
Her career took off over a number of films, but she also suffered from stage fright which eventually led to taking pills and booze to relax her.
She was briefly married to baseball star Joe DiMaggio and later to playwright Arthur Miller. Allegedly, she had an affair with John F. Kennedy. Her singing "Happy Birthday, Mr. President" in a slinky dress in 1962 is commonly referenced/parodied.
Behavior aside, she was also noted to be far more intelligent than people gave her credit for, and made sure she learned drama (she studied acting at The Actor's Studio). The Dumb Blonde persona she had on film was, in fact, acting.
During her marriage to Arthur Miller, she converted to Judaism, and may have continued her religious observance after the divorce.
She died in 1962 from an overdose of barbiturates. Her death was officially classified as a "probable suicide", but it would spark Conspiracy Theories for years to come.
See also Jayne Mansfield.
Do NOT confuse her with Marilyn Manson. Although, funny story, he DID actually take his first name from her.
---
Her Films Include:
---
Tropes Associated With Her And Her Work: