Spider-Man: No Way Home Trailer Dropped - The Loop
Play Sound

YMMV •

Radar

•

Quotes

• (

Funny

•

Heartwarming

•
Awesome

) •

Fridge

•

Characters

•

Fanfic Recs

•

Nightmare Fuel

•
Shout Out

•

Plot

•

Tear Jerker

•

Headscratchers

•
Trivia •

WMG

•

Recap

•

Ho Yay

•

Image Links

•

Memes

•

Haiku

•

Laconic

•
Source

•

Setting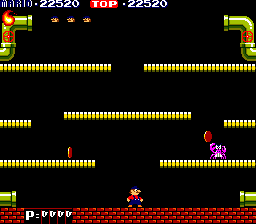 Something's gumming up the plumbing, poor Luigi's in a bind

Giant turtles out to get him, creepy crabs are right behind

Fighter flies, jeepers, yipes!



They're all comin' out the pipes!

—The commercial for the Atari port of the game

Can you kick off all the pests?
For the page about the series as a whole, see Super Mario Bros. For the Super Mario Bros game specifically, click here.
Mario and Luigi, the Mario Brothers, must try to get rid of Shellcreepers (turtles), Sidesteppers (crabs, which need to be hit twice), and Fighterflies (flies, which can be defeated only while they touch the platform) that come pouring out of the waterworks. Hit the floor beneath them to flip them over, then kick them into the water. Collect coins for bonus.
Later, the Slipice (renamed Freezies in the NES version) will come out and freeze the platforms, making your traction very poor. As the game progresses, water drops hang below the platforms and freeze into deadly icicles, which fall soon after.[1]
Keep track of the green fireballs as they will appear more frequently. The red fireball can also be a menace. If need be, you can hit the fireballs from below when they touch the platform. Beware of hitting the red fireball. It rapidly reappears and moves much faster.
Hit the POW platform to knock over your enemies and destroy fireballs. Be wise, because you only get three, and it doesn't come back until after the bonus round. Each difficulty level begins with three POWs and a bonus wave in which 10 coins are available to be collected.
The game introduced many elements used in later Mario games, like turtles, pipes, collecting coins, and Mario's brother Luigi.
---
Tropes:
| | | |
| --- | --- | --- |
| |  "Why did that Koopa kill me even though I stepped on its head!?!" | |
↑

This doesn't happen in the NES version, though.