Jurassic World: Dominion Dominates Fandom Wikis - The Loop
Play Sound

YMMV •

Radar

•

Quotes

• (
Funny

•

Heartwarming

•

Awesome

) •
Fridge •

Characters

•

Fanfic Recs

•

Nightmare Fuel

•
Shout Out

•

Plot

•

Tear Jerker

•
Headscratchers

•
Trivia

•

WMG

•

Recap

•
Ho Yay

•
Image Links

•

Memes

•

Haiku

• Laconic •
Source

•

Setting
The first game in the Mario & Luigi series, released in 2003 for the Game Boy Advance.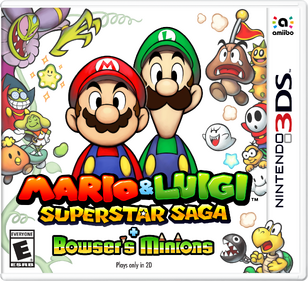 In one of the most elaborate (original) games made for the Game Boy Advance, Mario is sent to the Beanbean Kingdom, which conveniently adjoins the Mushroom Kingdom. Luigi reluctantly goes along after Mario and Bowser join forces. The Big Bad Cackletta reportedly has stolen Princess Peach's voice (yes, her voice) in order to activate the Beanstar, an artifact with the power to grant wishes.
The dialogue is sparklingly witty and self-aware. There's The Dragon Fawful, for example, the baddie who talks in deliberate Engrish in the localization. And the endless commentary on Luigi's second-fiddle status. Also, the audio ends up Speaking Simlish pretty convincingly.
---
Tropes appearing in this game: