House of the Dragon Trailer - The Loop
Play Sound

YMMV •

Radar

•

Quotes

• (

Funny

•

Heartwarming

•
Awesome

) •

Fridge

•

Characters

•

Fanfic Recs

•

Nightmare Fuel

•
Shout Out

•

Plot

•

Tear Jerker

•

Headscratchers

•
Trivia

•

WMG

•

Recap

•

Ho Yay

•

Image Links

•

Memes

•

Haiku

•

Laconic

•
Source

•

Setting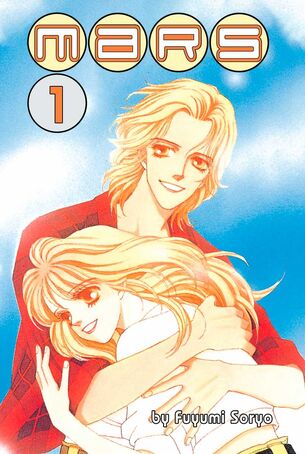 Mars is a fifteen-volume High School romance manga series written and illustrated by Fuyumi Soryo and serialized from 1996 to 2000.
Kira Aso is a Shrinking Violet student in the art club with a reputation for disliking men, when she shows any emotion at all. Rei Kashino is her polar opposite, a Delinquent who races motorcycles instead of worrying about his grades and has a reputation for being a shameless playboy. They meet one day in a park when Rei is searching for a clinic and asks Kira for directions. Kira draws him a map on a page from her sketchbook, not knowing that there's an important (and beautiful) sketch on the other side of the sheet.
Rei becomes interested in mysterious Kira and begins to half-heartedly pursue her. She resists at first, but after he comes to her aid against bullies and shows her he's not the Jerk Jock playboy she stereotyped him as, they tentatively become a Moe Couplet. . .
Not all is well in budding-teen-romance-land, however, for both Rei and Kira have skeletons in their closets. Rei is estranged from his only surviving family member and suffers from post-traumatic stress disorder over his twin brother Sei's suicide; Kira has very good reasons for her pathological shyness and dislike of men, and her family is fragile at best. They have to work out their respective problems as well as face the threat of one Masao Kirishima, a sociopath who begins to stalk both of them. The road to Happily Ever After is fraught with dangers on all sides, the likes of which normal Japanese teenagers only ever read about in manga.
This series is notable in that it avoids a number of frustrating romance manga cliches, excels at dramatic suspense, and depicts mental illness and psychological trauma in a nuanced and realistic manner. It also happens to feature really great art and a high-quality English translation.
In 2005, Mars was adapted into a Taiwanese live-action drama. It also got a J-Drama and a live action-film in 2016.
---
Provides examples of:
| | | |
| --- | --- | --- |
| |  Mr. Kashino: I don't care how many you have, just start making babies! | |