Jurassic World: Dominion Dominates Fandom Wikis - The Loop
Play Sound

YMMV •

Radar

•

Quotes

• (
Funny •

Heartwarming

•

Awesome) •
Fridge •

Characters •

Fanfic Recs

•

Nightmare Fuel

•
Shout Out

•

Plot

•

Tear Jerker

•
Headscratchers

•
Trivia • WMG •

Recap

•
Ho Yay

•
Image Links

•

Memes

•

Haiku

•

Laconic

•
Source

•

Setting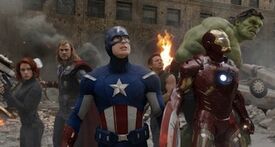 | | | |
| --- | --- | --- |
| | "You think you're the only superhero in the world? Mr. Stark, you've become part of a bigger universe. You just don't know it yet." | |

A combined setting occupied by most of the movies produced by Marvel Studios and distributed by Disney, starting with Iron Man. Unlike in previous Marvel licensed movies, there exists continuity between different movies.
The brainchild of producer Kevin Feige, a former producer of FOX's X-Men Cinematic Universe and a huge comicbooks fan, he came with the idea of internally producing their own movies based on the properties they still owned at the time which included the almost all the Avengers, the Guardians of the Galaxy, Doctor Strange, the Eternals and many others.
In 2016, there was a split in Marvel between Marvel CEO Ike Perlmutter's faction and Kevin Feige's faction over creative and monetary reasons during the production of Captain America: Civil War, leading to Feige being put under direct leadership of one of Disney's premier producers Alan Horn out of Perlmutter's influence. This also led to a disconnect in the TV productions led by Jeph Loeb and the films as Feige no longer had to connect or acknowledge their existence which eventually led to Continuity Snarls and many other inconsistencies.
In 2019, a major shake up removed Jeph Loeb as the main producer of the TV show with Kevin Feige being put in charge of new TV shows made directly for the Disney + streaming service. These shows are direct Spin Offs of the movies mostly set after the events of Avengers: Endgame.
Phases One through Three of the films are collectively known as the Infinity Saga due to the importance of the Infinity Stones to the story. 
Works
Phases
PHASE 1
PHASE 2
PHASE 3
PHASE 4
WandaVision (2021)

The Falcon and the Winter Soldier

(2021)
Season 1 of Loki
Black Widow (2021)[1]
Season 1 of What If...? (2021)
Eternals (2021)

Hawkeye (2021)

(2021)
Spider-Man: No Way Home (2021)
Moon Knight (2022)
Ms. Marvel (2022)
Thor: Love and Thunder (2022)
She-Hulk: Attorney at Law (2022)
Black Panther: Wakanda Forever (2022)
Captain Marvel 2 (2022)
Ant-Man and the Wasp: Quantumania (2022)
Guardians of the Galaxy Vol. 3 (2023)
Television
Prior to the conclusion of the Infinity Saga, the television branch of the MCU was treated as a Loose Canon. Following the release of the Disney+ original programming forming part of Phase Four, these earlier efforts were largely ignored by the powers that be. Though they were never outright Exiled From Continuity or rendered Canon Dis Continuity, these earlier shows are found under the "Marvel Legacy" section of Disney+, the grouping for non-MCU Marvel media. On the flipside though, some of the actors from the shows have reprised their roles in Phase 4 media, such as Charlie Cox cameoing as Daredevil in Spider-Man: No Way Home, suggesting that they may have occurred in a Broad Strokes manner.
ABC:
Hulu:
Runaways
Helstrom (Non-canon)
Freeform (aka ABC family):
Daredevil
Jessica Jones
Luke Cage
Iron Fist
The Defenders
The Punisher

There are also two shorts (Marvel One-Shot) released thus far, both starring Agent Phil Coulson:
And there are also some comic book tie-ins for the movies:
Captain America: First Vengeance - a Interquel of sorts for the Captain America movie, detailing some backstory for each of the main characters via flashbacks
Fury's Big Week - chronicling the events of Iron Man 2, The Incredible Hulk and Thor (as well as the Marvel One-Shots) from SHIELD's perspective and leading directly into The Avengers.
Tropes used in Marvel Cinematic Universe include:
Government Agency of Fiction: S.H.I.E.L.D. in all the movies, and before their time, there was the Strategic Scientific Reserve, which is implied to be the OSS to S.H.I.E.L.D.'s CIA.
Hero of Another Story: Many of the movies tease that there are other superheroes out there, Tony Stark pops up in The Incredible Hulk, Nick Fury has appeared at least by name in every film so far, Hawkeye as an Agent of SHIELD in Thor, etc.
Hey, It's That Guy!: A twofer — For all of the well known actors appearing in the films, and for the various cameo appearances in the films by characters from other entries in the universe.
Live Action Adaptation: Obviously.
MacGuffin:

The Infinity Stones in the Infinity Saga.
Vibranium.
Stark/Iron Man technology is heavily desired by many villainous parties.

Mythology Gag: Bound to be several considering their comic book origins. A few in particular come to mind:

Tony considers making the Mk II armor completely gold, but then decides it's "a little ostentatious" before throwing the red in.
A student being interviewed about the Hulk's rampage is named Jack McGee after the reporter from the 70s TV series. His friend is named Jim Wilson, an old side character from the comics.
A billboard in New Mexico advertises a "Journey Into Mystery," the title of the series Thor debuted in.
Agent Coulson gets gas from Roxxon Oil in "A Funny Thing Happened on the Way to Thor's Hammer."

The Multiverse: Introduced in Doctor Strange with it being said that the Masters of the Mystic Arts draw power from it and Dormammu being a Multiversal Conqueror. The multiverse goes on to form the basis of Phase 4.
Normal Fish in a Tiny Pond: Super soldiers. Against Muggles and Badass Normals, they're unstoppable. Against someone like Iron Man, Spider-Man or Black Panther, they're barely an annoyance. From their brief one-on-one moments, it's clear that Iron Man is completely out of Captain America's league.
Nothing Is the Same Anymore:

S.H.I.E.L.D. rightly pegs Captain Marvel and the Kree's arrival as this. After years of terrorists and Ancient Conspiracies, S.H.I.E.L.D. is now undeniably exposed to the existence of aliens, some far more advanced than Earth and hostile.
Thanos' Badass Finger-Snap on a universal scale. Now there will always be a divide between those who were and weren't snapped.

Outside Context Villain: S.H.I.E.L.D. was prepped to fight terrorists. Then alien warlords and conquerors began coming down. Widow lampshades this in The Avengers. Tony furiously lampshades however that no one but him thought to take steps to safeguard Earth against other aliens even after The Avengers, ensuring that this trope persisted.
Passing the Torch: In Avengers: Endgame, Thor passes Asgard's crown to Valkyrie and Cap gives his shield to Sam.
Phlebotinum Du Jour: The entire Verse invokes three versions:

Genetic Engineering Is the New Nuke: Captain America and the Super Serum which made him who he is has been coveted ever since World War II, with many sides failing to reproduce it in any functional capacity. Cap himself, The Hulk, The Red Skull, and The Abomination are all byproducts of this form of phlebotinum.
I Love Nuclear Power: Gamma radiation is the specific shtick of the Hulk franchise, but other heroes have some radiation involved too (Captain America's origin involved "Vita-Rays", Thor's hammer can cause electromagnetic disturbances), and all Tesseract and Arc-Reactor (see below) based-technology emits gamma radiation and other types.
Imported Alien Phlebotinum: Asgardian tech, specifically the Tesseract. Besides all the Asgardian gear in Thor and the use of the Tesseract in Captain America and The Avengers, it's also implied that Iron Man's Arc Reactor was reverse-engineered from the Tesseract by Howard Stark.

Public Domain Character: Thor, Loki, Odin, Hela, Frigga, Sif, Heimdall, Surtur, Fenris Wolf and Morgan Le Fay. 
Reasonable Authority Figure: SHIELD claims to be this. How true it is depends on the agent and the day.
Reality Ensues:

There was a seven decade Time Skip between Captain America: The First Avenger and Iron Man. The various powers who had access to the technology to make more Super Soldiers kept trying to.
After the fall of SHIELD and the Avengers becoming an NGO Superpower, the actual world governments took steps to reign them in and hold them accountable, passing the Sokovia Accords. And unsurprisingly, the Accords are, like any sweeping law, divisive. Some people approve of them, some say they don't go far enough, some view them as Necessarily Evil and some want them revoked or abolished outright.

Team Cap's own crusade against the Accords... accomplished nothing. The Accords were passed because the people felt that the Avengers were unaccountable. Having half their number suddenly go rogue only proved to skeptics for why the Accords were necessary.

Half of Earth's population disappeared for five years. When they came back, it created a mass refugee crisis, as their lodgings were sold to others in the Time Skip, the returned found their credit destroyed and students had to retake the school year they were Snapped away in. And when a body is established to reestablish the world to its pre-Snap state, groups who preferred life during the Blip, or feel that their needs are being ignored in favour of the returned, rise up in protest.

Reed Richards Is Useless:

Discussed in the Iron Man movie. Tony Stark's power cell is stated as being able to generate 3 gigajoules per second of energy — which is, of course, 3 gigawatts of power generation. This is about as much power as produced by the largest man-made nuclear reactor and about 15 times the power of a Nimitz-class aircraft carrier (and two and a half times the power required to travel through time). The movie makes it clear that the Arc Reactor is incredibly valuable, and Obadiah Stane wants to use it for profit, but Tony is adamant that the technology stays in his hands and his alone, because he's seen what happens when his technology ends up in unsupervised hands.
The second film averts this trope though - in the opening sequence shows Ivan Vanko building the first Whiplash suit, and various newspaper clippings are shown that mention, among other things, new technological advances developed by Stark Industries made available to the general public. Tony Stark's claims that he has privatized world peace and created the most peaceful time in human history further cements this aversion.
The Iron Man anime, based heavily off the continuity of the films, averts this; the plot begins with Tony going to Japan to build what he hopes will be the first of countless arc reactor power plants around the world, to help with the energy crisis.
In The Avengers, Tony shows that he is preparing to spread his Arc Reactor technology around the globe, but on his terms. It is also implied that his releasing of the Arc Reactor in the War Machine suit is what helps S.H.I.E.L.D. develop all those advanced toys that they use in the film. Nick Fury also mentions that S.H.I.E.L.D. plans to use the Tessaract to bring clean, sustainable energy to the entire world, though both Stark and Bruce Banner become suspicious that S.H.I.E.L.D. didn't call in Stark, the world expert on clean energy. S.H.I.E.L.D. is actually developing Tesseract-based weaponry to fight extraterrestrial enemies with power comparable to the Asgard.
Discussed in Avengers: Age of Ultron where Ultron is almost personally insulted that the best usage that Howard Stark could think of for his vibranium was to make it into a frisbee. Helen Cho even comments that Ultron is using vibranium in a medically feasible way that never even occurred to S.H.I.E.L.D. In Ultron's view, this trope is not only typical of humans (which he highlights by the fact that they never thought to open the Scepter holding the Mind Stone) but why he's the superior successor.
Black Panther as always. As Killmonger, and later T'Challa himself, call out the Wakandan kings for, Wakanda's advanced technology could help the world enormously but they choose to horde it all away.
In Cracked's After Hours, the quartet, during Why Captain America is the Worst Avenger, discuss this trope. They note that Tony Stark isn't useless; as he builds impressive technology for Spider-Man and War Machine; but Cap's traditionalist attitudes make Tony largely useless to the Avengers.
Hank Pym is probably the most useless scientist in the MCU. As he himself says, the Pym particle could revolutionize the world yet he keeps it to himself, not trusting anyone with its use. While it could be weaponized, there are also a lot of humanitarian things it could do for the world. As Endgame shows, when Scott gives Tony all of Hank's notes, had Hank shared the technology, it could have been used for so much more than Pym ever thought possible.

Running Gag:

As with all Marvel productions, Marvel Comics co-creator Stan Lee being featured in most of the films prior to his 2018 death in a blink and you'll miss it Creator Cameo.
It's not a good idea for Asgardians like Thor and Loki to boast how powerful they are. They're not even going to finish the sentence.
Throughout Phase 2, people seem to lose limbs.

Simultaneous Arcs:

Iron Man 2, The Incredible Hulk, and Thor all take place over the course of one week, with S.H.I.E.L.D. scrambling to have someone at each site.
The first act of Black Widow overlaps with the third of Captain America: Civil War. The rest of Black Widow takes place concurrently with Black Panther.

Smug Snake: Loki straddles the line between this and Magnificent Bastard. While he's far from incompetent, he is nowhere near as good as he thinks he is and ultimately, his arrogance is what leads to his downfall.
Spy Catsuit: Black Widow and Maria Hill; probably goes for all the female SHIELD agents. Hawkeye seems to have a variation of one as well. All of the bridge crew of the helicarrier also wear them. This is true for all Black Widows, as of her solo film.
The Stinger: Most of the movies have one.
Superhero: *ahem*
Super Soldier: About half of the superhuman origins in this 'verse have their roots in trying to either bioengineer better soldiers or just give them better equipment; most obviously Captain America but also Iron Monger, Hulk, Abomination, the Hammer drones, and Red Skull. Most of the rest are tied to Asgardian tech, specifically the Tesseract (see Imported Alien Phlebotinum above).
Super Weight:

Type -1: Steve Rogers pre-treatment
Type 0: Agent Coulson, Thunderbolt Ross, Howard Stark, Tony Stark
Type 1: Black Widow, Hawkeye, Thor (human), Nick Fury, Maria Hill, the Howling Commandos, SSR soldiers, Emil Blonsky (pre serum)
Type 2: Captain America, Red Skull, Emil Blonsky (after serum), anyone armed with HYDRA weaponry, Whiplash (first suit)
Type 3: Most Asgardians, Loki (during Thor), Frost Giants, Chitauri soldiers
Type 4: Iron Man, War Machine, Obadiah Stane (Iron Monger suit), Whiplash (second suit), Hammeroids, Hulk, the Abomination, Thor, Odin, Loki (during The Avengers), the Destroyer, Heimdall, Leviathans
Type 5: The Bifrost.
Type 6: The Infinity Stones.
Type 7:

The TVA and Kang the Conqueror

.

Thanos Ensues: The Trope Namer though not entirely accurate. Thanos' actions may have hit pause on Reality Ensues but once he's dealt with, the issues that people were dealing with before his arrival return to the forefront and reality keeps ensuing.
This Is Gonna Suck: Numerous scenes throughout the movies, but the biggest by far being the post credit scene for Thor.

It Got Worse: The stinger for The Avengers.
Thor Ragnarok does this as well.

Time Skip: Following Thanos' death in Avengers: Endgame, the action jumps forward five years.
Truer to the Text: Captain America: The First Avenger is significantly more faithful to the source material than Captain America (1990 film) was, to say nothing of the 1979 films starring Reb Brown.
The Verse: The MCU is designated Earth-199999 in the overall Marvel Multiverse.
Vile Villain, Saccharine Show: Several examples; most notably Iron Monger, Ronan the Accuser, Yellowjacket,

Ego the Living Planet

, Hela, and

Mysterio

. Green Goblin is an interesting case; while in his home series he fit well with the tone, in the more light-hearted MCU he qualifies due to arriving warts and all.
Villain Show: Loki.
Villains Act, Heroes React: As Tony Stark is aware of and furiously tries to avert. He, quite rightfully, calls Cap out on his Head-in-The-Sand Management in preparing for another Alien Invasion in the opening of Avengers: Endgame.
Wham! Line: The Stinger from Iron Man. Whilst there had been talk of Marvel wanting to make an Avengers movie at some point, this was the moment that it became a reality.
And the second big Wham! Line of the MCU; not so much for what's being said as who it's said to:
| | | |
| --- | --- | --- |
| | The Other: To challenge them is to court death... [cue Thanos] | |
Where Does He Get All Those Wonderful Toys?: Averted. Everyone with gadgets has a good explanation for where they got them. More often than not, these weapons are built by a member of the Stark family or designed by S.H.I.E.L.D..
 Agent Cale: Is this one of Stark's?

Agent Coulson: I don't know. That guy never tells me anything.