YMMV •

Radar

•

Quotes • (

Funny •

Heartwarming •
Awesome) •

Fridge •

Characters •

Fanfic Recs

•

Nightmare Fuel •
Shout Out

•

Plot •

Tear Jerker •

Headscratchers •
Trivia • WMG •

Recap

•

Ho Yay

•

Image Links

•

Memes

•

Haiku

• Laconic •
Source

•

Setting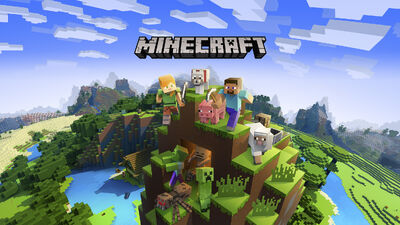 "I have heard [Gabriel] suggest that the game is crack, but it's more like all of the ingredients and equipment that you need to

make

crack, which I'd say is worse."

A cross-platform, block-based sandbox game. It was originally intended as a Spiritual Successor of the free game Infiniminer and is inspired by Dwarf Fortress as well, even to the point that someone developed a program to convert Dwarf Fortress maps into Minecraft landscapes.
Currently Minecraft has two main branches: "Classic" and simply "Minecraft" (Previously "Beta"; "Alpha", "Infdev", and "Indev" before that) with the latter further sub-divided into "Survival", "Creative", and "Hardcore" modes. It is currently priced at €19.95 (US$26.95, £17.20), Classic is free to play, but has fewer features than the full release. You can find the game here.
Classic is a simple sandbox mode that can be played either single or multiplayer. Players can place or destroy blocks as they see fit, and can switch between various kinds of blocks. For the most part, it's focused solely on building, and can be used to easily make very large structures or pixel art. Many players have compared it to playing with LEGO[1], and the visuals definitely carry that vibe. Classic is free to play, and a good way to introduce someone to the mechanics of Minecraft, but it is extremely basic when compared to the full game's more varied and complex features.
The full version features two modes: Survival and Creative.
Survival adds myriad features, such as a crafting system, a day/night cycle, and hostile monsters, and unlike Classic, the player must collect blocks manually. Players are dropped into an empty world with absolutely nothing but the clothes on their back. At night, zombies, skeleton archers, Giant Spiders, exploding Creepers, and teleporting Endermen roam the land (unless you're playing on Peaceful Mode [2]). The player is forced to scrounge for supplies, building up a base to protect from the nocturnal beasts while also mining deep underground for valuable materials. The landscape is also populated by more docile animals, like cows, that can be killed for their meat (which fills your food meter) and other useful items. Even after its official release, the game is constantly updated with many new features and tweaks, and players who have already paid for the game receive these free. For more details about Survival mode, refer to the analysis section.
The second mode, Creative removes the health bar, gives the player infinite access to every item/block in the game, lets the player spawn nearly every kind of mob[3] and gives them the ability to fly. It is, in essence, a more full-featured version of Classic.
Notable for its frequent updates and very involved creator, Notch (now working on other projects, having turned Minecraft over to Jeb). The full game was released on November 18, 2011 (Originally slated for November 11, but due to some other game launching that day, Notch pushed it back a week). The game also exists as a mobile version for the Sony Ericsson Xperia Play and two official Android apps (one free and one paid version - both of which roughly correspond to the Classic and gold versions, respectively). An iOS version of this was released on November 17, one day before the computer version left Beta. Versions for many consoles are also available, the first being a version for the Xbox 360.
In 2019, Minecraft became the best-selling video game of all time, with over 200 million copies sold as of May 2020.
Worth mentioning, one of the texts that can pop up at the title screen is "Less addictive than TVTropes!"
The largest third-party Game Mod, The Aether, has its own page. There is also a page reserved for fan-made Adventure Maps.
---
Minecraft provides examples of:
Before that was Manic Digger, which went so far as to even allow itself to connect to Minecraft servers. Notch was not very impressed with this.
Terraria is usually described as "2D Minecraft". It's worth a mention that one of the title screen messages recommends that you play it.
Minecraft itself was a successful result of Infiniminer clone wave.

For Science!: Redstone dust + various mods = "Great Scott!"
Fungus Humongous: As of Beta 1.8, these can be found occasionally growing in the wild, as well as grown by the player via sprinkling bonemeal on a normal mushroom.
Gainax Ending: After beating the Enderdragon, you get an 8 minute long scroll of confusing text. It seems to be a pair of sentient cosmic forces discussing you, the player at the keyboard. The conversation implies, among other things, that Minecraft was All Just a Dream, life itself is a much longer dream, all the monsters you've been fighting are fragments of the darkness in your heart, and humanity is the universe's attempt at understanding itself. This is probably a Shout-Out to the Herobrine Mythos [1], a persistent Urban Legend of Zelda about a stealthy, undocumented NPC changing the environment (similar to the later-introduced Enderman mob), and one of whose propagators also posted a hidden message very similar to the ending scroll in content.
Game Breaking Bug: Mojang doesn't really do a lot (if any) internal beta testing before releasing new updates for Minecraft, leading to a ton of these every update. What usually galls players is how many of these game-breakers manifest after minutes of play. This leads to situations where some of the fanbase thinks that maybe someone should go over the releases internally before subjecting players to it, while others think that players paid Mojang to find and detail those bugs for the company. A prime example of one of these is this.
Game Mod: Minecraft has a large and enthusiastic modding community for everything from texture changes to full-blown gameplay overhauls, to the point that Minecraft simply became the most modded game ever. Go here for a comprehensive list.
Gaslighting: Endermen move blocks around at night, which may heavily confuse you if you weren't aware of this ability of them.
Giant Spider: One of the mobs. It's about half as tall as you, but they're among the fastest mobs in the game, can often be found in groups, and are able to climb walls.

Cave spiders are less than half the size of the other spiders, but at twenty inches tall, they're still giant by real-life standards.
Jeb recently posted a screenshot suggesting we may end up with bigger spiders, too.

Grave Robbing: As of 12w21a, pyramids will be in sand biomes, they have treasure inside them. But are also booby trapped with TNT.
Glowing Eyes of Doom: Spiders have glowing eyes in the dark, as do Endermen.
Gravitational Cognizance: Sand and gravel sometimes forget to have fallen down in freshly-generated terrain. Until you disturb the underside. Purty! Also shown here.
G-Rated Sex: Breeding in Minecraft differs a lot from breeding in real life, as there is no suggestive animation whatsoever, just two animals rubbing their faces for a few seconds before a baby is born.
Green Hill Zone: The default map theme.
Griefer: Almost a given in this game when playing on a server. Some servers, depending on who is maintaining them, will allow griefing against other players while other severs will forbid it. If you are running a server for the first time, using the whitelist feature can help cut down on griefing. TNT is also heavily forbidden in many servers since its explosions can easily wreck structures people built or cause lag if too much TNT goes off at once.

In the early days of Minecraft, the Flint and Steel item was heavily banned in most servers because the fires it created made other things catch on fire very quickly until a patch slowed down the speed of fire spreading.

Guide Dang It: Admit it, when players are dropped into a new world, punching a tree is not the first thing they think of. Achievements have been an attempt to alleviate some of this, and the 1.12 added a Recipe book.

Aside from the occasional Word of God, most crafting recipes seem to be discovered by players hacking the game.
One game mod does just this: show you every recipe. Aptly named Recipe book (at bottom of OP).
Even mods are far from immune - IndustrialCraft2, which adds machine components and 3 more ore types, requires more trips to documentation (typically its own wiki) for experts than Vanilla Minecraft does for newbies. And that's not even getting to the Nuclear Reactors, which were redesigned from the ground up in

IC 2

and will involve some trial and error - very painful trial and error - even when you do have a rough guide.

Nuclear Reactors require your constant attention - unlike every other set and forget power source, you have to replace exhausted cooling cells constantly, implement the perfect pattern of fuel cells and cooling cells for maximum power without overheat, and if you turn your back to it for even a moment, you will turn back around to find an enormous crater and a blast area the size of Hiroshima carved into your map, that is, if you survived the explosion. But what really tops it is that while Nuclear Reactors are awesome, their power output can be matched or exceeded by a very large solar power array, which won't meltdown and destroy a large area of the map in the process.

The Aether mod comes with a feature where all you have to do is hit a certain key and a book for the world you're in (Nether, Normal, or Aether) will pop into your inventory.

Hammerspace: The items in your inventory, and where items placed in an Enderchest go.
Harder Than Hard: Hardcore mode. It's locked on the hardest difficulty, and death means your save file gets deleted. Also, the 12w18a snapshot extends Hardcore mode to multiplayer. Should you die in a sever with Hardcore enabled, you'll get a Have a Nice Death message and are automatically banned from the server.

And if that's not enough? You can disable natural regeneration, forcing a player to eat golden apples, use potions or beacons, all expansive solutions, to regenerate health. Each Health Point becomes precious and even fighting a zombie poses a huge threat.
If you created a single player save file through use of seed generator, it's possible to revisit the world you died in. However, the world will spawn just as it did the very first time you played on it, as in, without all of your tools and buildings.
Copying your world files is a way to keep playing on your Hardcore map, even if you died.

Have a Nice Death: Dying sometimes produces a humorous announcement on how you died, such as "[player] blew up" and "[player] fell out of the world".
Healing Potion: These can be made with some water, netherwart, gold, and watermelon. Another variety made with ghast tears will steadily regenerate your health.
Hearts Are Health: In Zelda's fashion.

Hearths normally appear red, but extra-hearts given by the Absorption effect (by eating a golden apple) appear yellow. They appear greeen if the player is poisoned, and black if the player is withering.
Hearts also have a more threatening aspect in Hardcore, with two small black dashes resembling an angry stare, to highlight that your survival is of utmost importance.

Heart Symbol: These can be seen after taming a wolf, or when farm animals breed.
Hell Gate: You can build a rectangular-shaped obsidian portal, then light it up with a flint or steel, to create a portal to the Nether.
Hitbox Dissonance: Ghast's hitbox is much smaller than it seems.

Chickens's hitboxes are strangely shaped for swords, but works just fine for arrows.

Hoist by His Own Petard: It is possible to harm yourself with your own arrows, either by firing them upwards, having them recoil off an enemy currently experiencing Mercy Invincibility, or simply outrunning your arrows, which got much easier when bows became hold-to-charge instead of instant-fire. More generally, in PvP, you may drown yourself in lava while you attempted to burn a player with your bucket, falls into your own traps, etc.

This can happen to the skeletons as well, if you have another hostile mob in the way, the skeleton will be attacked by it if its' own arrow hits the mob. Skeletons can even duel each other if one were to shoot another. It's also the only way you can get records.
The Beta 1.4 updates up the ante with tamed Wolves that attack anything that has attacked you (except Creepers). If you manage to shoot yourself, your own Wolves will attack you.
Ghasts love to fly out of range of your arrows and shoot fireballs at you that aren't affected by gravity. It's possible to kill them by hitting their fireballs back at them.
One Game Mod introduces the ability to use elemental arrows, such as Ice Arrows, Exploding Arrows, Fire Arrows, and Lightning Arrows. Lightning can supercharge Creepers. Do the math.

Humanoid Abomination: The Endermen are very much this.
Hyperactive Metabolism: Before the Beta 1.8 update, all consumable food instantly restored your health. Food now only fills up your hunger meter, which will slowly restore your health if the hunger meter is at least 90% full, and at a much quicker pace if your whole food bar and saturation stat are full.

Sheep now eat grass to recover their wool.

Hyperspace Arsenal: It's possible to make a cube of 13x13x13 tiles (2197 cubic meters of material) from the blocks you can carry around and still have more than a hundred to spare.
Hyperspace Is a Scary Place: The Nether. If you enter through one Hell Gate and leave through another, you'll find yourself displaced eight times further than you traveled within The Nether. It's a very useful shortcut, if you don't mind the fact that the place is full of steep cliffs, lava lakes, and ghasts.
I'm a Humanitarian: If you're really desperate to restore your hunger bar, you can eat the rotting flesh of slain zombies. It'll give you food poisoning, but it could still save your life.

There's also an instance of indirect cannibalism when you use bone meal to grow your crops. That's human bone you're using.

Improbable Weapon User: See Improvised Weapon entry below.
Improvised Weapon: If you're fighting a mob with anything other than a sword or bow, this is likely what you're using. You can beat zombies down with axes, mining picks, shovels, blocks of stone, blocks of dirt, blocks of sand, blocks of wool, flowers, hunks of grilled pork meat, fish, doors, ladders, furnaces, minecarts, glass, mushrooms, diamonds, eggs, paintings... Some of these are surprisingly effective against certain mobs, such as snowballs against Blazes. Most of the time, though, items other than tools do not cause more damage than the fist to enemies.
Inexplicable Treasure Chests: Some madmen have put them deep under ground with a mob spawner. Of course, it's one of the few games where the player can put chests containing things in the most unlikely places.

Chests can also naturally spawn in the hallways and libraries of a stronghold, which makes a bit more sense.

Insistent Terminology: Notch has said via his twitter that the Minecraft default player's name is "Steve?", not "Steve".
Instant A.I., Just Add Pumpkins: The player can build snow or iron golems that wander around, attacking monsters. How do you get a pile of snow or iron to come to life and move independently? Give it a pumpkin for a head. Sure, why not?
Insurmountable Waist-Height Fence: You can now build them yourself. They're the same height as a regular block, but you can't jump up on them without first using another block as a step. That's because they count as being 1½ blocks high in character collision checks (yes, that also means you're half a block above the fence if you're "standing" on it), and you jump just less than that.
An Interior Designer Is You: And, if you want to go that far, an exterior designer is you too.
In Universe Game Clock: One complete daily cycle, from sunrise to sunset to sunrise, lasts for 20 minutes. This means that time is compressed at a 72:1 ratio (72 Minecraft days equals one real-time day). The time of day has dramatic effects on gameplay: Nighttime is when the monsters come out. Daytime is when they burn. As you can imagine, being several miles away from your house at sunset is not a good idea (that is, unless you brought a bed with you).

Beta 1.8 added moon phases.

Invisible Anatomy: When you're not using your fists to punch something, the item you're holding is just floating in front of you.
Item Crafting: You can craft using your personal, permanent 2x2 grid, but won't get very far (the only useful things you can craft with it are plancks, crafting tables, sticks, torches and redstone torches, buttons and levers). The 3x3 grid of a crafting table allows you to craft anything.
Item Farming: The villager trading system. Villagers can sell better weapons and tools for you for Emeralds, you get Emeralds by trading items to them or mining. Wheat and paper are the easiest to farm emeralds from, as they are derived from renewable resources.
It's a Wonderful Failure: Death in Hardcore mode. The game doesn't automatically delete your world. It sits you at the game over screen until you manually activate the deletion process. However, you can still spectate your world (which oftens makes your death even more painful).
| | | |
| --- | --- | --- |
| | You cannot respawn in hardcore mode! (Delete world) | |
I Was Told There Would Be Cake: In an attempt to focus public support, it was announced that cake would be added to the game if Minecraft won Indie of the year. It did, and cake was added in the first update of 2011.
Jungle Japes: The Jungle Biome added as of the 1.2 snapshot updates.
Just Add Water: Crafting is a crude form of pixelated drawing with crafting materials. No actual labor required. Even complicated items like a clock can be made by merely putting the materials together in a vague clock-like shape. To put it simply, a clock and a compass can be made using the same configuration, except the clock requires gold whereas the compass requires iron.

And it also literally applies to making Obsidian instead of looking for it. Just add water to lava.

Just One More Level: Now with its own shirt!
Kaizo Trap: After defeating the Enderdragon, it's still possible to be killed by any nearby Endermen or falling off the edge of the dimension.

And in Creative Mode, you can destroy the portal leading back to the overworld. Whoops.

Kill It with Fire:

Flint and Steel can ignite enemies. If they were already damaged or not near water, they will more than likely die. If you want to kill non-hostile spiders without them retaliating, you can ignite the ground below them, and they'll take damage without recognizing you as the source.
Fire as a whole is more or less lethal, unless you conveniently dug into water and lava at the same time.
Inverted with the Ghast: It's immune to fire and will in turn kill you with exploding fireballs that you can reflect.
When a pig or a cow is killed in this fashion, the porkchops / steak it drops will already be cooked.
Blaze powder, gunpowder, and coal can be combined to make a fire charge. This item can be used like flint and steel to start a faster-spreading fire, or you can load it into a dispenser to launch fireballs.

Kill It with Water: Endermen are, in addition to fire and lava, weak to water. Leading them to a pool of water or exposing them to a rainstorm will damage them.

As of the full release, Endermen teleport away when they come in contact with Water.
This is the standard way to farm slime balls; since slimes can't swim, a drowner trap is very effective against them.
Also four doors arranged around a block of water suspended above a stone pressure plate, topped by any solid block. Mobs walking on the plate will cause the doors to lock them in. Trapping them with their head in the water, unable to get out. Once they die the pressure plate is released and the trap reopens to visitors.

Knockback: Enemies after getting hit. This is crucial with dealing with Creepers. Hitting them while sprinting produces a great deal more of it. It's also an enchantment too.

Iron Golems produce this in spades. Anything they hit is flung into the air high enough to take fall damage, in addition to the heavy damage the attack itself does.

Lamarck Was Right: When dyes were added, you could colour sheep and recieve more wool (see Awesome yet Practical above). Now that animal breeding has been added, sheep will pass on their (dyed) colour to their children and will even regrow dyed colours of wool. Since the colour passed on to the child is selected at random, you can use one lapis lazuli to create an entire flock of blue sheep, since Minecraft animals have no set gender and can reproduce with any other animal that isn't juvenile. Say goodbye to hoarding your lapis!
Lethal Joke Item: Continuing the proud tradition of fishing rods in this role is, well, the fishing rod. Normally, it's used for just that - casting out into a body of water and flinging in a fish when it bites. Most players wouldn't even bother using it for anything else. But suddenly, a whole new world of possibility opens up when the astute player realizes that it doesn't just reel in fish, it reels in ANY creature. With practice, a player atop a wall can heave up monsters into sword range and with a quick switch, slash the unfortunate on his way back down to fall-damage town. The cherry on top? Even Ghasts are affected, which can be used to pull the elusive flying buggers closer so they can't avoid your hail of arrows.

Snowballs can be thrown at mobs to knock them backward, but don't actually deal any damage, except against blazes and the enderdragon. Even then, they're much weaker than arrows, and the faster rate of fire is offset by the short range. Most people wouldn't even consider bringing snowballs into the final battle against the high-flying boss, whose immense health is daunting even to players with diamond swords. However, the snowball's knockback actually stuns the enderdragon for longer than it takes to throw another snowball. As a result, one of the easiest ways to defeat the enderdragon is to lure it into its normally unstoppable charge, then pelt it with a steady stream of hundreds of snowballs.

Let's Play: If the autocomplete feature is any indication, this is the most popular game to LP on YouTube - and that's not counting tutorials, walkthroughs, demonstrations of building projects and servers, etc.
Level Map Display: There's a Map item that you can craft to keep track of the world you explore. Its radius is quite limited though, and it is quite expensive to produce. It's better to use mods or simply keep track of important coordinates.
Lightning Can Do Anything: Lightning will turn pigs into Zombified Piglin, and massively power up the explosion of a Creeper. It also ignites inactive portals. Forest fires can also be started if a thunderbolt hits a tree and even the player can be struck by lighting, but only for minor damage.
Lily Pad Platform: Relatively small lily pads can be walked on. Boats also destroy them in one hit (they used to be destroyed by them, making them very annoying at the time; even then, lily pads will still slow down boats).
Literal Genie: The game's creator falls into this occasionally. Fans begged Notch for a way to ride animals, so he created saddles, which can only be found in dungeon chests. This saddle can be placed on a pig, allowing you to ride it. Unfortunately, due to Notch's sense of humor, the pig continues to wander around aimlessly, since most of the fans were asking for a way to ride animals, but didn't specifically say anything about being able to control them.
Loads and Loads of Loading: Zig zagged. It takes less than 10 seconds (barring update downloading) to get to the main screen in the full game, but a map can take a while to fully load, particularly a well-explored map.

Since the Beta 1.3 Patch, the file format has reduced the total number of files used to store a single map magnitudes less than what it previously required, (Went from 1000+ files to double digit numbers) and has drastically improved this issue. Given that maps can be upwards of 100Mb large, though, this still frequently applies.

The Lost Woods:
Low Fantasy: Cleary, magic is something extraordinary. And while some mobs can possess enchanted stuff, the player is the only one who can harness the full potential of enchants and potion breweries.
Ludicrous Gibs: Averted in that there's no blood at all in the game - the texture of the former Zombie Pigmen (now Zombified Piglins) was even changed from originally red-themed to green to maintain this. That said, however, PCs in Minecraft "spray" the items in their inventory when they die. And if your character happens to be carrying skeleton bones and redstone dust...
Mad Bomber:

Creepers. Pretty much all they do is silently sneak up on you, hiss for a second and a half, and explode. Even on easy, the explosion can kill you instantly if you can't get away in time. It also destroys most types of blocks, which can allow other monsters to invade your shelter.
Ghasts (found only in the Nether), which shoot fireballs at you, setting the terrain on fire.
If you have Mad Bomber tendencies yourself, you can blow stuff up with TNT or Fire Charges. Incidentally, to make these explosives, you need to get gunpowder by killing Ghasts or Creepers, the other two Mad Bombers in the game.

Made of Explodium: Creepers. They even drop gunpowder when you kill them, which can be used to craft your own TNT.

Time is irrelevant in the Nether. Clocks malfunction. Compasses pick up multiple magnetic poles. Beds? Well, beds just plain explode when you try to use them.

Magic Tool: The Furnaces. Stove, smelter, kiln, and steam engine all-in-one combo pack!
Magnet Hands: It is possible to climb ladders with a block of sand in your hand. With your back to the ladder.
Mascot Mook: Creepers are the most well-known of all the mobs.
Massive Multiplayer Crossover: Multiplayer sessions can be this, due to how players can make skins resembling characters from other franchises.
Mechanical Monster: The Blaze mob in the Nether appear to be of this. There's nothing in between their rotating rods and their sounds, pain sounds, and death cries sound very mechanical instead of organic.
The Merch: Since the game is enormously popular, that's to be expected. Players are, in particular, fond of the Creepers.
Mind Screw: The game's ending "poem". Seriously.
The Mockbuster: FortressCraft, an unabashed knock-off released on Xbox Live Indie Games. Doesn't help that not long after, the actual Minecraft was announced for Xbox 360...
Moe Anthropomorphism: "Creeparka", is a Japanese meme combining the Creeper and a Parka (which is more typically called a "Hoodie" in English slang). Specifically, this meme involves a cute girl wearing a Creeper-themed hoodie (and often little else) and generally looking cute and frustrated.
Mook Maker: Monster spawners.
Narnia Time: In single player, while you're in the Nether, time doesn't pass in the overworld, and vice-versa.

This is because only parts of the world where some player is around are simulated, so in Multiplayer it still works when nobody is in the nether/overworld, the time there stops. This also applies to The End.

Nerf:

Swords were quite powerful for a time, but their damage output was slightly reduced by the 1.0 release. This was likely to encourage players to use the Enchantment Table to power up their swords with various effects to compensate for the reduced damage.
Cake used to be an extremely practical method of healing--just plonk it on the ground and right-click it whenever you need to heal, up to six iterations of 1.5 hearts. With the 1.8 update that turns food into stamina restoration rather than health restoration, it loses a lot of utility. They restore one food point up to six times, but don't restore much saturation, so you'll get hungry fairly soon. They're basically only good at topping off your hunger bar repeatedly so you can slowly regenerate health, but you need a lot of materials (iron, wheat, cow) to get started.
Golden Apples used to be extremely difficult to make, due to the fact the normal Apple was effectively dummied out of the game until Strongholds were introduced (unless you play MP with the game's creator) and you needed 8 Gold Blocks (72 Gold Ingots!) to craft. The 1.1 update made crafting Golden Apples a lot cheaper where instead of 8 Gold Blocks, you just need 8 Gold Nuggets (8/9ths of an ingot), which are easy to find in the Nether, and normal Apples can now be found in the leaves of a basic tree. At the same time, the effects of eating a Golden Apple have been severely reduced; they went from restoring all health to restoring 5 units of hunger and granting health regeneration for 30 seconds, and now they only restore 2 units of hunger and the health regeneration only lasts a meager 4 seconds.

Snapshot 12w21a rebuffed the Golden Apple by making a secondary version that is stronger with better effects, but requires the old recipe of one red apple and 8 gold blocks. The new version gives 30 seconds of Regeneration IV, which basically gives you health regeneration so fast that you can fully recover in just a second or two! The item also gives 5 minutes of fire resistance (immunity to fire damage) and 5 minutes of resistance (reduced damage). The old Golden Apple made from gold nuggets has its tooltip colored in blue to show the difference and the item doesn't shine.

And now, you can't even craft enchanted golden apples...

Nintendo Hard: Beta, orginally. The /infdev/ update that first allowed the spawning of creatures would often create groups of 5 or 7 monsters right next to another group of 5 or 7... during all hours of the daylight! Simply going outside for wood was difficult. Fortunately it has been fixed.
Nitro Boost: Dash Pad variety is seen in powered minecart rails as the boost the mine cart when it rolls over the set of activated golden rails.
No Arc in Archery: Averted; arrows follow parabolic arcs, and they also can be slowed by water and do damage according to how fast they're moving. The behavior of arrows is one of the few things that is actually realistic in this game.
No Plot, No Problem: There is only an allusion of plot, but to that day there is no actual history. It's up for the player to make up his own story.
Nothing Is Scarier: You're at bedrock level in a nearby mine. Near pitch black darkness, a narrow hallway, limited weapons. No music, no sounds (with the exception of when you mine). And you know that there are zombies, skeletons and spiders waiting randomly around to tear you to pieces, but you haven't found them yet. NOTHING IS SCARIER.

You just opened up a hole into a cave system. There are no telltale sounds of nearby enemies. (All of the above enemies have idle sounds.) That still doesn't mean you're safe; all it means is that there might be a creeper in there instead. Which would be worse.
The End. No sky, no sea, no exploding bush monsters, not even lava. Just you, the Endermen, and the occasional Enderdragon.
When you're exploring, say, a stronghold, and you place a torch that reveals a zombie right in front of you. Even in Creative Mode this will make you jump out of your seat.
Very situational, but say you're mining through a wall to a hallowed-out cave on the other side of it. As soon as you mine through, a Creeper pops out to say "hi"...
Did you make it past the bedrock level? Say hello to the void, which is a huge blank space of nothing. Fall down far enough in the void and you will be damaged quickly until you die. Before the 1.8 update, the void was the same color as the sky so it wasn't too scary. After the update, the void's color was changed to black, making it extremely creepy. The purpose of the void is to kill off players that somehow fall through the bedrock level so they wouldn't become stuck.
Peaceful mode removes the mobs, no ifs ands or buts, but unless you turn off the game's sound, ambient soundclips will still play in deep caves, making you question if you're really alone.

One-Gender Race: Practically every humanoid or animal species in the game. All NPC villagers are male, and their unusual noses have had them nicknamed "squidwards". The default provided player textures ("Steve") are also always male. All chickens are hens who lay eggs, and all cows give milk (there are no bulls). It is probable that all pigs, sheep and wolves are also female, but they haven't demonstrated any gender-specific behavior other than that any two of their species can be bred together, even separate combinations of A+B, A+C and B+C — and they will all successfully give birth.
One of Us: Unsurprisingly, the game and its wide-open nature have garnered fans of all sorts, resulting in seemingly odd or quirky references to Minecraft in various places. For instance, in this seemingly-serious Flash animation about the scale of the universe - from atom to visible universe, there is a picture of the scale of a Minecraft world compared to everything.
One-Hit Kill: Since the 1.9 update buffed their explosion power, in close range creepers can do this even to players whose armour is in a decent state.
Our Dragons Are Different: The Enderdragon in The End. It's mostly black with bits of gray on the wings and sporting purple eyes, but it looks pretty much the same as any western type dragon. The Enderdragon doesn't have any attacks other than ramming into you to send you flying back several feet, but it has a TON of health (complete with its own Life Meter) and is healed by the nearby Ender Crystals. Killing it nets you 20,000 experience points and opens a portal to exit the realm. However, only one Enderdragon can spawn per The End world.
Our Zombies Are Different: The ones featured here have the classic arms-forward walk, greenish-gray skin, and burst into flames when exposed to sunlight. They used to drop feathers when killed, simply because something had to drop feathers and zombies were introduced before chickens. Nowadays, they drop rotten flesh, which you can eat in emergencies, and the most you have to worry about is food poisoning. You can feed it to pet wolves to heal them without any downsides.
Oxygen Meter: When you're fully submerged under water. If you run out of air, you'll start taking one heart of damage per second. Enchanted armor can reduce this rate.
Palette Swap: Many blocks and items are the same models with different colored textures.
Patchwork Map: Biomes are all over the place.
Planet Heck:

The Hell map setting.
The Nether, as well.

Point of No Return: Once you enter The End, you can no longer return until you kill the Enderdragon, or die.
Power Creep, Power Seep: The Endermen are going through a phase of this. Notch claims he nerfed them before the official Beta 1.8 release, and then complained that they're too easy, so the next major update gave their AI an overhaul, removed their vulnerability to sunlight, and doubled their health. It also limited the types of blocks they could move to the softer kinds. Time will tell how much of this stays permanent.
Powerup Mount: Pigs make great parachutes when you ride them via saddle.
Pre-Explosion Glow: Creepers flash before blowing up.

The Enderdragon goes out like this.

Pressure Plate: One of the three types of switches you can create. They can be used to open or close doors, toggle redstone torches, switch minecart tracks, or detonate TNT. Stone pressure plates can be triggered by players and mobs walking or riding over them, while wooden pressure plates can additionally be triggered by arrows, dropped items, and minecarts. There are also pressure-sensitive minecart tracks, useful for triggering boosters.
Rain of Arrows:
Real Is Brown: The biomes introduced grasses with more "realistic" hues. The bright green grass does still exist, however.
Reality Ensues:

When crafting was added to the closed alpha, everyone ran out and made gold swords and armor. As it turns out, gold is valuable because it's pretty, rare, and resistant to oxidative corrosion, but it's also one of the softest metals in existence. In-game, this translated to gold swords that are functionally identical to wood swords, and gold armor that is twice as good as leather but half as good as iron. It sure looks pretty, though.
While sand and gravel are affected by gravity when placed, unsupported blocks that were generated automatically will stay floating... as long as you don't make the game check the blocks again and find out that sand can't float.
Beta 1.8 introduced Hunger. Unlike most games that use a hunger meter, Minecraft's meter doesn't drain at a fixed rate. Instead, it uses a complicated system where different activities burn calories at a different rate. You become a little hungrier every time you receive damage, break a block, or move around. A running jump is equivalent to two regular jumps, or running four meters, or walking forty meters, or sneaking forty-five meters, or breaking sixteen blocks. When you're full, health regenerates at a rate of half a heart every four seconds. If the hunger meter drops below 30%, you can no longer run. If it reaches 0%, it adversely affects your health, to a different extent depending upon the difficulty.

Recursive Reality: This mod shows a game of Minecraft being displayed on a giant screen... inside a game of Minecraft. You can also use redstone circuits to create a computer inside your computer, though the clock speed leaves something to be desired.

Also, on a smaller scale, if you totally fill it up, you can fit 432 wooden chests inside one. Empty ones, mind.

Red Eyes, Take Warning: Spider eyes glow red. All six of them. Wolves also gain red eyes when they turn hostile.
Retcon: Bamboo(AKA reeds(AKA papyrus)) is now sugar cane. Why? Cake. This of course means all your books, paper, and bookcases are now made of sugar. Mm. Tasty, tasty literature. You can actually make paper from sugarcane though.
Revive Kills Zombie: Beta 1.9 introduced several kinds of potions with beneficial or harmful effects. For every type, you can use it on yourself, or turn it into a splash potion to throw at friends or enemies. Zombies and skeletons are healed by potions of Poison or Instant Harm, but can be damaged with potions of Regeneration and Instant Health.
A Riddle Wrapped in a Mystery Inside An Enigma: One of the title screen quips that appears after starting up the game is, "A riddle wrapped in a mystery!"
Right Behind Me: Creepers have a nasty habit of doing this. What makes this worse is that if you can hear their signature hiss, it means it's already too late to flee. Also, trying to run away from hostile Endermen is useless and will only result in this trope.
Rollercoaster Mine: Thanks to the various track pieces, this can result from deliberate player designs. Sometimes players will use this as part of an elaborate transportation system.
Running Gag: Notch for the past several patches, including the release of version 1.0, has stated he "removed Herobrine".
Savage Setpiece: The Zombie Pigman will even walk right up to you and look at you without attacking. When you attack him, not only does he attack full-on with his sword, but any other Zombie Pigmen in range come in swinging. It's worth noting that they deal the most damage per hit out of any monster (aside from creepers), and one blow can easily take off a quarter of your maximum health on easy. Wolves behave similarly to protect their own pack, but they can also be tamed, at which point they'll defend you from monsters. Endermen can be considered this as well, but they disarrange the environment and even consider looking directly at them a hostile act.
Scare Chord: The "ambience" noises in unlit caves could count as this.
Scenery Porn: The map generator cranks out breathtaking views by the dozen.
Scoring Points: On death, a score is displayed that is determined by the amount of experience points you accumulated before dying. However, the scores currently do nothing, although the experience points can be spent to enchant equipment. Its only value is in hardcore mode where death causes your world to be deleted.
Sentient Cosmic Force: Addresses you at the end of the game. Not just your character, but you.
Serial Escalation:

First, the map was large already. Then, generation of the level was made easier, so now we have an area 8 times larger than THE ENTIRE SURFACE AREA OF EARTH! Notch released a fly-over video demonstrating just how enormous a small portion of that can be. To top it off, he then released a flight covering even more area and this time with different biomes.

The height of the map used to be capped at just above the height of the clouds. This made it very easy to reach the top, as even a high hill can touch the top of the map. Then Jeb doubled the height of the world. And in effect, TRIPLED the amount of building space [2].

The whole game is this trope when you think about it. You begin by punching down a tree with your bare hands, swim backwards up waterfalls to get around and eventually turn hell itself into your own personal highway.
The Youtube user kurtjmac is attempting to walk to the Far Lands. He's been at it for quite a number of hours now (if you take a look at the "Far Lands Or Bust" playlist, he started walking to the Far Lands in the 11th video). Coming just before his 100th episode, he has walked 292202 meters from his spawn (blocks are 1 meter in all directions) ~180 miles, this is about 2.3% the way to one edge. He will not look at his data again for quite a while.

Sequence Breaking: Although the game has no preset sequence to break, it does have a tech tree that's fairly linear. Normally, making an obsidian portal to enter the Nether requires a diamond pickaxe with which to break obsidian. However, since obsidian is formed when water flows over a lava source block, it's possible (through clever use of buckets) to make a mold, fill it with lava, and solidify it into a portal with water, no diamonds needed. If you're really bloody-minded, you can even find a natural lava pool and destroy all the lava that's not in the portal shape by replacing it with dirt, then opening a hole to a pond/ocean above and let nature do its work, no iron (for buckets) needed either. Hope your stone tools are good enough to fend off Ghasts and Blazes!
Set a Mook to Kill a Mook: Enemies will switch targets if they are hit by another enemy, but will otherwise go for you. Handy if you happen to be chased by more than one enemy. Also, having a Skeleton kill a Creeper is how you get records. Easier said than done, since it won't count if the Creeper deliberately explodes.
Shout-Out:

The yellow text on the main screen often says things like: Reticulating splines, MAP11 has two name!, Drr... Drr... Drr..., Not on steam!, Switches and ores!, That's not a moon!, Peter Griffin!, A Skeleton Popped Out! Made Of Truthiness! among many other things. Also, Survival Test used to display "did you know..." trivia at the bottom.
When placing a painting, you have a chance of placing one of Graham
The achievement for making cake is called The Lie
Persson compares the Endermen to Samara.
Word of Notch says that the Enderman is an obvious shout-out to the Slender Man Mythos.
Beta 1.9 added enchantments to the game, and every enchantment you can select is written in the Standard Galactic Alphabet.
One splash is shout out to TV Tropes itself saying; "Less addictive than TV Tropes!"
The Iron Golem, introduced in 1.2, resembles the robots from Laputa: Castle in the Sky, and if you watch closely, they occasionally offer a rose to villager children.

Shown Their Work: This could be a just graphics bug, but when you look at lava flowing down through water you can see it surrounded by a hazy light-blue glow. This looks very much like steam that should be created by boiling water as lava is flowing through it.
Silliness Switch: Minecraft is available in a wide variety of languages: the default English, Spanish, French, German, Italian, Japanese, Chinese, Arabic... Elvish, Klingonese, Pirate...
Single Biome Planet: Averted thanks to the Halloween update.
Snowlems: You can build a golem out of snow with a jack-o-lantern for a head. It'll wander around, spreading snow on the ground. It also throws snowballs at nearby monsters. The snowballs don't deal any damage directly (except for some nether mobs), but they'll knock the monster back and distract it, which you can use to your advantage whether you're trying to fight, flee, or lure it into a trap.
Space Compression: Although the map is theoretically infinite, the biomes are unrealistically small.
Spiritual Successor: To Infiniminer
Soft Water: Falling damage is proportional to distance fallen, but landing in a pool of water a couple meters deep negates the damage, even if you fall from the top of the world to the bottom.
Some Dexterity Required: Many things require lots of clicks. Thankfully, you can hold a button down to mine.
Soundtrack Dissonance: The serene piano melodies that grace the game's audio only serve to make the tunnels to hell all the more horrifying. Even worse if your audio on the game happens to glitch horribly and distort.
Slippy-Slidey Ice World: You used to have a chance of this each time you started a new world. Snow fell 24/7 and water froze to ice. Now there are biomes that look like this, with frozen lakes and snow-covered terrain, and instead of raining in those biomes it snows.
Standard Status Effects: With the introduction of potions, many status effects were put into the game, such as faster speed, slower speed, boosted attack strength, health regeneration, poison, etc.
Stock Femur Bone: Skeletons seem to drop the classic femur bones.
Tastes Like Friendship: You can tame wolves by feeding them bones, and Ocelots by feeding them fish.
Teleport Spam: Endermen are capable of this, as once they become aggressive, they can continually evade your attacks and teleport behind you. The ultimate example comes when it rains; as water damages them, they will teleport madly around until they either die or happen upon a sheltered location. On the good side, this also renders them harmless as they will not attack.
Tennis Boss: You can reflect Ghast fireballs with melee attacks, arrows, fishing rods, or even snowballs. Good thing, too, since they love to float out of range of your conventional weapons. Killing a ghast with its own fireball is the purpose of the achievement "Return to Sender".
Terrain Sculpting: You can pretty much change everything you can touch, from creating a mountain, destroying it, then rebuilding it in the middle of the ocean.
The Joys of Torturing Mooks: With enough creative planning, you can make traps with water, lava, cacti, or natural gravity to kill mobs of all kinds, friendly or hostile, as you watch them helplessly flail about to their deaths. With a bit of trial and error, you can make a trap that leaves them barely alive so you can kill them with your bare hands and gain experience.
Throw It In:

The Creeper is a result of a failed pig model. Oh how far he's come.
Also, cookies.

Too Awesome to Use:

Diamond equipment. They have extremely high durability, the Diamond Sword is the most powerful weapon you can get, and the Diamond Pick is the fastest tool with the widest range of blocks you can collect. The problem? Because you drop your items upon death and your items are destroyed should you fall into lava, many players may simply just hoard their diamonds in their storage chests and never forge anything. It also does not help that diamonds are extremely rare and are usually found very deep underground and/or near lava.
Golden Apples also fall into this trope. Since the requirements to craft them are crazy, your only way you're really going to get one is in a dungeon chest, with probability 1 in 125. Golden Apples only restore 5 points of hunger but also grant regenerating health for 30 seconds, regardless of your hunger meter.

This isn't the case anymore, since as of 1.1.0, Golden Apples are fairly easier to craft using renewable resources, but at the same time their effect has been downgraded to replenishing 2 of your Hunger Meter (same as red apples) and only giving regeneration for a measly 4 seconds. At this point, you're better off just brewing potions of regeneration (whose ingredients are also renewable resources), although there are worse things you can do with a handful of gold nuggets than turning a red apple gold.

Iron also has shades of this early into the game, mostly due to versatility. "Do I make minecart tracks to travel, or better armor? First I should probably make an iron pickaxe so I can mine redstone. Then maybe a compass, so I don't have to worry about getting lost the next time I go exploring? Or shears, so I can gather wool faster? Well, how about a bucket or two, so I can finally move the lava needed to make that portal? I'd also need flint and steel to activate it..." Fortunately, you'll find plenty of iron once you start looking for diamonds.
Enchanted tools and armor. You can get some nifty effects for your items, such as setting mobs on fire or increasing the diamond drop rate. However, the enchantments you receive are pretty unpredictable, and the experience cost increases exponentially with the enchantment level. You'd have to kill 77 hostile mobs for level 10, 651 hostile mobs for level 30, or 1785 hostile mobs for the maximum, level 50. Furthermore, enchanted items can't be repaired without stripping the enchantment.

Treasure Is Bigger in Fiction: Big enough to make a full suit of armor out of 24 diamonds.
Tunnel King: The player can certainly become this; many players begin this way to avoid monsters at night.
Unbreakable Weapons: As of the official release, bows break after 385 uses, but for a long time, bows were indestructible to offset the fact that arrows vanish whenever they do damage.
Unobtainium: Redstone is an unusual case, as it is only rare if you don't dig very deep. Once you get to the lower levels of the map, Redstone becomes about as plentiful as Coal, especially since each Redstone block yields about 4 units of placeable Redstone, compared to 1 for most other block types.

Played straight with Diamonds and Glowstone. In the former's case, you'll have to travel to the deeper parts of caves and usually they are guarded by pools of lava, and usually you won't find more than three or four Diamonds per deposit. For Glowstone, you have to build a portal to Hell, and then find a huge cavern with lava pools and cascades, and mine a formation of Glowstone from off the ceiling. All the while avoiding Ghast fireballs, which can set you on fire, knock you off whatever you're using as a platform, or just destroy the platform itself, in addition to the fact that a direct hit can take off 85% of your maximum health. Not only is glowstone hard to find, you need a tool with the Silk Touch enchantment to actually obtain the block. Otherwise, it needs to be broken, which yields 2-4 glowstone dust, four of which are necessary to reconstitute the block. Basically, without Silk Touch, every time you want to relocate a glowstone block, you'll lose a quarter of it on average.
Obsidian could count too. To get it, you have to use water on a Lava Source to cool it, then mine it with a Diamond Pickaxe. For one, it is already difficult to find Diamonds, and two, if you're not careful the Obsidian (or worse, yourself!) could fall into nearby lava. Clever players can construct a framework around the spot where they want their obsidian, and actually create the obsidian with buckets of lava and water, circumventing the need to mine it. This is most commonly used by players who want to get to the Nether early on, but the fact remains that lava is often difficult to come by until after you gain access to the Nether.
Even worse, in a way, is the case of Mossy Cobblestone, Cracked and Mossy Stone Bricks, and Circle Stone Bricks. All of these blocks spawn naturally...but only in dungeons (mossy cobble) or strongholds (stone bricks)...and, in the latter case, only in a very, very small percentage of the stone bricks are the special kinds. Oh, and none of them can be crafted, so have fun finding enough to make any significant use of them without having some hacked/spawned in...

Unusable Enemy Equipment: Skeletons use bows against you and Zombie Pigmen use gold swords on you. Both of these can be easily crafted by the player, but for a very long time the enemies that use these weapons never dropped them, even when killed. This was rectified in 1.2, when 'rare drops' were added. Skeletons can drop bows, Zombie Pigmen gold swords, Zombies helmets, and so forth; occasionally the items will even be enchanted.
Urban Legend of Zelda: The entity known as "HIM" or "Herobrine", a white-eyed version of the default player skin who would stalk the player from a distance, a la Slender Man.

Notch, creator of Minecraft, has now removed Herobrine from the game several times now (or so the changelog says) but the rumor still will not die.

Video Game Caring Potential: Tamed wolves. They'll kill for you. They'll die for you. It's in your best interest to keep their health up, especially since you can heal them with zombie meat (plentiful and mostly useless) but taming a new one requires bones (harder to come by and valuable as fertilizer and dye).
Video Game Cruelty Potential: All you need to see is this.

Using flint and steel to clear leaves can result in massive forest fires. Bad for the wildlife, but convenient if you want to eliminate hiding places for creepers. Also replaces leaves with wooden blocks, which is a net gain resource-wise.
Making mobs, enemy or friendly, suffocate to death by making a block of sand or gravel fall on their head and prevent them from breathing. Death by suffocation is treated at the same rate as drowning underwater, i.e. very slowly, but nothing can be more pleasurable than watching a Creeper suffocate to death while being helpless. The player can also suffocate the same way but would generally be smart enough to just get out from under it.
Beta 1.8 added Creative Mode, which allows you to spawn any item you want directly into your inventory, allows you to fly, and makes you invincible... except that hostile mobs can still spawn. Want revenge for all those times you've been killed? Now's your chance. Also added are NPC villages (with actual NPCs as of the 1.9 pre-release, who are just as passive as cows or pigs), complete with buildings made of flammable, flammable wood.
The Better than Wolves mod rewards the player with more dung, a resource in the mod, for locking their pet wolves in windowless cells, increasing the production rate.
That's just the tip of the iceberg; you can drop a kitten's parents into the void, then lock said kitten in a cell made entirely out of TNT and blow it to smithereens; you can place a chicken in a minecart, then proceed to push the minecart into a pit of lava; you can use piglets as target practice; anything to do with animals, especially babies, that doesn't fall under caring potential is usually this.

Video Game Cruelty Punishment: Originally, sheep dropped 1-3 wool when struck. Nowadays, you're supposed to use iron shears to harvest 2-4 wool without harming the sheep. You can still get wool by killing them, but only one piece, which is really impractical if you're collecting any color besides white.
Wall Master: Silverfish. They only appear in Strongholds and one by itself is not threatening, but they are dangerous in swarms. Why? Silverfish hide in the blocks of the Stronghold, and breaking that block, or injuring another Silverfish without instantly killing it, causes the Silverfish in other nearby blocks to awaken and swarm the player. You can't tell, visually, that a block contains a Silverfish unless you try to mine the block without a tool. The stone blocks that appear to break faster by hand than by a tool is the only sign that says that block contains a Silverfish.
Water Is Blue: Darker blue in this case. There are plans to implement a biome gradient similar to grass, so water will be a lighter shade of blue in areas with a higher temperature and/or higher rainfall. So far this has only taken the form of murky water in swamp biomes.

Since the 1.13 update, the color of water heavily depends on the biome. Warm oceans will appear light blue, while cold ones will appear dark blue. Water in swamps has a greenish tint.

Weakened by the Light:

Skeletons and zombies (excluding Husks) are set on fire by direct sunlight (provided they are directly exposed to sunlight, are not in the water, and do not wear any headgear), and torches can prevent monsters from spawning underground or at night. Spiders and Endermen become neutral during the day. Creepers, Witches, all of the Illagers, and bosses remain dangerous regardless of the time of the day (and Illagers, especially patrolling Pillagers, can spawn during the day).
Averted when it rains, as undeads will no longer burn. If it's stormy, hostile mobs will appear during the day, and spiders will resume their hostile behavior.

Weird Moon:

In the normal world, it's a square, it always comes up when the sun goes down and vice versa, and prior to Beta 1.9 it was always full. While moon phases occur, the Moon is still always on the opposite side of the Sun, rising at sunset and setting at sunrise, behavior typically associated with a full moon.
In The End, the moon is perfectly round, which looks bizarrely out of place given that everything else is square.

Weird Sun: Also a square (taking a rectangular shape when it's about to rise or set).
When It Rains, It Pours: When the rainy weather comes, it rains intensely. Worse, if it rains during the daytime, monsters that would ordinarily die in sunlight don't, and can roam freely; they eve spawn if it's a thunderstorm. The one good thing about it is that it renders Endermen harmless (if rather amusing), as they will Teleport Spam in an attempt to escape from the rain. Despite the intensity of rain, it never floods.
Wide Open Sandbox: Minecraft is by far the most well-known example of the genre. You can play in two different modes, Survival and Creative, with four levels of difficulties and special rules that can be changed at the world selection or even during gameplay. There are trillions upon trillions of different worlds that can be generated, each of those very unique and challenging in their own ways, worlds can be heavily customized through the use of seeds, datapacks and mods. There is almost no limit to what you can do: you can fight monsters, trade with villagers, start your farms, mine in caves, mine in the Nether, brew potions, build houses, mansions, roads, railways, canals, bridges, tunnels, whole towns, sophisticated redstone machines (ranging from your automated door to whole calculators), and even, with enough time and resources, whole kingdoms, and anything you can imagine. Once you got the hang of it, you can also play with other players and discover the PvP world. And, if you're skilled and patient enough, you can also create a wide variety of custom maps of all kinds, all in Vanilla. Each update adds even more content and new mechanics, and every year major world or gameplay changes are added, so Minecraft is worth replaying if you managed to get bored by the old versions. Lastly, mods greatly extend your scope of gameplay, since Minecraft is the most modded game ever.
With This Herring: You're plonked down into the middle of nowhere in a world that's going to be crawling with giant spiders, skeletons, and creepers in ten minutes with nothing but your bare hands and expected to survive. In a rather more literal interpretation of the trope, you can actually chop down trees with fish. It's no harder than chopping a tree down with your bare hands, which is one of the first things you're expected to do when you start playing.
Who Forgot the Lights?:

Intentional example. The creator wants to make sure that you don't wander off too much in the night or in caves so there is no Hollywood Darkness for you. You'll need to make torches to light up an area so you can see, and to keep monsters from spawning.
As of Beta 1.8 nighttime light levels more closely resemble an actual moonlit night...caves and such are still dark, however. There's also a brightness slider that takes it from "Moonlit night" to "Night vision with less green" and makes caves bright enough to determine whether that bouncing shape is a creeper or a zombie without squinting at the screen.

Wizard Needs Food Badly: Starting with Beta 1.8, you have a food meter that gradually drains over time. If your food meter is at least 80% full, you regenerate health. If it drops to 30%, you become unable to sprint. If it reaches 0%, your health meter starts draining instead. With the difficulty set to easy, your maximum health is effectively cut in half. On normal, you become a One-Hit-Point Wonder. On hard, you'll starve to death.
The World Is Just Awesome:

The first thing most new players do is scale a mountain, and look around. At that moment, you realize just how tiny you are and how much space you have. According to the other wiki, the maximum limit of the game world generator can go to before it hits its technical limit is eight times the surface area of the Earth.

Why Did It Have to Be Snakes?: Creepers, perhaps the scariest enemies in the game, are afraid of cats.
Yet Another Stupid Death:

Deaths that can be easily avoided encompass half of the decisions with bad results (most of the other half is about trying to build fireplaces in wooden houses). Oftentimes lava, falling, or sand/gravel is involved. Sometimes it's a combination of the preceding.
Nevermind once multiplayer gets involved.
Mike: Hey Steve, this mine we're digging just popped us out the other side of the mountain!
Steve: Oh, let me see. *accidental bump*
Mike: FFFFFUUUUUUU*splat*
Or just hitting each other with your pickaxes while trying to mine.
A persistent bug due to out of date LWJGL involves randomly starting to walk in a different direction while walking while clicking. The way to fix it is by hitting that direction key. Which is the very most counter-intuitive thing to do. Cliffs and lava pools become an object of horror due to this bug.
Rule number one of Minecraft: don't dig straight down. Rule number two: don't dig straight up. If you ignore these rules, it's only a matter of time before you die stupidly. If you dig the ground out from under you, you can tunnel down faster, but you run the risk of hitting a hollow cave, which can lead to falling damage and/or finding yourself surrounded by monsters you can barely see. Even worse, you may fall into lava with no way to climb out, guaranteeing a swift death and the total destruction of everything in your inventory. Digging straight up has its own unique risks. You may strike water, which can drown you if you aren't prepared, or you may find yourself buried in falling sand or gravel, which suffocates you even faster.

Digging upwards can also release a lava pool to fall on your head if you don't stop to check the dripping lava in the block above you. Water also drips the same way. Before the 1.9 version of the game, there was no tell that lava or water was above you, which made digging upwards even more dangerous.

Zerg Rush: Silverfish, if not killed fast enough.
Zombie Apocalypse: As of 1.2, this happens every night in villages, with zombies being spawned into the game just for this purpose. Luckily for the villagers, they can now repopulate and have an iron golem protector to counter this.
Zombie Gait: Zombies show that in action. Skeletons do it too, but it's probably because they carry bows.