Doctor Strange in The Multiverse o Madness - The Loop
Play Sound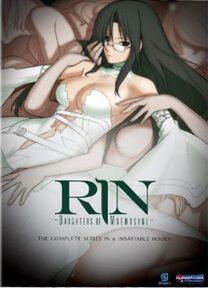 Also known as Mnemosyne no Musume-tachi (Daughters of Mnemosyne) and marketed in the United States as Rin -Daughters of Mnemosyne-, Mnemosyne is a six episode anime television series and light novel produced by Xebec that follows private investigator Rin Asougi, an immortal woman, as she takes odd jobs and tries to avoid the mysterious connections to her past.
All in all, the series is a total Seinen bait, featuring nigh everything older male audiences' hearts may desire: cute girls, respectable guys, Mind Screw of a plot, alcohol and blood in equal proportions, a considerable amount of Girls Love... and both types of sex, take your pick. And all of the above without ever going over the top with it. Be prepared to wince a couple of times, though.
Often confused for an OVA, thanks to its risque content, monthly airing rate, and modest episode number, when, in fact, it airs on AT-X network, whose tenth anniversary it was to commemorate.
---
Contains examples of:
 Mimi: "Rin! You were supppose to find our client's lost cat!"

Rin: "So instead of a lost cat, I found a lost man."
Dead Sidekick: Subverted. Apos kills Rin first when she comes to rescue Mimi and leaves the latter to her fate.
Deal with the Devil: Notable examples include

Yuki's brother, Sayara, and Ivan from episodes five and six

.
Disconnected by Death: Subverted. Some several seconds after the sniper pulls the trigger and the phone line going quiet, Yanagihara reaches for the handset and give Rin his findings. Furthermore, he manages to mutter some Famous Last Words, and reminisce about that time he managed to bed Rin, before finally kicking the bucket.
Distressed Damsel: Mimi depends on Rin and other immortals to protect her.
Does This Remind You of Anything?: The symbol of the Guardian resembles an uterus, ovaries, and fallopian tubes.

Also,

Yggdrasil's talk about women eating 'white blood' to become pregnant.

And the way Apos/Rin/whoever act whenever they

eat time spores

.

The Dragon: Laura, but it only becomes evident when she starts

ordering Angels around.

Dramatic Chase Opening: Rin, nearly-naked, being chased through a building by Laura. How they got there is never explained.
Dressing as the Enemy: But not for the purpose of disguise; Rin's hospital gown gets completely destroyed when she's trapped in a facility in one episode, so she borrows the clothes of one of the two guards who she just killed. It fits surprisingly well.
DVD Commentary: FUNimation provides a commentary for episode 2, with J. Michael Tatum (the ADR director, plus the voice of Ihika), Colleen Clinkenbeard (Rin), Jamie Marchi (Mimi) and Robert McCollum (Kouki). It has a "titular" pun and random profanity ("Fuck!" "Oh dear.") before the opening credits are even over, and continues on from there.
Eternal Love: Between

Rin and Tajimamori

.
Evil-Detecting Dog: In episode 5,

Genta growls at Laura after she gets a cyborg body that looks just like Rin

.
Evil Twin: Laura is eventually redesigned to look like Rin. Apos even uses her as a Replacement Sex Toy err... Goldfish.
The Faceless:

Tajimamori

, the as-of-episode-4 unnamed man with a beard shown in the opening and closing credits. Is also He Who Must Not Be Seen when it is revealed that he is the person that Rin is always talking to on the phone. We get a full view of his face in episode five.
Fan Disservice: Quite a bit of the "service" in this series arguably qualifies...
Fan Service: ...but then again, the non-violent Fan Service in this series is quite beautiful to watch.
Flash Back: Flashbacks generally have a sort of watery distortion to them both in terms of video, and audio, and are also seen from the perspective of whoever is experiencing them.
Fast Roping: How the Self-Defense Force breaks into Rin's office.
Final Speech:

Yanagihara

gets a short one.
Forgotten Superweapon: Rin's Shotgun Glove doesn't appear again until episode five where she uses it to kill three Angels in Mimi's overrun temple.
Friend on the Force: Tamo-chan Tamotsu Yanagihara
A God Am I: Apos, and for good reason too, in a sick, twisted way.

He was preceded by

his father, Tajimamori, and succeeded by Rin.

Presumably, anybody who becomes

Guardian of Yggdrasil

qualifies for this.

Good People Have Good Sex: Bad people have... something else entirely.
Goo-Goo Godlike:

Rin's son

, who is a more subtle example. Instead of being all powerful, he is the first of a bloodline of humans who will be directly connected to Yggdrasil.
Gorn: The stuff that happens to Rin is at times quite gruesome.
Gory Discretion Shot: Which actually makes it worse in a few cases. Surprisingly used often considering how violent this show is overall.
Gotterdammerung: By episode five,

Laura has hunted the immortals down to near extinction, Yggdrasil hasn't made an appearance in thirty years, and Apos even mocks Tajimamori in his own room, calling him a 'former god'.

Gratuitous English: The Anime Theme Song Alsatia by Galneryus, which is known for writing their lyrics in English.
Guilty Pleasures: Watching this series equates to the pleasure of spelunking: to dive into the deepest of darkness and coming out exhilerated and more alive than you were before the jump.
The Gunslinger: Laura, though she also uses explosives without much reservation.
Hand Cannon: Laura's handgun from episode four, which has enough recoil to blow Rin several feet back. The former has no problem using it one-handed

, since by then, she's a cyborg

.
Handwaved: What does the Guardian of Yggdrasil actually do, except

siring the next Guardian

?

Well, he's shown

feeding Yggdrasil,

if that counts for anything.

Heroic Sacrifice

Maeno giving what was left of his humanity to save Rin's life

Subverted when

Mimi also pulls one of these, only to be saved by the person she was trying to save in the first place.

Hermaphrodite:

Apos.

Presumably,

Tajimamori

is also one of these, considering they have the same job.

Since Rin grew wings, which are by established law exclusive to males, she would probably count, too.

It actually seems that to be Guardian you have to

have aspects of both an Angel and an Immortal; Tajimamori was lucid and long-lived despite being an Angel, missing out on the healing ability, Apos is obvious in having literally everything, and Rin gained wings and the ability to affect Immortals

.

He Who Must Not Be Seen: The person Rin talks to on the phone in every episode. Eventually revealed to be Tajimamori, The Faceless man with a beard from the credits. He was the Guardian of Yggdrasil, at least until Apos replaced him.
~Hey, It's That Voice!~
High-Pressure Blood: Oh deary me...
Hollywood Board Games: Apos is occasionally seen playing chess against an immortal blindfolded, bound, gagged, and stabbed in several places to her chair, and using rather squicky-looking chess pieces at that.
Hollywood Cyborg: As

Laura

continues to get horribly maimed, she is eventually turned into one of these once the appropriate technology is developed.

Don't forget Sayara. Though her machinery may be just a Powered Armor.

Holographic Terminal: Everybody's using these by episode five.
Hot Chick in a Badass Suit: Rin, par excellence.
Hot Shounen Mom:

Rin, for the rest of ETERNITY. 30 years from now, it's gonna be SO awkward for her son to be repeatedly asked "Is that you cute LITTLE sister?" again and again...

Her son? Think bigger: her entire bloodline will have to answer that question until the end of time!

Identity Amnesia:

Rin loses her memory after being shred to pieces by a jet plane engine. After she gets shot again she gets a 'reset' to her old self

.
Idiosyncratic Episode Naming: X(s) Don't/Doesn't X. Episode six is gonna be an Odd Name Out.
Idiot Hair: Mimi
Implacable Man: Laura, in this case, is an Implacable Woman. Subverted in that she actually gets wounded and the injuries' effects are dealt with realistically. She wears an eyepatch in episode two a year after Rin throws a bullet into her eye, which Rin caught earlier with a book when she is shot at, and becomes a cyborg in episode four, some three decades after blowing herself up along with Rin with a claymore mine.
Immortality Hurts: Seriously. The tagline for the English release of Mnemosyne even said, "It only hurts forever.
Immortality Inducer: Any female who happens to get in contact with a

Time Spore

becomes immortal. This also applies to dogs, apparently. Furthermore, a recurring theme throughout the series is how humanity in general craves it.
Inside a Computer System: Deconstructed. '2.0' is highly addictive, and when it's introduced in episode 4, people can be seen lying around on sidewalks like a bunch of hobos while plugged into the network.
Invisible to Normals:

The Time Spores

And for that matter,

Yggdrasil

Jekyll and Hyde: Subverted when it turns out that the 'Rin' who killed immortals and tried to attack Mimi in episode five was actually Laura manning a cyborg copy of Rin.
Jerk with a Heart of Gold: Rin and Mimi.
Just Between You and Me: Sayara does this in the first episode

as well as the third, after it turns out that she also became immortal

. In the fourth episode, the honor falls to

Ruon

.
Karmic Death: Sayara is killed by the zombies she created. Or so we thought...
Kick the Dog: Laura

throwing Ihika's Time Spore out the window

in episode six. Seriously, she's got issues...
Killed Off for Real:

Mimi's dog.

And Laura, finally, in episode six.

Knife Nut: Rin has at least several push knives on hand at all times.
Kill Sat: Subverted. Mimi hacks into one of the Maeno Group's microwave satellites to try and stop Apos' plan, only to have the seraph's egg still standing there without a scratch as the flames die down.
Kiss Me, I'm Virtual: Ruon.
Kiss of Death:

Rin giving Apos a taste of his father's time spore.

Knowledge Broker: An unnamed woman and two of her successors, who drink Grasshoppers and take sex as payment.
Laser Hallway: Combined with Air Vent Passageway.
Last Kiss

Rin's goodbye to Maeno

Legal Jailbait: Mimi, oh so very very much.
Library of Babel:

Yggdrasil appears on a regular basis and sheds time spores around the world, which it uses to collect 'memories' of whatever they touch. Immortals and angels get special mention.

Lolicon: Fan service involving Mimi, though somewhat subverted by the fact she is Really Seven Hundred Years Old.
Lock and Load Montage: Episode five has Rin buying a new suit and digs up a weapons cache she stored in her grave.
Locked Into Strangeness: Kouki gets a gray streak in his hair starting in the second episode, presumably at the same spot that

he shoots himself in in episode one

.
Lodged Blade Recycling: Rin pulls it off in episode three

after being vivisected to death, killing her torturer with the scalpel he accidentally dropped inside her stomach.

Luke, I Am Your Father: Inverted when

Apos

reveals that he is

Tajimamori

's son.
Manipulative Bastard: Apos, probably more so than being a chessmaster even though he plays chess every now and then. There's nothing magnificent about how he goes about doing it, either.
Market-Based Title: In America, FUNimation is marketing the series as RIN ~Daughters of Mnemosyne~.
Mayfly-December Romance: Present (or at least Mayfly December UST), but it doesn't really come up. Thanks to the time scale of the series, mortals age and die, but nobody ever dwells on it.
Meaningful Name: With a little knowledge of japanese, the Maeno (前, "in front of", 埜, "field, wilderness") family names suddenly start to make sense in context:
 Maeno Kouki (前埜光輝): "Brightness of the Field Before You"

Maeno Yuki (前埜有紀): "Chronicle of the Existence of the Field Before You"

Maeno Teruki (前埜輝紀): "Chronicle of the Radiance/Shine of the Field Before You"

Maeno Mishio (前埜美汐): "Beauty of the Tide of the Field Before You"
Considering how closely tied to Rin's character and destiny the Maeno family ends up being, it's interesting to notice their names all correlate the owners to some important event or situation in Rin's life similar to what their name implies (Kouki showing Rin the bright side of life, Yuki raising Teruki alone, with Teruki later proving to be the initial trigger to Rin

recovering her memories

, and Mishio awakening Rin to the new and beautiful experience of parenthood). It's also interesting to note how the first kanji in their family name is precisely the kanji to indicate something in front of something else, alluding to the fact that they were always beside Rin, partly because

of their destiny as descendants of Tajimamori

.

Meganekko: Rin. Even though she very much subverts the "timid" meganekko stereotype, when she is nice she can also be a genuinely sweet, if not downright cute person.
Mundane Utility:

Yggdrasil seeds the world with

time spores

, creating immortals and angels for the purpose of

collecting additional data through their experiences

. Yeah, really amazing.

My Grandson, Myself: Rin takes this route when visiting a person she met back in WWII.

Inverted in episode five, where Mishio considers the possibility of Rin being the daughter of the woman (also Rin) that she saw in a 30-year-old video.

Naughty Nuns: Mimi

who actually looks like a real nun, until the point of the yuri orgy.

New Era Speech: Inverted, since

it's Rin who does it in the end, and actually means what she says in a positive light.

The Nineties: The first two episodes.
Ninja Pirate Zombie Robot: Shotgun Gloves. And Rin herself. No, seriously.
No Name Given: Though a university lecture in episode five hints on the identity and name of the bearded man who Rin talks to on the phone Once an Episode, it's only revealed in episode six.

Also, Apos' immortal 'opponent' whenever he's playing chess. In episode five, it's hinted that she is actually Laura, and that the Laura that tries to kill Rin Once an Episode is in fact, an android being remote-controlled by her.
The show loves toying with this: none of the informants were ever named on-screen, and Laura's name is only given in episode six (unless you watched the trailer or the credits).

Noodle Incident: Rin's "view" of Oda Nobunaga, which leaves Mishio's sense of history in tatters.
No One Could Survive That:

Rin even survives falling into a running airplane jet engine, despite her doubts about her chances. It takes her decades though to get resurrected, with amnesia to boot

.

She also survives getting her time spore pulled out, though it turns out that it's not-so-bad-as-it-apparently-seems

.

Not Afraid of You Anymore: The way Rin turned the tables on Apos in the very end.
Not Quite Dead:

Presumably, unless their Time Spores are eaten/stepped on/whatever, immortals can regenerate entirely from just them.

This probably explains how

Rin survived after what happened in Episode five. Angels aren't so lucky, though.

The immortal who survives a nuclear explosion at ground zero in episode six.

Number One Dime:

Yuki's Brother's Time Spore

, which eventually becomes

Maeno's Time Spore

, which is eventually lost, and then later found by

Rin

when she washes up on the beach. Subverted in that even if she didn't forget everything, she probably wouldn't even know that the two of them were connected. Then again, it could probably be just some

Angel Time Spore

that fell into the water.

When Rin eats the time spore in

episode 6, it's revealed that the spore

was indeed Maeno's Time Spore and not just some random spore.

Obfuscating Stupidity: Though she seems carefree and happy-go-lucky, Rin instantly reveals herself to be one hell of a Badass when the going gets tough.
Oedipus Rex: Apos and

Tajimamori

Oh Crap: Sayara gets three in a row. The first when Rin appears, unharmed, in Sayara's office after being tortured to death, the second when Rin gets up again after being shot to death, and the third when she hears a knock at the door and runs out of the room...into a mob of the zombies she created.
Ominous Latin Chanting: It's only soft, but since it was combined with the Ominous Pipe Organ, the Ominous Latin Chanting pretty much punctuates and intensifies the disturbing atmosphere of Apos raping Mimi while she is chained and nailed to a stone lamp post, revealing himself to be a hermaphrodite, and using Rin's own hand to dig her Time Spore out of her, all in the span of three minutes.
Ominous Pipe Organ: Whenever Apos and Rin are in proximity of each other in episode six.
Once an Episode: Rin, Mimi, and vodka threesome. This is not the case in episode five and seems, um, unlikely to be thus in episode six...

Not to mention Rin getting maimed/killed, which is actually closer to thrice an episode on average. Also, Rin talking to He Who Must Not Be Seen on the phone even after she gets amnesia. Though in that case, it was more of the phone line opening up so that He Who Must Not Be Seen can listen to her voice like some stalker.

Yggdrasil showing up and shedding some Time Spores,

with Rin and/or Mimi staring at the event for a couple of seconds. Averted in episode five, where

the tree is only mentioned as a rumor/seen in the credits, and the only time spores shown are either from immortals, or already in the hands of Apos. Episode six makes this a borderline case. Five out of six ain't so bad, is it?

Borderline example: Laura showing up to shoot Rin full of holes then blowing herself up with Rin once that fails.

She even starts using a sword in episode six

.

Lesbian sex scenes

One-Gender Race: Immortals are Always Female, and Angels are Always Male. Unless you take the third option.
Our Angels Are Different: Very different.
Our Presidents Are Different: In this case, we have a President Buffoon, who

allows Apos to manipulate him into starting some kind of war involving time spores. It was completely irrelevant to the plot, however, and it's only briefly mentioned in the epilogue that America has fallen into civil war.

Out-Gambitted: When

Apos has Laura killed when she tries to mess up his plan by attempting to feed Rin's time spore to angels

.
Playing with Syringes: Sayara's

cloning and immortality

project. When she's not just doing it for fun, that is.
Precision F-Strike: From the dub: "MERRY FUCKIN' CHRISTMAS!"
Pre-Mortem One-Liner: Rin gets one in the first episode (though the recipient doesn't actually die). From the dub:
| | | |
| --- | --- | --- |
| |   Rin: "It's such a shame when the good die young." (gunshots) | |