Doctor Strange in The Multiverse o Madness - The Loop
Play Sound

YMMV •

Radar

•

Quotes

• (

Funny •

Heartwarming

•
Awesome) •

Fridge •

Characters •

Fanfic Recs

•

Nightmare Fuel

•
Shout Out

•

Plot

•

Tear Jerker

•

Headscratchers

•
Trivia

• WMG •

Recap

•

Ho Yay

•

Image Links

•

Memes •

Haiku

• Laconic •
Source

•

Setting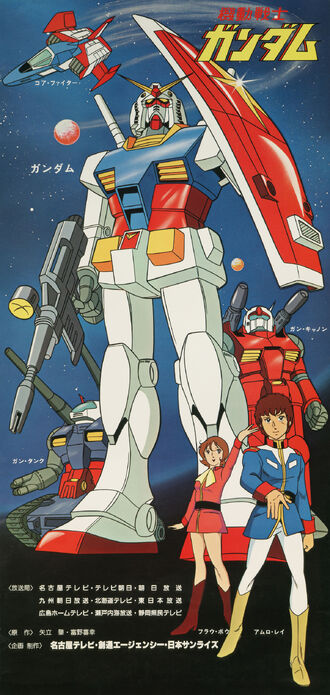 | | | |
| --- | --- | --- |
| | "It is the year 0079 of the Universal Century. A half-century has passed since Earth began moving its burgeoning population into gigantic orbiting space colonies. A new home for mankind, where people are born and raised. [[[Dramatic Pause]]] And die." | |

Mobile Suit Gundam (Kidou Senshi Gundam, lit. "Mobile Soldier Gundam"), the original Gundam show, started in 1979 as a planned 52-episode series but cut down to 43 due to the show pulling in horrible ratings. However, the merchandise for the TV show sold rather well, allowing the series to go straight into syndication, where it found its audience. A largely reanimated compilation trilogy successfully convinced the people with the money to further develop the series, and Mobile Suit Gundam eventually spawned a massive franchise. Though there are now a large number of sequels, side stories, and Alternate Continuities, the original Mobile Suit Gundam remains the most popular show of the franchise.
The series follows Ordinary High School Student Amuro Ray, opening in the midst of a stalemate in the war between the Earth Federation and the Principality of Zeon. Though the Earth Federation has (or, rather, had) superior numbers and resources, the Zeon military has annihilated much of the Federation's population with chemical weapons, decimated their fleet with their new mobile suit technology, nearly ended the war in a stroke with a Colony Drop, and follow up by invading Earth.
While fighting a losing battle on Earth, the Federation stepped up its R&D program to develop its own mobile suits, resulting in the Super Prototype "Gundam". While doing final tests on the Gundam in a remote space colony, they are attacked by a small Zeon force led by Char Aznable. Amuro ends up Falling Into the Cockpit in order to save the colony, and from there is pulled into the war between the Earth Federation and the Principality of Zeon. But, of course, things aren't as simple as they appear to be...
The original Real Robot series, Mobile Suit Gundam literally created a genre, and eventually spawned numerous sequels and side stories. Its direct sequel is Zeta Gundam, and there are also a trio of OVAs set in the same time period as Mobile Suit Gundam: Mobile Suit Gundam The 08th MS Team, Gundam 0080: War in the Pocket and MS IGLOO.
---
This program provides examples of:
↑

The reason for needing a Level 99 pilot? The Pilot's level determines the Suit's upgrade amount (3 points, +1 to ATK, DEF or EVA at level 1, while 20 points and +10 to ATK, DEF or EVA per certain number of points).