Spider-Man: No Way Home Trailer Dropped - The Loop
Play Sound

YMMV •

Radar

•

Quotes

• (

Funny

•

Heartwarming

•
Awesome

) •

Fridge

•

Characters

•

Fanfic Recs

•

Nightmare Fuel

•
Shout Out

•

Plot

•

Tear Jerker

•

Headscratchers

•
Trivia

•

WMG

•

Recap

•

Ho Yay

•

Image Links

•

Memes

•

Haiku

•

Laconic

•
Source

•

Setting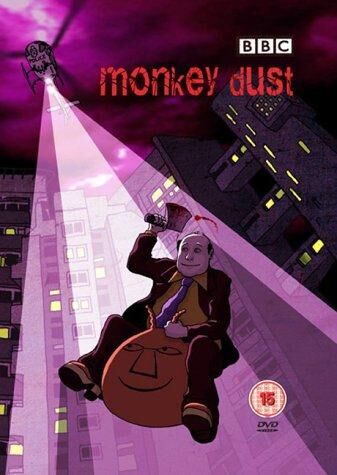 | | | |
| --- | --- | --- |
| |  Paedofinder General: So! You confess that for nine months you imprisoned a naked child in your stomach before forcing him backwards through your genitalia for your own sick amusement! | |

Monkey Dust is a British, edgy Dead Baby Comedy, animated TV show comprising of short sketches of recurring characters. It showed between 2003-2005.
Themes throughout the show deal with paedophilia, murders, drugs, gay cottages, suicides and advertising.
Notable characters include:
Ivan Dobsky: "The Meat Safe Murderer" a wrongly convicted man held in prison for ~25 years that has become completely dependent on the prison's rules, structure and brutality. Once released with the mental age of a four year old he's unable to adapt to the changes since the 1970s and is confused by the new currency and fashions and so turns to his old friend "Mr. Hoppy" (a space hopper) for advice which almost always results in a murder and being back in prison.
Divorced dad (with Timmy): Divorced father gets custody of his son for the night and tries to impress and please Timmy with his outdated knowledge of this son. Timmy will then go into a long list of why Roger (his mother's new boyfriend) is so great. Ends with the father committing suicide shorty before Timmy admits that he really loves his dad and Roger isn't that great after all. Also Roger

is implied to be Timmy's biological father.

Internet Paedophile: Where an old, heavy smoking man attempts to lure a young girl to meet up to him under the guise of 13-year-old Benji. Often he doesn't get the latest slang and lets slip his true age. He eventually meets up with the young girl who turns out to be another paedophile.
Geoff the first-time cottager: For those not in a the know a "cottage" is a public toilet where homosexuals meet for unattached sexual encounters, like oral. Geoff is a bit nervous about the whole "sucking off another man's cock" for the first time.
Omar, Abdul and Shafiq, the incompetent terrorists: A group of British born Muslims intent on bringing death to the infidels and to the decadent west. However the young bombers seem more interested in sports and TV programs than blowing themselves up.
The Classically Trained Actor: An everyday man called Guy who has the monotone voice and speech of a voice-over or a phone-answering-machine (even while having sex, being drunk, or angry). He usually does voiceovers too, but is often forced to do mini-cabbing because of financial reasons. He is married, and has two friends, one who does Sugar Bowl voiceovers in children's shows, and an old guy who does suspense-voices, like the "It was his destiny..." voice-over in western movies.
  "Random caller": (angry after being misunderstood by the answering 'machine' several times and kept in a waiting loop for the whole evening) Listen, can I just talk to a real fucking person?!

"Guy": I, am, a, real, fucking, person.
The Paedofinder General: A parody of The Witchfinder General where a man dressed in a cloak and a pointy hat goes around convicting potential paedophiles on little grounds and with no authority. Often a Take That against the British media, especially the tabloids.
Noodles the Rabbit: a fairly transparent Bugs Bunny Expy hired by a biochemicals company to test chemicals on, since his Amusing Injuries always heal instantly, letting them use him again, and again, and again.
Clive: A man who is always late home and uses the plots of famous fictional stories as an excuse for his wife. Eventually he gives in and admits the truth, which is always some revoltingly degrading and over-the-top sexual practice.
David Baddiel: he resents the implication that as a famous comedian he's any less qualified to perform any given task than a trained professional.
Tropes used in Monkey Dust include:
| | | |
| --- | --- | --- |
| |  "I only said I done it so they would call off the monkey tattooist." | |
| | | |
| --- | --- | --- |
| |  Mister Skatey: Sheeit! We in the white man honkey prison! Sheeeit, motherfucker! | |
Vitriolic Best Buds: The London/Essex guys. We see them sharing a bed in the Nocturne for

S 2 E 1

.
Where Were You Last Night?: Turned into a recurring gag with Clive, a character who disappears from his wife for extended amounts of time (usually an evening, sometimes as long as years) and, when questioned as to his whereabouts repeats the plot of a film, book or (in one memorable episode) nursery rhyme. The actual explanation is typically something immensely revolting, humiliating and sexual.

X In Space

: Some of the running-gags are taken here--the cab-driver in Series 2 literally goes to the third moon of Jupiter.