YMMV •

Radar

•

Quotes

• (

Funny

•

Heartwarming

•
Awesome

) •

Fridge

•

Characters •

Fanfic Recs

•

Nightmare Fuel

•
Shout Out

•

Plot

•

Tear Jerker

•

Headscratchers

•
Trivia •

WMG

•

Recap

•

Ho Yay

•

Image Links

•

Memes

•

Haiku

•

Laconic

•
Source

•

Setting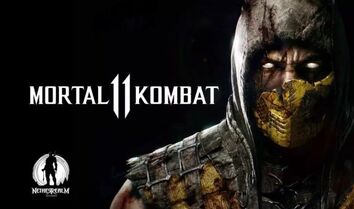 The eleventh (duh) installment of the famous Mortal Kombat games and the third one set in the new Netherrealms Studio timeline. It was officially announced in December 2018, and it was released thrhougout April-May 2019 on the following consoles: PC (both Steam and proper PC's), XBox One, Nintendo Switch and PlayStation 4. 
The biggest reveals about the game were: a massive Animation Bump, deeper and more personalized Character Customization deals, the return of some well-loved characters that had been absent from MKX (Skarlet, Baraka, Shao Kahn, Kabal, Jade, Noob Saibot, etc.) and the arrival of new ones (Kronika, Geras, Cetrion and Kollector), etc. As of 2020, the cast has been upgraded via DLC's (including canon characters like Shang Tsung, Nightwolf, Sindel, Rain and Mileena and Guest Fighters like The Joker, Terminator-800, Spawn, Robocop and John Rambo), and ESPECIALLY a DLC-only addition to the Story Mode named MK 11: Aftermath, which adds several chapters to said Story Mode.
Story-wise the game deals more with the concept of  Time Travel, already introduced in 9 and alluded to heavily in X. The Big Bad, Kronika, is a powerful Titan who has been watching over the current timeline and wants it to beat to HER tune, rather than how it already has; and for such purposes, she and her collaborators Geras and Cetrion (the latter being an Elder Goddess and her own daughter) get ready to mess around with the cast and their actions, including bringing many characters from other points in the story... Which may or may not be her perdition, since these characters have their intentions regarding their new roles.
The Gameplay
The Story
Main Story
Aftermath Story (marked and unmarked SPOILERS below)