Doctor Strange in The Multiverse o Madness - The Loop
Play Sound

YMMV

•

Radar

•

Quotes

• (

Funny

•

Heartwarming

•
Awesome

) •

Fridge

•

Characters •

Fanfic Recs

•

Nightmare Fuel

•
Shout Out

•

Plot

•

Tear Jerker

•

Headscratchers

•
Trivia

•

WMG

•

Recap

•

Ho Yay

•

Image Links

•

Memes

•

Haiku

•

Laconic

•
Source

•

Setting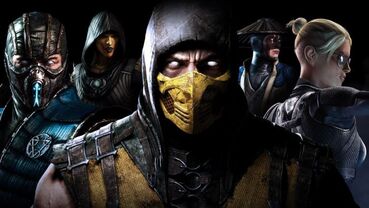 The tenth installment of the famous Mortal Kombat games and the second one set in the new Netherrealms Studio timeline, Mortal Kombat X was released in 2015 for PC, Playstation 4 and XBox One, plus an ioS and an Android version. It was also supposed to be ported for PlayStation 4 and XBob, but it was cancelled. An Updated Re-Release called Mortal Kombat XL was released in 2016. There's also an online comic that delves more into the storyline itself.
The story begins two years after Mortal Kombat (2011), where Raiden thwarted Shao Kahn's definitive invasion of Earthrealm though at extremely high costs. Now he, his fellow deity Fujin and his remaining followers (Johnny Cage, Sonya Blade and Kenshi Takahashi, who joined them after the events of 9) are struggling hard to keep Shinnok and Quan Chi, who had manipulated everything behind Shao Kahn's actions, from finishing the job and claim Earthrealm with their Revenant armies. Suddenly, when things are going definitely south for the heroes, Johnny manages to turn the tides to their favor via first snatching Shinnok's Amulet, then fighting and defeating him; Raiden then takes the amulet and imprisons Shinnok within it. Other flashbacks in the Story Mode of the game show more details of the whole situation, including how some of Quan Chi's Revenants (namely Jax, Scorpion and Kuai-Liang aka Sub Zero) were released from his control.
20 years later, things are very different. On Earthrealm's side, Johnny and Sonya have built a Special Forces team that includes their daughter Cassandra/Cassie, Kenshi's estranged son Takeda, Kung Lao's cousin (nephew, in future installments) Kung Jin, and Jax's daughter Jacqueline/Jacqui; their purpose is to train the youngsters as the new protectors of Earthrealm. On Outworld's side, there is a huge civil war between Shao Kahn's "daughter" and heiress Mileena (who now has Shinnok's Amulet) and Kotal Kahn, a warrior from the lost world of Osh-Tekk who once was Shao Kahn's right-hand man and later usurped the throne. All of these interests collide as the plot advances, and then everything speeds up even further as Quan Chi reappears, now intending to again release Shinnok from his prison...
The game's roster includes the following characters:
Veterans: Liu Kang, Raiden, Scorpion, Reptile, John Carlton aka Johnny Cage, Kano, Sonya Blade (MK1); Kitana, Mileena, Kung Lao, Kuai-Liang aka Younger Sub-Zero, Jax (MK2); Ermac (MK3); Kenshi Takahashi (Deadly Alliance); Quan-Chi, Shinnok (Mythologies)
Newcomers: Cassandra "Cassie" Cage, Jacqueline "Jacqui" Briggs, Takeda Takahashi, Kung Jin, D'Vorah, Erron Black, Ferra/Tor, Kotal Kahn.
DLC Veterans: Goro (MK1), Tremor (Special Forces), Tanya (MK4), Bo'Rai-Cho (Deadly Alliance).
DLC Newcomers: Triborg
Mobile Version only: Baraka, Jade, Kintaro, Shao Kahn (MK2); Freddy Krueger (Guest Fighter)
Regarding the gameplay, while its core is similar to MK 9, there are some modifications:
Each character has three unique fighting style variations, based on their individual abilities.
The return of the Brutalities from MK3, but now as One-Hit Kills that can be used only in certain circumstances. There are also Stage Brutalities where the charas can pick up stuff (and a person in one case) from the background and use them like this.
Factions Mode: where the players can join five groups: Special Forces, the Brotherhood of Shadows, the Lin Kuei, the White Lotus and the Black Dragons.
Living Towers: players with online connections can use these revamped "Challenge Towers" that change after hours, days or determined amounts of time.
A Stamina meter that's used up as the player dashes or runs.
etc.
It's followed by Mortal Kombat 11, released in 2019.
Tropes used in Mortal Kombat X include:
The gameplay
The story