Quotes

•
Headscratchers

•
Playing With

•

Useful Notes

•
Analysis

•
Image Links

•
Haiku

•

Laconic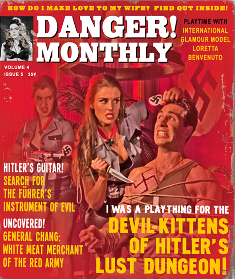 Yes, this exists.
Nazisploitation (also called Nazi exploitation) is a subgenre of the Exploitation Film and Sexploitation film that centers around Nazis committing horrific sexual acts as overseers of prisons or camps during World War II. Most follow the women in prison formula, relocated to a death camp or Nazi brothel, with a particular focus on gore, sadomasochism, and degradation. The genre also found its way into Pulp Magazines.
Related is the short-lived genre of stalag fiction, which were pornographic dime novels on similar themes very briefly popular in Israel of all places, around the time of Adolph Eichmann's trial.
Examples of Nazisploitation include:
Auschwitz, directed by Uwe Boll
Danger 5 parodies/pastiches this genre.

Last Orgy Of The Third Reich

Love Camp 7

: The Trope Maker.

The Night Porter

SS Experiment Camp

SS Girls

Salo Or The 120 Days Of Sodom

: Well, actually more sort of Italian Fascistsploitation. Based on one of the Marquis de Sade's most infamous stories.

Salon Kitty

Surf Nazis Must Die, a Troma film.
Parodied in the

Fake Trailer

for Werewolf Women of the SS that ran with showings of Grindhouse.