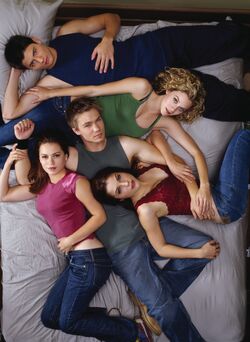 One Tree Hill is a Teen Drama about two half-brothers, Lucas and Nathan Scott, living in the fictional town of Tree Hill, NC. Lucas was abandoned at birth by their father Dan Scott, and lives as a loner with his mom and his father's elder brother Keith serving as his father figure. Both brothers have a love of basketball, but when Lucas moves from playing in the park to playing for the varsity team, they must deal with the fact that they have to see each other. Aside from having to deal with his issues with Nathan on the court, Lucas must also deal with the fact that Peyton Sawyer, his long-time crush, is dating Nathan (Something not lost on Nathan) & being dropped into a new circle of friends alongside his best friend Haley James.
The first four seasons of the show focus on the main characters' lives through their high school years. To avoid dealing with the downfall that Teen Dramas experience when their characters go to college, in its fifth season, the series subsequently jumps four years into the future after they have all graduated. In the seventh season, following the departure of Chad Michael Murray and Hilarie Burton, the show was jumped ahead another fourteen months in order to make their absence seem more credible and less sudden.
The show aired from 2003 to 2012, ending after 9 seasons & 187 episodes.
Tropes used in One Tree Hill include:
 Barry Corbin as Whitey

With Craig Sheffer

And Moira Kelly
| | | |
| --- | --- | --- |
| | | |
Anything That Moves: Nathan prior to meeting Haley. It's actually quite gross once you realize that he's slept with Peyton, Haley,

Brooke in the sex tape

, and lost his virginity to Haley's older sister...
Artifact Title: In France, the series was titled Les Frères Scott, which directly translates to The Brothers Scott in English. This trope qualified after Lucas was written out of the series at the end of Season 6, meaning there was only one Scott brother left on the show.
Ascended Extra:

Bevin went from being a nameless cheerleader there to make up the numbers in Season 1, to being a recurring character in Seasons 3 & 4 with a love interest in Skills, and eventually being brought Back for the Finale.
Mouth was initially introduced as one of Lucas's friends from the River Court, and to serve as anouncer for the Ravens games. With the Ravens not playing in Season 2 (Having lost their first playoff game at the end of Season 1), Mouth was given some character development beyond "The sports anouncer kid" & was Promoted to Opening Titles in Season 3.
Skills, like Mouth, was initially introduced as one of Lucas's friends from the River Court, but unlike Mouth, rarely appeared without the other River Court guys. In Season 3, he received the character development that Mouth did in Season 2, and was Promoted to Opening Titles the following season.

The Atoner: Dan Scott, complete with motivational-speaker TV show and book! Whilst

Dan's whole show is based on a lie

, he does genuninely try to atone for his actions by being a good grandfather & trying to help his sons, even if Nathan & Lucas want nothing to do with him.
Auto Erotica: Attempted when Brooke ambushes Lucas in the backseat of his car, naked. Peyton implies it's happened before with all the Ravens guys. Later on, Brooke attempts this with Owen as well... and does not react nearly so kindly when Owen attempts it on her.
Babies Ever After:

Nathan & Haley have Jamie in season 4, and Lydia in season 8.
Lucas and Peyton have daughter Sawyer in the Season 6 finale.

Brooke and Julian

have twin boys, Jude and Davis in the season 8 finale.
In the series finale,

Quinn adopts Clay's son Logan as her own

; and Millie & Mouth are expecting following the final Time Skip.

Back for the Dead

Jimmy Edwards and Keith Scott

in Season 3.

Lydia James

in Season 7.

Dan Scott

in Season 9.

Back for the Finale: Bevin Mirskey, having not appeared since Season 5 after being Put On the Bus in Season 4, returns in the Grand Finale working in the Courthouse when Clay & Quinn go to sign the adoption papers for Logan. She also serves as the witness when they decide to get just go ahead & get married instead of having a big Wedding Day. She also appears after the final Time Skip, the show implying that she's reunited with Skills.
Be a Whore to Get Your Man: Subverted in 3x04, "An Attempt to Tip the Scales". Haley's marriage to Nathan is crumbling badly and Haley wants to fix it, whereas Nathan has given up. A costume party is going on at Tric and Brooke decides Haley should be the classic "get your man to come back to you" costume-- Sandy from Grease. When Brooke sees Nathan at the party, she hints to him, "Haley looks hot..." Nathan, disappointed, replies, "Haley always looks hot."
The Beard: Lucas acted as this for Anna in Season 2. Whether or not she was a lesbian or bisexual is debated.
Becoming the Mask: Nathan, who falls in love with Haley in Season 1.
Beware the Nice Ones:

Nanny Carrie

Big Brother Mentor: Chase becomes one to Chuck during Season 8.
Biting the Hand Humor: "Great, so I guess you'll be getting some snot from The CW."
Black Best Friend: Skills, to both Lucas and Mouth.
Blood-Splattered Wedding Dress: Happens to Peyton, when she collapses due to her placenta previa after her wedding to Lucas and must be rushed to the hospital for a C-section. Haley's also isn't in the greatest condition after the limo incident in Season 3 (and the Season 4 premiere).
Book Ends:

The final scene in Season 8 recreates the first scene of the series, with Jamie replacing Lucas as he dribbles a basketball across the bridge. The scene was written with the intention of being the final scene in the series, but received a surprise renewal for a final Season 9.
The first & last musical artist to perform in the series is Gavin DeGraw, both times the song played being "I Don't Wanna Be".
In the pilot, Haley & Karen give Lucas a copy of Julius Caesar, whilst eating in Karen's Cafe after hours. Haley is seen reading the book in the series finale, whilst the characters are hanging out in Karen's Cafe after hours.

Bottle Episode:

Episode 5x09, "For Tonight You're Only Here to Know" - On the night of Lucas's first game as coach of the Ravens, the girls (Peyton, Brooke, Haley, Lindsey and Mia) get locked inside the school library.
Episode 6x17, "You And Me And The Bottle Makes Three," is a subversion - The episode is split into 5 segments, with each segment being focused on a couple (Lucas & Peyton; Nathan & Haley; Brooke & Julian; Mouth & Millie; and Dan & Deb) in a specific location. The individual segments are book ended with a prologue & epilogue.

Breaking the Fourth Wall: Toyed with in the finale. Several characters' lines are clearly directed to the audience, despite making sense in context.
Breather Episode: Episode 3x18 qualifies, since 3x13 and 3x15 through 17 all have Downer Endings to the max. In 3x18, "When It Isn't Like It Should Be", you've got a cabin getaway, Brooke pleasuring herself, Pete Wentz, and Nathan re-proposing to Haley (and her saying yes). D'awwwww.
Cain and Abel: Mark Schwahn has actually pitched the show as "Cain and Abel on a basketball court".

The main arc of the first half of Season 1 revolves around the relationship between Lucas & Nathan. As the series starts, they don't know each other, due to being half-brothers raised in different households - Lucas is the son of the high school sweetheart abandonned after graduation, Nathan is the son of the college girlfriend who married the former hero of the high school basketball team. They don't have much interaction until Lucas is recruited to play alongside Nathan for the Tree Hill Ravens, with tensions rising due to Nathan viewing Lucas as trying to steal his life. As the season goes on, they eventually become friends, before finally acknowledging one another as brothers.
Much like Lucas & Nathan, Dan & Keith Scott are also on bad terms as the series opens. However, unlike Lucas & Nathan, their relationship just gets worse as time goes on, culminating in

Dan killing Keith in cold blood

.

California Doubling: Averted, the show was filmed in Wilmington, North Carolina.
Casanova: Nathan, pre-Haley. His Distaff Counterpart is Brooke.
 Nathan: You want me to write a list of every single girl I've ever...

Haley: No, no, I guess not every single girl. You can cross Peyton, Brooke, and my sister off of that list.

Nathan: You really think that's a good idea?

Haley: Yes! And here. I'll make it easy for you. Take the phone book and just cross off the name of every girl you haven't been with.
 Brooke: You went in, shoved your magazine spread in his face, and hit on him.

Rachel: I wouldn't do that to you.

Brooke: Really? Let's go over the list of things you have done to me. You tried to seduce Lucas when he was my boyfriend, take my spot as cheer captain, and two weeks ago, you told the entire school that I was pregnant! I was just beginning to think you were a real person, but you're just a slutty lying liar who lies.
 Referee: Coach, I can't let you play with four, unless the rest of your team is hurt.

Lucas Scott: All of my players are hurting, that's why we're playing with four.
Dyeing for Your Art: God knows how many hairstyle/color changes there have been between seasons. Just try to keep track of Haley's hair color changes and styles (dark brown, light brown, blond-ish, long, short...). Brooke goes from no bangs in Season 1 and 2 to bangs in Season 3; Peyton's curls and shade of blond varied between seasons. The boys had their fair share of changes, too.
Embarrassing Tattoo: Both used and subverted.

Subversion: The first time we see a character with a tattoo, it's Haley, who in a late Season 1 episode is revealed to have Nathan's jersey number (23) tattooed on her lower back. Lucas is not amused, as he feels it's Nathan's way of saying she's his property, until Haley reveals it was her idea and she's proud of it. Her sister Taylor has a distinctive scorpion tattoo on her lower back, and she initially snickers believing that Haley's own tattoo is a way of emulating her. Later on in the series, Lucas refers to the tattoo as her "slutty little tramp stamp".
Lucas gets a tattoo of a Chinese character on his arm whilst on a date with Brooke. When Peyton and Lucas are fighting in Season 6, Peyton reveals she hates the tattoo.
| | | |
| --- | --- | --- |
| |   Peyton: First of all, it does not mean what you think it means; I looked it up! Second of all, Brooke has a very similar tattoo... near her lady business! | |
Empty Chair Memorial: For

Quentin Fields

in Haley's classroom. The Ravens also keep a spot open for him in their starting 5 after his death, and keep his locker empty.
Even Evil Has Standards: As terrible a person as he may be, Dan Scott is horrified after finding out that

second wife Rachel paid the family of a boy on life support to unplug the machines keeping him alive so that Dan could have his heart

.
Everyone Can See It: In Season 5, numerous characters (Including

Lindsey, who leaves Lucas at the altar when she realises it

) comment that everyone can see that Lucas is still in love with Peyton, even if he can't. After Lucas realises it & proposes to her, Skills & Brooke both comment that everyone's been waiting on them getting married since high school, even after their break-up.
Executive Meddling: Fictional accounts of executive meddling are rampant during production of the Unkindness of Ravens movie in season 6, and at the beginning of Season 7, when Red Bedroom Records is almost shut down (due to the absence of Peyton and the fact that Mia is their only successful artist).
First Girl Wins:

Peyton & Lucas.
Nathan & Haley are a Gender Flip example.
Mouth & Millie are another Gender Flip example. Hilariously, they're also a example of Last Girl Wins being played straight.

Five Stages of Grief: 3x17, "Who Will Survive, and What Will Be Left of Them?", is framed in an unusual way by showing title cards of each of the five stages as breaks in the episode. They correspond to the grieving of the cast over

the deaths of Jimmy and Keith in the previous episode

.
Fleeting Demographic Rule: When Brooke confesses to Haley in Season 7 that she thinks she might be pregnant, she adds that she's never been this late for her period before. Remember saying the same thing to Lucas in high school, sweetie?l
Foreshadowing:

In episode 3x09, the Angel of Death (The manifestation of Peyton's subconscious) lists several of Peyton's worries, including "Should Lucas be with me instead of Brooke?", which isn't mentioned again until 3x16 & 3x21.
In episode 3x18, Pete Wentz tells Peyton that he kinda already knows Peyton thanks to her podcasts & artwork.

Psycho!Derek comes to believe that he & Peyton are soul mates because of this

.
In episode 4x03, after Peyton makes a sarcastic comment about

burying her prom date

, and Derek comments that it'd be weird if they had that in common.

Episode 4x18 reveals that Derek did, in fact, bury his prom date

.

Forgotten Trope: After Keith and Lucas get into a car accident, a cop informs Karen that Keith had on .09 blood alcohol level and would be in trouble if it were .1. As of 2007, being legally drunk is .08 in the US. This episode was produced in 2003, before the limit was changed.
Friends with Benefits: Brooke and Felix, Brooke and Lucas in the beginning of season 3.
Full-Name Basis: "It's a Tree Hill thing."
Game-Breaking Injury:

Dan suffered a knee injury in college, and it ended his basketball career before it really began.

Of course, it's revealed halfway through Season 1 that the injury wasn't asn bad as Dan had said for the past 17 years, and that he could have continued playing... If he'd actually bothered rehabbing his knee

.

Nathan is thrown through a plate glass window

during the 4 year Time Skip after Season 4, and was paralysed from the waist down. He eventually recovers after months of rehab,

and eventually makes it to the NBA

. However, the injury comes back to haunt him in Season 8, and he's forced to retire.

Generation Xerox:

After the initial Time Skip, Lucas has effectively become Keith. Whilst Nathan has led the same life as Dan, he's what Dan would have become if he'd still chased his dream, dropped his Jerk Jock tendencies in high school & had never tried to live vicariously through his son.
As Jamie grows up, he displays more & more traits seen in Nathan & Lucas.

As a teenager, he follows in the footsteps of his father, uncle & grandfather and plays for the Ravens, even breaking Nathan's record as the all-time leading scorer

.

The Ghost:

Brooke's parents, Ted & Victoria, until Seasons 5 & 9 respectively.
Haley's older siblings; 3 brothers & 3 sisters. The brothers are never named or seen; Haley's sisters (Vivian, Taylor & Quinn) are named in Season 2, in the same episode Taylor first appears, whilst Quinn becomes a regular character in Season 7.

Girl-On-Girl Is Hot: Invoked by Brooke & Peyton in an attempt to motivate Nathan - For every step he takes out of his wheelchair, they will kiss.
Girliness Upgrade: Brooke, Haley & Peyton's wardrobe in Season 5, used to show the increase in their age & their maturity following the four year Time Skip.
Good Bad Girl: Brooke. She makes a big deal out of being able to "sleep around like a guy."
Good Girls Avoid Abortion: A couple examples. Karen refused to have an abortion while pregnant with Lucas, as did Haley whilst pregnant with Jamie, though both were about 17 at the time. In Season 6, it's not so much an issue of timing as it is of medical necessity:

Peyton, pregnant with her and Lucas' child, learns she has placenta previa, which could lead to her hemorrhaging and dying during the pregnancy or delivery. Lucas tries for the better part of an episode to guilt her into an abortion, but Peyton refuses even before their baby conveniently kicks for the first time. Later, Lucas agrees with her that they will keep the baby

.

It's also subverted with

Shelley, when she is introduced in Season 4. Brooke is covering for a pregnant Haley by saying she's the one who's pregnant, and Shelley, a "Clean Teen", tries to tell her not to have an abortion should she be considering one. She reveals that she used to be very promiscuous and got pregnant from a summer fling, aborted the baby, and has since regretted it. The experience led to her reforming her image and starting the "Clean Teens" with the slogan "Virgins for Life"

.

Hand or Object Underwear: Lucas is forced to leave the locker room once the guys on the team steal all his clothes as hazing. He has to use basketballs to cover his, well, uh... other balls.
Hands-Off Parenting: Brooke went through this in the first four seasons. Her parents were implied to be unhappily married and had never really wanted her, so they gave her their credit cards and pretty much never saw her. Her mother, Victoria, finally shows up in Season 5 and onwards, and although she is an extremely crappy mother at first, she and Brooke gradually make up in Season 6. As of Season 7, she and Brooke are close. Sophia Bush said on a Season 5 DVD extra that she was excited when Daphne Zuniga joined the cast as Victoria, because she "finally had a grown-up to work with now!" (Brooke was the only one of the five whose parents hadn't been shown at least once.)
Happily Adopted: In Season 3, it is revealed that

Peyton

is adopted. At first,

she's upset her dad never told her, but he insists it was for the best. She later learns that both her parents were deep into sex, drugs, and rock 'n' roll at the time they had her. She grows close to her birth mom, who eventually dies, just as her adoptive mom did. When she meets her birth dad, she's excited to learn he's a famous guitarist, only to discover he's an alcoholic, and she thanks him for giving her up and then calls her adoptive dad to thank him

.
Happily Married: Nathan and Haley have been married since Season 1, as juniors in high school, and have been identified as a "supercouple." Though there have been complications in their marriage, they've managed to last through the ensuing six seasons. Their Teen Pregnancy also gave them a son, Jamie, born on their graduation day.
Headbutt of Love: When Lucas finds Peyton in the library during the school shooting, bleeding from the leg and unable to walk, he does this to reassure her.
Heterosexual Life Partners: Chris Keller & Chase.
Hide Your Pregnancy: Moira Kelly in Season 1, Barbara Alyn Woods at the end of Season 4.
High School Dance: The semiformal episode in Season 2, and the two prom episodes in Season 4.
High School Sweethearts: Nathan and Haley count, and they even got married and had their son whilst still in high school. Lucas and Peyton sort of count--they were together in high school only to break up in college, but got married and had a baby later on.
Hollywood Heart Attack:

Dan

has one at the end of Season 1, but

he is found by Deb and survives.

It's later revealed that this is due to a genetic heart condition. This leads to a recurring plot point in the next couple seasons.

In Season 2, Nathan learns he's in the clear, but Lucas refuses to take the test, but is later forced to by Karen. He's positive for the condition, but bluffs his way out of it by showing her Keith's negative results

. This condition, HCM, later turns out to be quite the problem:

Lucas suffers a heart attack in episode 4x09, "Some You Give Away", after seeing the then-pregnant Haley get hit by a car. He gets better, though.

Hollywood Nerd:

Haley. "Tutor Girl" later goes on to become valedictorian, and an English teacher after the four-year jump.
Mouth. Though he kind of averts part of the stereotype due to the fact that he loves sports, unlike the typical Hollywood Nerd.
Millie

Hollywood Pudgy: In Season 7, when Millie becomes a model, she is referred to as "plus-sized"--when she's average-sized (which, for a model, would be considered plus-sized). Its also worth noting the person who says this about her appears to be the exact same size making the statement even more ridiculous.
Honorary Aunt & Uncle: Skills & Brooke are this to Jamie, Sawyer & Lydia Scott. Peyton is also this to Jamie, before she marries Lucas in Season 6 & becomes his actual aunt. Season 7 adds Clay as another Honorary Uncle, but he quickly goes down the same route as Peyton by starting a relationship with Haley's sister, Quinn. Conversely, Nathan & Haley are this to

Davis & Jude Baker

.
Hopeless Suitor:

Mouth to Brooke in Season 2, though to be fair, Brooke didn't try & lead him on.
Mouth (Again) to Rachel in Seasons 3 & 4. Unlike Brooke, Rachel intentionally led Mouth on & everytime he figured this out, it only lasted for an episode or two before he was convinced Rachel had changed & fell for it again. He eventually realised Rachel was never interested in him after she convinced him skip town a few weeks before graduation, stringing him along for a week under the belief they were starting a relationship, until she began flirting with some random guy in a bar & used the same lines that she was feeding Mouth.

How We Got Here: Season 9 opens shots of

a burning building, Dan Scott and Chris Keller seemingly plotting a murder, Chase in the back of a police car, Julian being assaulted in an alley, and Haley identifying a body in the morgue

; edited in such a way that these seem to be directly connected. As the season goes on, each event is gradually seen in the actual context of the plot.
Hypocrite: Brooke's treatment of Peyton in season 4, following Peyton confessing that she had feelings for Lucas, considering that Brooke made a sex tape with Nathan on one of his many single night break-ups with Peyton.
I Call It Vera: Chris Keller's guitar, Haley James.
| | | |
| --- | --- | --- |
| |   Peyton: Be happy, Luke. I want that with all my heart. | |
 Lucas: So nobody has a fatal heart condition? And a father who was purposely set on fire?

Kids shake their heads
Weddings in Tree Hill tend to be quite dramatic, so when Brooke gets married in season seven Skills spends the entire episode making sure that the groom is who he says he is, no one gets kidnapped or steals a limo and drives it off a bridge. To name a few.

Last Girl Wins:
Late to The Punchline: Karen has a particularly memorable one in Season 3 when she realizes her advice to Lucas--"the best way to get over someone is to get under someone else"--is decidedly not as philosophical as she believed it to be.
Law of Inverse Fertility: When the timing is inconvenient for you to have a child, you will get pregnant (Karen, Deb, Jake and Nikki, Haley). When you're engaged, your fiancee will get pregnant unexpectedly (Peyton). When you're Brooke, the richest and most successful of all the Tree Hill gang (and the one who desperately wants to have a baby), you're just screwed.

As of episode 7x10,

it has been revealed Brooke can't have children. The Law at its finest, folks

.

Leaning on the Fourth Wall:

In 2x16, "Somewhere A Clock Is Ticking," Brooke makes the comment that "Love triangles are so last season" - Considering the second season is notably lacking any love triangles, she's kinda right.
In 6x08, "Our Life Is Not a Movie or Maybe," Nathan & Brooke's rebuttals to Lucas's "You do realise the book is set in High School" rebuttal to their dream castings in the movie version of "An Unkindness of Ravens"
 Kid: DO YOU HAVE ANY CHICKEN FINGERS?!

Brooke: Do you have an inside voice?!

Peyton: Brooke, we're outside!
Not Making This Up Disclaimer: Lucas telling Nathan how

a donor was found for Dan, but subsequent events led to the donor heart being eaten by a dog

results in this being invoked.
Obfuscating Stupidity: Bevin, the resident Dumb Blonde, heavily implies in one episode to be doing this.
Obvious Pregnancy: Both Haley and Peyton went from being flat to having very noticeable bumps during their pregnancies, in very short amounts of time. The exact passage of time has never quite been confirmed. Karen, on the other hand, didn't look pregnant at all.
Odd Couple: Mark Schwahn has stated that initial reactions among the fanbase to Nathan/Haley was extremely negative, although the writers had planned it since the beginning. They are pretty much opposites: Nathan was a stud while Haley was a virgin, Nathan was athletic while Haley couldn't even master a basic basketball shot, etc. Also, Brooke's party-loving, school-flunking ways were an odd mix with Lucas' introspective, intelligent ways.
Old Shame: In-Universe, Nathan's Jerk Jock & Casanova tendencies, and Brooke's reputation as the Ravens' welcome mat are this.
One Head Taller: Bethany Joy Galeotti (Haley) is five foot three while James Lafferty (Nathan) is six foot two. With about a foot between them, the abundance of forehead kissing in the Naley coupling seems self-explanatory.

Despite being the same age, Chuck is nearly twice as tall as Jamie.

Once a Season: After the sucess the show had with Mia Catalano/Kate Voegle in Seasons 5 & 6, the show tried to replicate that formula with Grubbs/Mike Grubbs of Wakey!Wakey! in Season 7, and Erin Macree/Laura Izibor in Season 8.
Opening Monologue: It was a pretty common device to have Lucas (or, rarely, one of the other characters) deliver an opening and closing monologue for each episode. It would usually be some kind of quote from classic literature that would relate in some way to the theme of the episode. The end of the episode would usually have another quote over a particular song that brings together the different plot threads. An example of the monologues opening and closing the Season 3 finale, "The Show Must Go On":
| | | |
| --- | --- | --- |
| |  Lucas: At this moment there are six billion, five hundred and two million, eight hundred and sixty seven thousand, one hundred and twenty people in the world, give or take a few and sometimes all you need is one. For better or for worse. | |
| | | |
| --- | --- | --- |
| |  Lucas: William Shakespeare wrote: "Love is not love which alters when it alteration finds. It is an ever-fixed mark that looks on tempests and is never shaken. Love alters not with time's brief hours and weeks, but bears it out, even to the edge of doom." | |
| | | |
| --- | --- | --- |
| |  Brooke: Naked in the backseat is so last year, it's two years ago! | |
Real Life Writes the Plot:

Skills begins Commuting on a Bus during Season 7 due to Antwon Tanner's real life legal issues.
Lucas & Peyton were originally going to be brought back for Brooke & Julian's wedding in episode 8x13, however Chad Michael Murray & Hilarie Burton's schedules prevented the characters returning. Burton's schedule was also cited as the reason why Peyton wasn't brought back with Lucas in Season 9.

Reality Subtext:

Karen's going to Italy in Season 1 was written so Moira Kelly could go on maternity leave.
Lucas's tattoo in Season 1 was necessitated by Chad Michael Murray getting his initials tattooed there durinng the production of the season.
Haley leaves to pursue her music in Season 2, and is subsequently Demoted to Extra for a large chunk of the season, because Bethany Joy Lenz was on the One Tree Hill tour at the time.
Deb doesn't show up until "What Do You Go Home To?" in Season 5 due to Barbara Alyn Woods being on maternity leave.

Really Gets Around: Hi, Brooke! As stated above, she was the embodiment of this trope early on. Peyton once remarked that she did it for a purpose, to show she could "sleep around like a guy," and Brooke herself stated "screw the double standard." Currently, among the men in Tree Hill, Brooke slept with Lucas,

Nathan

, Julian, Chase, Owen, most of the Ravens guys... It goes on. As an adult, and later in her high school years, Brooke hates being reminded of her tenure as the town bicycle.
 Mia: Did you know Chase lost his virginity to Brooke?!

Haley: Yes... and by the look on your face, I'm guessing you didn't. Well, welcome to Tree Hill; try to find a boy who didn't lose his virginity to Brooke Davis.
| | | |
| --- | --- | --- |
| |   "Congratulations Principle Rimkus, you made a good teacher not want to teach, and good students not want to learn. You be proud of that." | |