Spider-Man: No Way Home Trailer Dropped - The Loop
Play Sound

YMMV •

Radar

•

Quotes

• (

Funny

•

Heartwarming •
Awesome

) •

Fridge

•

Characters •

Fanfic Recs

•

Nightmare Fuel

•
Shout Out

•

Plot

•

Tear Jerker

•

Headscratchers

•
Trivia •

WMG

•

Recap •

Ho Yay

•

Image Links

•

Memes

•

Haiku

• Laconic •
Source

•

Setting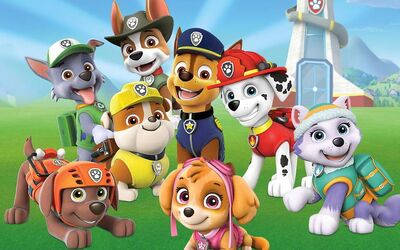 PAW Patrol is an animated preschool series created by Spin Master. It premiered on Nickelodeon's Nick Jr. block on August 12, 2013 in America, and on TVO Kids on August 27, 2013 in Canada.
Currently in its eighth season, the show follows a 10-year-old boy named Ryder, who, along with his pups Marshall, Rubble, Chase, Rocky, Zuma, and Skye, help out the citizens of Adventure Bay. The PAW Patrol are later joined by Everest, Tracker, twin dogs Tuck and Ella, Rex, and (surprisingly enough) Wild Cat, who respectively debuted in Seasons 2, 3, 6, and 7.
Despite being aimed at preschoolers, it has a surprisingly big fan base among teenagers and adults.
A theatrical movie, titled PAW Patrol: The Movie, was released on August 20, 2021.
Tropes used in PAW Patrol include:
Accidental Hero: A mild example from Ultimate Rescue: Pups Save the Movie Monster. While the PAW Patrol were the ones who saved the day by stopping the monster from setting all of Adventure Bay on fire, it was

Daring Danny X

who saved the movie by

following the PAW Patrol and recording their adventure with his helmet camera.

Adults Are Useless: Adults in this series rely on the PAW Patrol even for some small things, including the mayor of Adventure Bay.
Agony of the Feet:

Jake sprains his foot in Pups Save Jake.
In Pups vs. Ouchy Paws, among the many Amusing Injuries Sid and Arrby get when they accidentally walk into cacti, they also get cactus spines in their feet.

Aluminum Christmas Trees: The episode Pups Save Friendship Day has the residents of Adventure Bay celebrate the titular holiday. What many don't realize, however, is that there actually is such a thing as Friendship Day, but the day it happens each year varies in every country.
Amusing Injuries: Marshall is especially prone to them. He almost always ends up colliding into the other pups.
And Your Reward Is Clothes: In Pups Save an Outlaw's Loot, when Ryder, Chase, Rubble, and Everest find Wild Wilbur's treasure, they find long johns inside a treasure chest. And then it's revealed that there is another chest buried beneath that one containing the real treasure.
Animal Jingoism:

Averted; the pups are shown to be fine with kittens, especially Rubble. Although Precious in Pups and the Kitty-tastrophe was afraid of Zuma at first.
A recurring villainous group is the Kitten Catastrophe Crew, but the pups don't mind them as long as they don't cause trouble.
The Copycat hates the PAW Patrol, but it's not because they're dogs. Rather, it's because he believes that they take the attention of his owner, Hailey Daily, away from him.

Animals Not to Scale: Tracker is rather large for a Chihuahua. On the other hand, Flip-Flop of God says he's a Potcake dog, and he has a suitable size for that.
Art Evolution: The animation becomes noticeably better starting with the Season 2 premiere, Pups Save the Space Alien. And it just keeps gradually becoming more detailed and fluid as time flies by.
Art Shift: When Ryder calls the team to the Lookout, the mission briefings shown on the Lookout screen are 2D-animated.
Artistic License Animal Care:

The Copycat eats a bunch of rhubarb pie in his second appearance. Rhubarb can kill cats in real life. Not to mention, cats shouldn't eat pie, period. Though it's downplayed in that he did get indigestion from it, he just wasn't as sick as he would've been if he were a real cat.
In Pups Take the Cake, the cake that the pups help Mr. Porter and Alex make is made of chocolate. They are later seen eating the same cake at the end of the episode. Good thing the pups are fictional, because chocolate is like poison to dogs in real life.

Artistic License Biology:

Rubble is shown to be able to swim in a few episodes, most notably in the Sea Patrol sub-series. Real bulldogs can't swim because of their robust bodies and short legs.
Dwayne, a member of the Ruff-Ruff Pack, has buck teeth. Real dogs do not have those.

Artistic License Physics: Tends to happen a lot, most notably whenever Marshall goofs up.
Aside Glance: Done by Rocky right before he falls into the sea in Pups Save a Windsurfing Pig.
Balloon Belly:

Mr. Nibbles got one after eating a lot of rhubarb pie in Mighty Pups: Charged Up: Pups Vs. the Dome.
Rubble had a pudgy gut after eating all of that popcorn in Pups Save the Corn Roast.
All three members of the Ruff-Ruff Pack get bloated stomachs after eating a lot of donuts in Moto Pups: Pups Save the Donuts.

Barbie Doll Anatomy: Whenever Alex is shown wearing only his swim trunks, he has no nipples.
Base on Wheels:

The PAW Patroller, introduced in Season 2's The New Pup.
Beginning with the Season 4 episode Mission PAW: Quest for the Crown, the Mission PAW Cruiser is used during Mission PAW rescues.
The Dino Patroller introduced in Dino Rescue: Pups and the Lost Dino Eggs helps the pups travel to the Dino Wilds.

Batman Can Breathe in Space: Skye and Rocky don't seem to have any trouble breathing when Skye rescues Rocky from Captain Gordy's spaceship at the end of Pups Save a Monkey-naut.
Bedsheet Ghost: One appears during the appropriately titled Pups Save a Ghost.

Said ghost turns out to actually be Marshall sleepwalking.

Big No: Rocky sometimes screams this when he's about to get wet.
Big Shadow, Little Creature: In Pups Save the Spider Spies, while the pups are busy getting Cap'n Turbot and Francois unstuck from a giant spiderweb, a huge shadow of a spider appears... but the spider itself is then revealed to be about the size of a tarantula.
Bindle Stick: Marshall carries one when he has a Ten-Minute Retirement from the PAW Patrol in Pups Save a Friend.
Black Bead Eyes:

The characters on the mission briefings when Ryder calls the pups to the Lookout have these eyes.
Every Turbot seen in the series has black dots for eyes. It appears to be a family trait.

Book Ends: Pups Save a Toof begins and ends with Chase knocking his fang loose.
Borrowed Catchphrase: At the end of Pups Save an Adventure, Marshall says, "If you ever need to build a safe fire, just yelp for help." That's usually Ryder's Mad Libs Catchphrase.
Break the Cutie: Marshall in Pups Save a Friend when he feels like a hindrance to the team. He's so sad that he temporarily leaves the PAW Patrol.
Breaking the Fourth Wall: Done by Chase in Pups Save the PAW Patroller.
| | | |
| --- | --- | --- |
| | Chase: It's nice to have someone else do the driving! | |
 Francois: It... was not... Francois'... fault!

Skye: What's he saying with the flags?

Ryder: It looks like he's signaling, "My cheese needs a hat?" What?