Spider-Man: No Way Home Trailer Dropped - The Loop
Play Sound

Quotes •

Headscratchers

•

Playing With

•

Useful Notes

•

Analysis

•

Image Links

•

Haiku

• Laconic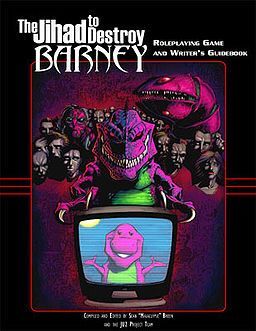 Sometimes there is an entity that by its very nature is meant to appeal only to a certain, if possibly narrow, demographic. It's reasonable to assume that people who do not fall within that demographic group would simply ignore it, right?
WRONG!
Periphery Hatedom is when a character or show receives undue scorn and hatred from groups that it was never meant to appeal to in the first place. It inspires an anti-Periphery Demographic, who respond to them in such a way that you'd think they had committed some unspeakable crime. Expect a complete lack of Parental Bonus, a Fleeting Demographic, and a ton of Facebook pages decrying its "crimes". Consider the contradictions in the phrase "hated teen idol".
This is not to say that the hatred is always undeserved. Any major pop-culture phenomenon is going to make in-roads into the mainstream (at the very least by journalists reporting on the genre), and in the worse case scenario, it may become inescapable, or prove so popular in its demographic that those attempting to Follow the Leader choke out any innovation in other programming for a period. Of course, the Periphery Hatedom makes things even more inescapable, well after the pop-culture phenomenon's popularity has died down. It keeps itself alive.
This may also be an extreme version of Hype Aversion. As in "Dear God, just shut up about it already!!"
Given time, many people tend to get more charitable and less prone to Periphery Hatedoms. This may be the result of the Nostalgia Filter, a mature understanding that other people should be allowed to like whatever they want, or the simple fact that picking apart a single target eventually gets boring and it's very easy to find something else by which to be annoyed.
On the other hand, some of the stuff that was marketed towards you when you were a kid probably had a Periphery Hatedom at the time... and the kids who love a kid-oriented work with a Periphery Hatedom may grow up to become the adults who hate some new kid-oriented work, while still viewing the stuff they enjoyed as kids as pure quality. It's a never-ending cycle.
This trope overlaps with Complaining About Shows You Don't Watch, since quite a bit of these Periphery Hatedom have probably never actually legitimately sat down and watched it, or spent enough time as they would something made for their medium. Ask how many of these people who hate one of these if they had ever seen an actual episode of it (Especially if it's a TV series). Not flash parodies on sites like Newgrounds, not Youtube Poop videos making the characters say sexual innuendos, not shows like Robot Chicken spoofing it, not other web-based spoofs such as comics, actual unparodied episodes. You'd be surprised how many people say they legitimately tried to give it a chance without an excuse for having done it. ("I only watched it because my children watch it on TV all the time!", for example.)
Compare Love It or Hate It, where the demographics are not nearly so sharply defined (and the hatedom rarely overshadows the work) and Bile Fascination, a primary reason for people outside the target demographic to investigate. Contrast Hype Backlash, where a backlash occurs against something people have been told they'd like.
Many Music examples overlap with Dead Horse Genre. Can lead to Deader Than Disco when a work's target demographic stops liking it and joins in on the bashing. See also Americans Hate Tingle for regional examples. Can be caused by What Do You Mean It's for Kids?. Moral Guardians are a specific type of Periphery Hatedom, who sometimes subvert the trope by directing their complaints at how they think the work will affect its intended audience. However, they often play it straight by getting the target audience wrong, typically by assuming that everything of a particular genre must be kid-appropriate.
Remember, this trope is specifically for examples where the hate comes from not pandering to a group that it never planned to reach in the first place. Complaining About Shows You Don't Watch when you're within its intended audience is not this trope. And cases of former fans rejecting newer versions of their preferred work/genre almost never fall here unless the work has a Fleeting Demographic (such as a lot of kids' shows, teen pop music, etc.) and the fan has grown out of it. Otherwise, move it to They Changed It, Now It Sucks.
Examples of Periphery Hatedom include:
In-Universe Examples
Gru in Despicable Me parodies this trope when one of the orphans he adopts asks him to read a cute children's story called "Three Sleepy Kittens". He calls the book insipid - when it is literally aimed at 5-year olds, and he's being asked to read it by a 5-year old.

If you're being charitable, you could say that he's saying he has a higher opinion of the intelligence of the kid. He later destroys it and writes his own replacement.

Humphrey the Hippo in The Critic.
Mary Moo Cow, the Barney Captain Ersatz of the Arthur universe is this to the titular character of the show- the theme song itself is known to aggravate Arthur. The Tina the Talking Tabby commercial in Arthur's Perfect Christmas and Vidiboobies (one of the many Captain Ersatzs of Teletubbies in the show's universe) has the same net effect on Arthur.

Both played straight and subverted with the "Love Ducks" (a Teletubbies parody). Arthur becomes a fan of the show despite his friends mocking him and saying that it's "a baby show". That is...until they start watching it as well and begin enjoying it for it's surreal content.

The Hopla Captain Ersatz "Pumpkins In Pants" has this effect on the Tibble twins, who are avid fans of "Mary Moo Cow"

Baloney from Animaniacs, a parody of Barney and Friends.
The Cinema Snob is this towards exploitation films, porn parodies, and anything else that isn't True Art.
Anime and Manga
Dragon Ball Z and Sailor Moon qualify, as a truly amazing number of hate-sites appeared in the early days of the Internet... most of them run by the demographic that the other appealed to. That sure explains all the "DragonMoonX" Rule 34 out there.
The Moe style and concept, to fans of mecha anime. While many mech fans had their misgivings about a strong focus on moe even when it was shows like K-On! and Lucky Star, most of them took an instant dislike to shows like Strike Witches, Sky Girls, and Infinite Stratos which merged mecha elements with the moe style. Many mecha fans feel robbed by the ubiquity of Moe: where once there was a lot of "traditional" mecha anime on the air, now it is forced onto OVAs; the airtime is filled with Slice of Life and adaptations of Visual/Light Novels which have pushed more "traditional" mecha anime aside. Add in known mecha directors like Yoshiyuki Tomino and Hideaki Anno [1] calling out moe as strangling the anime industry's creativity, and you've got all the ingredients for a Periphery Hatedom.

However due to overlapping demographics (fans of both Moe and Mecha) there are those who have gladly welcomed mecha musume into the family.

Merchandise-Driven kids' series, such as Pokémon, Yu-Gi-Oh! (mostly the dub version), Beyblade and Bakugan. The Pokémon anime suffers from this to an extent, mostly due to the fact that it's been going on for years and years without being very imaginative while catering almost exclusively to children. Yu-Gi-Oh! also has a Periphery Hatedom for similar reasons, mostly due to 4Kids! Entertainment's dub of the show making it appear to be a simplistic Merchandise-Driven kids' cartoon similar to Pokémon itself. Both series have large numbers of genuine fans, however; other, similar series such as Beyblade aren't very well-liked at all by teens and adults.
Rock Lee's Springtime of Youth, for just for the fact that it's replacing Bleach's timeslot. It doesn't help that the Bleach anime was cancelled, and ends at the conclusion of the Lost Agent arc. For those who don't know, the arc that comes after this is The Thousand Year Blood War arc, Bleach's Final Arc!
Film
Live-Action TV
Barney the Purple Dinosaur from Barney and Friends for the amount of sheer vitriol levelled against him for his crime of being big, cloying, purple, doofy, and not a carnivore. A surprisingly large number of the most extreme Barney-haters are not parents and don't have toddler-age siblings, and therefore could avoid him simply by not watching the show. They probably would not have heard of the show if it were not for the already existing Periphery Hatedom and their watching of the channel it's on. Barney hatred is so deeply ingrained into the elementary-school-age community that some 10-year olds will automatically hate anything named Barney, from real people to fictional characters. While there are valid reasons to hate the series, they're for different parts of the site.

Barney hate is referenced in Jurassic Park III: one character manages to get a phone call in to an old friend's house to call for help, but unfortunately her infant son picks up the phone and forgets all about it as Barney comes on TV.
The music video for "Jurassic Park" featured a scene with Barney getting his head bitten off by an even larger dinosaur. It later gets coughed back up.

And the song "Barney's on fire" is all about this, to the point that even the audience delight in the gristly spectacle and actively refuse to help, even though they're aware there's a perfectly normal actor in that suit who is dying horribly. Comedic Sociopathy taken to a horrifying level.

In Dilbert, the Pointy-Haired Boss is a Barney fan, the joke being that he's a grown man who enjoys a show which 6-year olds consider babyish because he's just that stupid.

Heres Humphrey

: Humphrey B. Bear can be viewed as the Australian Barney, due to the way he is hated by many pre-teens in his homeland for his goofy antics. And oh, for having a human co-host that talks down to the viewers. However, Humphrey invokes the Nostalgia Filter sooner- Most Australians tend to remember him more favorably by the time they reach their late teens. Barney Hatedom usually doesn't fade and get replaced by Nostalgia Filter until the former viewer-cum-hater has started a family, which by then he/she will be in the late 20s or early-30s (and sometimes, it doesn't even leave, due to the show's simplicity). The fact that Humphrey's co-host is usually a hot chick (albeit one that talks down to kids) and the fact that the show has not raked up any controversy probably helps.
Barney is the king of this trope, but The Teletubbies is worthy company for him. The Teletubbies is even hated due to the "Bear and Lion" vignette. They were not meant for you. Especially not if you're denouncing one of them for being gay.

In the Teletubbies case, while it has the usual Periphery Hatedom, some concerned parents made waves when it was thought that the nonsense speech of the main characters might be hurting the verbal development of its target audience at a time when their babbling starts to cohere into words and basic sentences.

Even hardcore Teletubbies fans don't think twice about expressing their disdain for the very similar Boohbah.
The current crop of Disney Channel live-action original programming in general, most famously High School Musical and Hannah Montana.
The Lawrence Welk Show, in the 1970's and since. It was enormously popular when it was new, in the 50's, but by the time it had lasted 20 years, the number of people in the Periphery Demographics far outnumbered the people for whom it was originally intended.
Elmo of Sesame Street has become less than popular to a large number of the show's longtime fans, mainly because the show's focus has somehow shifted onto him and less on the other muppets and characters. Unfortunately, the shift caused various groups of Fan Dumb to hate the show as a whole instead of just Elmo. Further made worse by Sesame Workshop deciding to assign a whole half hour of Sesame Street to the segment, Elmo's World, and giving the segment the very signature of Barney & Friends and other Periphery Hatedom programs: A theme tune that rips off the tune of a public-domain song ("Jingle Bells") and is primarily about Elmo. Much of the intended demographic loved it, however.

Children who have just outgrown Sesame Street have been known to hate the show and equate it to Barney, due to their being too young to understand the show's honest efforts to educate children and keep their parents amused.

Sex and the City: Many men, and women outside the target demographic, see the characters as shallow and overly consumerist and far too prone to inane chatter, or as horrifyingly whiny, self obsessed, and irresponsible. Their Distaff Counterpart, Entourage, gets many similar complaints, still mostly from those outside the target demographic.
Dino Dan, mostly from the school of thought of "that kid needs help" (a hearty serving of Ham and Cheese sandwiches doesn't help, either).
Literature
Goosebumps sometimes gets this when people who have viewed it through the Nostalgia Filter come back and read the books, and realize they're not actually very good (because they're aimed at young kids who don't know better).
Left Behind has a huge Periphery Hatedom; pretty much anybody who doesn't subscribe to the authors' precise apocalyptic vision is a potential member. Ironically the most in-depth (by far) critique of the series is being produced by a (progressive) evangelical Christian. Especially strange when you consider its probably the easiest work of fiction to avoid out of anything on this page. The movie of the first book barely showed up at the box office and its not marketed much outside of it's target venues.

Much like some of the Twilight hatred above, the criticism is sometimes about what the stories are indicative of, and what influence they have on the readers in the intended demographic. Also, how easy it is to avoid depends on where you live, such as if you're in an area where typical Left Behind readers are the majority (though even then, it's hardly on the level of Twilight).
Also it comes from several directions: those who aren't Christians and disagree with its message from the outset, those who are Christians but think the authors are on the fringe and making the rest look bad, and even those who are Christian and who believe the Rapture is imminent, but think Left Behind has got it all wrong.

The Twilight series attracts both legions of fans (even in this very wiki), and even larger legions of the Hatedom who have never read the books or seen the movies (but many who have). The hatred tends to be split between the direct hatred for the sparkly vampires/Bella Sue/ Purple Prose sex scenes/what have you, and the Hype Aversion from all the Edward-or-Jacob Ship-to-Ship Combat that saturated the world.
Music
Boy Bands. It is well-known that many of these bands are manufactured more for looks than for sound. It doesn't help that they traditionally don't write their own music and often have only vocalists in their official line-up, which costs them respect even with fans of the pop genre.

Hanson in particular, from the amount of bile it raised in the non-fan throat. Hanson wasn't even a boy band in the traditional sense, since they at least wrote their own songs and played the instruments themselves. Yet because they consisted of photogenic young men who made poppy music, they were lumped in with the rest.
Backstreet Boys and N*SYNC were also notable because they tried to reach for a Periphery Demographic and were smacked down. Some people were even surprised to learn that these were different bands. To make things even more interesting, Justin Timberlake (from N* SYNC) did gain success outside the usual boy-band demographic.

Pop Princesses, such as Britney Spears and Christina Aguilera, may move out of this category if they manage to grow up with any grace or artistry. (Christina Aguilera appears to have successfully transferred to other genres.) Until then, they are only taken seriously as singers by young females, though they are appreciated as pin-ups with some other demographics.
Justin Bieber, another Teen Idol. The current huge media coverage (including being the focal point of Funnyordie.com's April Fools' Day prank) hasn't helped. The hatred of Justin Bieber is so widespread at this point that about half of all YouTube videos, even those unrelated to Bieber, will have someone complaining about him in the comments.
People hate a lot on Miley Cyrus, the Jonas Brothers and most of these teenage, Disney-sponsored musical artists who are really only supposed to appeal to younger girls. These fans express appreciation through high-pitched Squee, and these artists don't seem to appeal to anyone else, so tolerance for Squee in everyone else is at a minimum.
Taylor Swift has haters that think she is a soulless sellout. Then there are the people who think she's anti-feminist for singing stereotypical love songs and spending most of her time mooning over boys. She also gets bashed for being a Purity Sue (which is especially ridiculous when you consider songs like "Picture To Burn", "Better Than Revenge" and "Sparks Fly").
All pop music, to some rock fans. All music recorded after 1980 or so to some classic rock fans. All music after about 1991 (or between 1991 and around 2002) to some metalheads.
A lot of non-rock performers, especially in the 1970s, became vilified by rock critics and fans when their songs became hits on pop radio. John Denver and Barry Manilow are two examples of this.
Backlash against Disco during its heyday in the 70's was so great that there is a trope named after this backlash. Disco Demolition Night is a famous example of contemporary hatred toward the genre. The genre did, however, see a resurgence in popularity during the 2010s and into the 2020s.
Pat Boone as a 1950s-60s pop idol, since his career was built largely on making the more incendiary forms of popular music such as R&B "safe" for white listeners; and borrowing (stealing?) from black musicians white audiences wouldn't listen to. His later position as a Christian conservative commentator did nothing to help this.
For a period, Michael Bolton received so much bashing that "Kill Michael Bolton!" jokes practically became a Dead Horse Trope of their own.

Office Space can't have helped.

Die, motherfucker, die, motherfucker, die! Granted, that was the printer, but Michael has similar feelings about the musician.

And Ryan Stiles from Whose Line Is It Anyway? continued to relentlessly make Michael Bolton jokes even after his popularity had waned.

Strangely, Australian children's musical group The Wiggles avoids this, perhaps through a combination of music that's actually pretty good (or at least very catchy), and gently avoiding Viewers are Morons. That they've done covers of Beatles songs doesn't hurt.

Also, it doesn't hurt that (at this point), they've managed to write original songs for three generations of children.

Lady Gaga gets this, for many reasons by many different demographics, but, specifically, by non-Camp male fans because of her over-the-top refusal to be "conventional". Despite frequent Pandering to the Base, people wonder why she's not so widely celebrated outside her obvious target demographic. Of course, given the calculated way she behaves and dresses "non-conventionally", it's almost like she's trying for this sort of reaction.
Rap music in general tends to inspire a generational divide between the MTV/BET-watching youth of its fans and their out-of-touch adult parents who take offense to its violent, misogynist themes, can't understand a word of the Ebonics-laden lyrics and at worst are unsure if Rap is even music. Rap is even the preferred punching bag of older Black leaders who accuse/scapegoat it for promoting stereotypes and instilling in its listeners distorted messages about Black culture. It also has a massive hatedom amongst fans of classic rock, mainly because it's effectively replaced most genres of rock aside from alt-rock among the masses these days.

Time is killing this now that the original "MTV Generation" (who were teens during the '80s and early '90s) are parents, though it's still an issue for the older teens and young adults who are the children of the Baby Boomers (who were teens during the '60s and '70s, before rap became mainstream).
Reaggaeton, being a derivative from rap and dance hall, also has got in Latin America a hatedom similar to the one towards rap, on the same demographics and for similar reasons. Although they also get fire from the elevate sexual content of several songs, which adds a lot of Moral Guardians of the

Please Think Of The Children

type to the hatedom.

Nowadays, Crunkcore has the most storied Periphery Hatedom of any genre.
Kidz Bop, a series of covers of popular songs sung by little kids with more kid-appropriate lyrics. It is aimed at little kids, and almost universally despised by everyone else.
Rebecca Black is, in some ways, the Justin Bieber of 2011. Subverted, as she still receives a more memetic kind of respect, while the hate for her music is channeled into positive ways, such as remixes and covers.

And this "Brock's Dub" parody.

As white-hot as The Beatles were in the sixties, they weren't without their share of hatred. Some of it came from their target demographic, such as fans of other British Invasion groups such as Herman's Hermits and the Dave Clark Five or American groups like Frankie Valli And The Four Seasons. But much of it was from older adults who found their music to be more flash-in-the-pan disposable pop, and particularly, Moral Guardians (lampshaded in Allan Sherman's novelty tune "Pop Hates The Beatles"). Hatred from the latter would reach a fever pitch after John Lennon was quoted saying the Beatles were "more popular than Christ", prompting fundamentalist Christians to burn all Beatle memorabilia (Lennon would heavy-heartedly clarify, "I'm not saying we're better than Christ or greater than Christ. I'm just saying we're more popular.") But by the time the band had reached Revolver and Sgt. Pepper, though, showing that they were more than just "yeah yeah yeah", even the haters had to sit up and took notice, and they began to be seen as the musical pioneers they're known as today.
Elvis Presley is a pretty polarizing figure in Rock & Roll among blacks. Some are appreciative of the attention Elvis brought to the genre among the white community, creating openings for black artists. Others felt he had appropriated the genre to the detriment of black artists who had been doing it long before he did. Elvis gave credit many times to earlier black artists whose songs he covered (to a much greater degree than, say, The Rolling Stones or Led Zeppelin), but it didn't help that some of his fans believed he actually invented Rock & Roll.
Celine Dion got a fair bit of this, principally in the wake of Titanic's epicness, but as her profile has diminished in the ensuing years so has the hate.
Country Music in general. Most people who claim to "hate" country seem to hold it entirely to many Southern stereotypes which are far from omnipresent, and have probably never listened to actual mainstream country.

Fans of classic country also occasionally criticize contemporary artists for writing music considerably more smug than they used to. Since rural America has gone from poor to rich, the shift is understandable but still disturbing to some.

In several countries, folkloric music, either from the own or from their neighboring countries, by people who are more into "mainstream" music (read: rock and pop). For example, at one time in Venezuela there is the trifecta hate from people of the capital and neighboring cities towards joropo (because of being perceived as backwards music from country simpletons, and for having been used as a filler during a period of obligatory 1:1 ratio of imported/local music), Zulian gaita (because of saturation of the airwaves on Christmas time and extreme regional thematic) and vallenato (because of its association with Colombian immigration, often stereotyped as criminals and bus drivers).
Soulja Boy managed to get this from three demographics--Veteran rappers (most notably Ice T) who felt his simple "how to do a dance" raps were ruining the genre, anime fans who were horrified by his terribly ill-informed attempt to make a song about how he was an anime fan himself, and ironically, actual soldiers. Why the last? A song called "Let's Be Real," wherein he brags about how he got rich with his DIY approach to music and says "Fuck all the army troops."
Print Media
The Family Circus has received a disproportionate amount of mockery over the years from people not in its kids-say-the-darndest-things-isn't-it-cute? demographic.
Jack Chick does a zig-zagging of this trope. His tracts are supposed to be aimed at non-Evangelicals, to bring them into the fold, but only an Evangelical could possibly take them seriously (and even most of them think they're absurd), while his target audience despises the contents. It is for this reason that his fanbase consists primarily of people who read his comics to make fun of them.
Marvin is written pretty much exclusively for new mothers. Everybody else seems to hate it.
Professional Wrestling
Professional Wrestling itself. See the Deader Than Disco page for more.
Old school WWE fans (and many Attitude era fans) seem to particularly loathe the character of Hornswoggle, whose matches border on slapstick comedy and seem to exist for the sole reason of attracting the attention of small children.
Many male fans find the Divas' matches boring. Well, unless you're at the event, you don't have to watch them - and even if you are, you could just go to the bathroom or get a hot dog.

The arguments tend to stem from: the matches are too badly fought to entertain "purists", and the girls aren't slutty enough to drag in the "letches", so they usually end up in the "meh" zone.
Another reason for the hatedom is because purists resent the fact the WWE has no real interests in making a legitimate female division, and find the current iteration of the Diva division to be reeking of Unfortunate Implications. That and the fact they insist on hiring models instead of athletes. TNA has started to get the same complaints as well.
There are also disenfranchised Diva fans who remember its short Golden Age in the early 2000s, when the divas started to get serious about wrestling, starting with Lita and Trish Stratus.
There's also a different set of purists who will hold a former model's past career against her even if she becomes a good wrestler. Others will get this even when they've never done modelling before. Trish Stratus herself experienced this early on and had to start taking chair shots to shake off the haters. Kelly Kelly is the most recent example as many people will read her name in a match and automatically label it as bad without even bothering to watch it.
Sports
Golf. From those who aren't fans, it's regarded as monotonous, luck-based, aristocratic, unathletic (since some people just drive carts to wherever the ball is instead of walking), and associated with square old rich people.
Cardio kickboxing is one of the biggest crazes among fitness aficionados and shows no sign of dying down, but it continues to get a lot of hate from formal practitioners of martial arts for diluting the practice. While many pioneers of the craze, such as Billy Blanks and Chalene Johnson, are in fact, legitimate martial artists, the fact that now people can become instructors with no formal background means they risk teaching bad form to students that not only distracts them from effective fighting techniques should they ever need to defend themselves, but actually runs the risk of students hurting themselves doing the moves as exercise.
Also, competitive kickboxing has gotten this from some Moral Guardians. The most common accusations is that it has stripped martial arts of their once-typical hallmark of restraint and peaceful ideals, and turned the whole ordeal into a spectator sport dedicated to feeding the audience's love for violence. John Mcane called it "human cockfighting." However, again, the opposition has done little to dampen the enthusiasm of its fans.
Sumo wrestling; usually because it epitomizes Hard Gay to some people. If you see any depiction of this sport outside Japan, it is likely to be parodic in nature.
NASCAR. See the above gripe against golf carts for detracting the athletic element from sports for part of it; and its common association with rednecks for the other.
Tabletop Games
Players of any tabletop game less mainstream than Trivial Pursuit or Monopoly, such as The World of Darkness, or Dungeons and Dragons, or Warhammer 40000, will be assumed to be antisocial losers.
Monopoly itself (being a poorly-balanced family game that's insanely popular for no clear reason) gets a lot of hate from the eurogamer and "serious" boardgamer crowd.

There are also some, both leftist and right-wing, who know the original game was intended as a scathing satire on capitalism (though it was really only accurate to the late-19th century, pre-antitrust Robber Baron era). Right-wingers don't like it for having been a leftist caricature of a market economy, and leftists don't like that it's now one of the biggest mass-marketed corporate products ever.
Theatre
Theme Parks
Toys
Whatever the designate "hot toy" of Christmas is. There seemed to be an exceptional amount of hate towards the Furby in particular, despite the fact that it was, y'know, made for little kids.

Adults hated Furby because it just wouldn't shut up.
A lot of trendy toys acquire a Hatedom among schoolteachers sick of confiscating the things.
The Cabbage Patch Kids dolls were also pitched as a Christmas must-have and particularly reviled by people who were sick of seeing them everywhere. Film director Don Mancini was one of these people. His response? Chucky.

Beanie Babies, although most of the hate was directed at the Periphery Demographic of housewives who stored them in glass boxes as collectibles, not the little kids who just wanted to play with them as toys. Then again, there were also a lot of parents sick of shelling out so much money for the things.
Polly Pocket, from the little boys for whom they were never intended.
Remember Tickle-Me-Elmo? People donated to be the driver of a bulldozer that ran one over, and sold thousands of tickets to a front row seats of said event.

There's a video of one of the more advanced models being burned to a crisp. While still turned on. It's rather disturbing.
Mad TV did a parody with "Tickle Me Emo".
Cory Doctorow's novel Makers features "Boogie Woogie Elmo", millions of which were destined for landfills. The titular makers use the sophisticated hardware and robotic capabilities in novel ways.
Also parodied in Season Two of the episodic Sam and Max games with "Torture Me Elmer", a toy which children were encouraged to mistreat. There's a minigame where a vast spill of them has littered the roadways, and you need to clear them off by running them over. There's a certain sadistic hilarity in hearing them beg for mercy.
Jhonen Vasquez has a Meanwhile comic about "Tickle Me Hellmo", which has 20 levels of response. They include shooting fire ants, calling Satan to stare at the child at night, and reciting goth poetry.

Name any kind of gender-specified toy. Boys were supposed to play with stuff like Tinker Toys, soldiers, sports toys, and toy weapons. Girls were supposed to play with dolls, playhouses, kitchen utensils, and pretend-telephones. Watch as the girls think the boys' stuff is stupid while the boys think the girls' stuff is stupid without any reason.

Watch any child who averts this get labeled as gay without any reason.

Hero Factory for many Bionicle fans, mostly since the sets and story don't cater to a Periphery Demographic in the same way its predecessor did. Bionicle itself has this in the form of thousands of Adult Fans of Lego.
Barbie deserves special mention. Just about everyone loves to write all sorts of long essays about how she's "a freak of nature" and a "walking stereotype of what a woman is supposed to be" (somehow ignoring Barbie appearing in countless white collar or even blue-collar jobs), and people often refuse to buy their daughters or relatives Barbie dolls for fear that a doll will somehow instill a negative body image in them. (Like the doll itself is the sole cause in the first place, as lampshaded in Baby Blues) Ask around the internet and you'll probably find a lot of people, even girls (especially girls), who decapitated and mutilated Barbie dolls when they were little.

Barbie is a stereotype of what a woman is supposed to be. Just a different stereotype: specifically, some kind of blonde, tanned, superwoman.
If you were a boy and played with a Barbie doll, then you immediately had to transfer schools. Unless, that is, you did stuff like strap her to a model rocket and attempted to launch her into outer space or did all sorts of violent acts to her such as dropping a bowling ball on her or trying to melt her with a magnifying glass. (It's amazing how, with all those supposed studies that linked Barbie dolls to girls with poor body image, nobody has seen if there's a link in boys between destroying Barbie dolls and domestic violence toward women.)
The Bratz doll line received even more complaints. Like Barbie, a lot of them were from people concerned about its target demographic of little girls, and even more so given the Bratz dolls' revealing clothes and thick make-upped expressions. However, there were, once again, a lot of boys (and older or tomboyish girls) who just liked making fun of things little girls liked.
Video Games
More recent E-rated games that are not Kirby, Mario, Pokémon, or something else well known and enjoyable, get this from older players.
Microsoft 3D Movie Maker has McZee, a weird blue guy who really wants to be Barney-but-wackier. He's pretty horrible, and the exclusion of him as a poseable character is about the only reason the first four thousand fan-made movies weren't all "McZee dies in horrible ways".
The Nintendo Wii is a bit of an inversion. Once Nintendo finally did what they had promised to do and expanded console video games outside the 18-24 Affluent Male market, said market declared them the anti-Christ. Even Nintendo's continued development of "traditional" games[4] hasn't silenced the hatedom one bit...Of course, the rest of the market seems not to have noticed... much to the chagrin of the 18-24 Affluent one.

Among the platform's games, the worst sufferers of this were of course the "expanded market" games themselves: Nintendo's "Wii Series" games directed towards non-gamers such as Wii Sports, Wii Fit and others. During the late 2000s, they were a gigantic fad that outsold and were played more than most other games by a huge margin, causing the 18-24 Affluent Male market to declare gaming Ruined FOREVER and fear for its senior-citizen-and-soccer-mom-ruled future. However, as the fad has died, so has the hate.

Axl from the Mega Man X series is a bit of an odd case. While he's pretty much universally despised by the series' main fanbase, the small but dedicated Periphery Demographic of young women just can't seem to resist his boyish charm.
"Hardcore gamers" seem determined to hate casual and/or social games. Game Informer magazine has called titles like Farmville unexciting compared to big budget games and accused them of being marketing tools.

Given that the creator of Farmville has openly said the game is nothing more than a Skinner box, the accusation that it's a marketing tool is just about dead-on.

PC gaming magazines have been knocking consoles for years. Consoles are generally designed for gamers who want less complexity. However, there's tons of overlap, so it's really a case of a Vocal Minority of purists.
Pretty much any RPG, except Dragon Quest. The "only nerds play them" consensus has led them to be an example of Not Allowed to Like It. One of the prime victims is World of Warcraft.

WRPGs tend to get alot of hatred as well, especially Action RPG games, which critics tend to complain that "the action ruins the RPG elements". Not to mention, in an ironic inversion to the above, this genre also has a hatedom for having real-time combat and being too gritty.

Final Fantasy Mystic Quest tends to attract hatred from people who believe the urban legend that it was why the USA didn't get Final Fantasy V until the Playstation years, as well as the fact that it was actually made specifically to introduce people into RPGs.
Any of the big console shooter franchises draw plenty of flak from players who dislike FPSes, PC gamers, and fans of older styles of shooters. The Call of Duty and Halo series may be the most common victims, but they are not alone. First-person shooters are also frequent scapegoats of people who hold the assumption that their fandom of "cerebral" games such as Silent Hill somehow makes them more intelligent than the primates who play Call of Duty, et. al.

Which makes for a very strange inverted hatedom in retrospect, as until the past decade or so you basically had to have a PC if you wanted to play an FPS due to the limitations of the consoles of the day.
Te major pet peeve was that on the side of the FPS crowd, they hated it for how it monopolized shooters into a single uniform genre with very little deviation (Iron Sights/Regnerating Health and Cutscene Incompetence). For the others, they see the shooters as completely strangulating what creativity left in the industry as game devs are crushed by Publishers for not living up to their flagship franchise standards.

Sonic The Werehog from Sonic Unleashed. Kids love him, most fans who left Sonic's intended demographic hate him.
EA tried to exploit this with their "Your Mom hates Dead Space 2" marketing campaign. It didn't exactly work: the intended market responded "Thanks for casting us all as immature jerks, it's not like games don't have trouble with that perception already", and it seemed to completely miss gaming's shift in demographics, as explained below.
Video games in general fell into this category when they became popular during the 80's and 90's. In many cases, there was a notable divide between the children who enjoyed playing them and parents who felt they distracted them from doing more constructive things. Now that many of today's parents grew up with them, however, this is a dying trope.
Web Originals
User Friendly especially seems to provoke unnecessary anger outside of its narrow IT professional demographic.
Any long running, successful. niche-audience webcomic, such as Pv P, Penny Arcade, or Megatokyo.
Furry webcomics get a ton of flak from non-furries. Note that this does not apply to the hatedom of comics such as VG Cats which are intended to read by non-furries as well.
Western Animation
Mickey Mouse Clubhouse has earned mixed reviews from critics and Disney fans alike for putting their mascot and Co. into a toddler show, but it's many people on social networks who have a deep hate for it that tend to be more vocal about it. The fact that Disney still goes along making new episodes for this show does NOT help matters, nor does the fact that they market Mickey's Clubhouse incarnation more aggressively than his earlier, more Periphery Demographic-friendly appearances.
Caillou: Those jokes about him having cancer/being bald from chemotherapy speak volumes. The Hatedom is somewhat justified among parents, as many have evidence it was a dangerous influence on their children. On the other hand, parents make up only a small percentage of haters here- much, much more of the hatedom comes from high school students who simply hate the show for being slow.
The Smurfs, which had all of the hatred of people who never watched it a good decade before Barney did.

One defunct site even pointed out various chilling similarities while comparing The Smurfs to the KKK, though most haters usually compare them to communists instead.

Dora the Explorer: Particularly to those who hate being treated like they have the memory of a goldfish. [5]
Dragon Tales, due to Ord's incessant whining and the somewhat Sugar Bowl environment that is Dragon Land. And oh, some religions cite dragons as evil: why there is a (negative) trope named after them. However, it's starting to get a following.
Veggie Tales: Part of it is because of the vandalism caused by fans of the show to random pages on The Other Wiki, and spammers who love that show so much that they use clips of it to plug their "Super Duper Video Converter". But there's a fair amount of hate from non-Christians, too, for being a religious show for young kids. Veggie Tales tends to have enough Parental Bonus (in the form of pop cultural references—e.g., the French peas guarding the wall of Jericho) to avoid the "babyish" criticism, though.
Hopla is bashed for its Limited Animation and boring set-up despite being for infants. (Another case of "Just because it's for kids, it doesn't mean you can half-ass it.")
A good deal of the very vocal internet bashers of Squirrel Boy seem to be very much outside the show's intended demographic. Notably they keep comparing it to Duckman, which obviously had a much older target audience.
Little Einsteins is hated by exactly four schools of people: those who can't stand the inanity or shallowness of the story, those who don't like being treated like they have the memory of a goldfish, those who can't stand them shoehorning silly lyrics onto classical melodies, and longtime Playhouse Disney/Disney Junior fans who miss the days of Bear in the Big Blue House, Rolie Polie Olie, PB and J Otter & Stanley.
Noddy. But what has he ever done to you?
Fanboy and Chum Chum. If you check out a thread asking for opinions on the Nickelodeon message boards for this show, they'll range from good to mediocre. IMDb and the tv.com website provides us with much more insightful, though, to say the least, critical reviews. Also, anything that's not an actual episode of the show, but, for example, the intro or some fan videos on YouTube will be literally flooded with hate comments.
Jay Jay the Jet Plane: The planes, helicopters and staff of Toytown Airport offer entertainment, life lessons and moral instruction for ages 2-6. Unfortunately it's also lodged deep in the Uncanny Valley.
Baby Looney Tunes. Though probably not meant for anyone over the age of six, fans of the original Looney Tunes and Tiny Toon Adventures have a special loathing for it.
The Problem Solverz, partly because of its Sensory Abuse.
Tuff Puppy, largely due to it being a Cliché Storm.
My Little Pony Friendship Is Magic, though much of this is due to Hype Aversion.

Reading angry comments, it seems the main issue is that the Periphery Demographic is at best propagating an overused Me Me, and at worse trolling the world, because they couldn't really be enjoying a show that must be just stupid girly toy commercials.

The show may be pretty good, but the haters have somewhat of a point about the overused meme/trolling thing, since with the rising popularity of the show, more intrusive bronies occasionally invade places that have barely anything to do with ponies.

In Canada, it's even worse, because the one channel that it airs on, Treehouse TV, is a preschool channel that airs it after Barney and Friends. It's almost as if they were trying to get rid of the show's Periphery Demographic, especially since the word "loser" is censored out there as an obvious result of that.
The rest of the My Little Pony franchise, being aimed exclusively at young girls, has an even larger Periphery Hatedom; even Friendship Is Magic's Periphery Demographic rejects it, as seen in the comments of this video.
A classic punching bag for most other segments of the My Little Pony fandom is My Little Pony Tales, which removed the mystical elements from the plot and completely anthropomorphicized the ponies--in other words, it became My Little Pony In Name Only, leaving nothing over but hyperbolic femininity.
The periphery hatedom isn't just an age thing for My Little Pony. Even in the right age range, boys tend to hate and deride it without actually watching it.
A very strange example of this directed at the show is when Cartoon Brew ran this article about bronies. When someone called out Amid about for using a fan with Aspergers' syndrome to make fun of the fandom, his response was "The reason I chose the quote is because the guy said he learned more about life in a season of a toddler cartoon than he did in the previous three decades of his life. It's too bad you can't see the humor in that. " The weird thing is that this is supposedly an animation website that usually wouldn't fall victim to the Animation Age Ghetto like this.
As for characters in the show itself, the Cutie Mark Crusaders receive a whole lot of hate from the adult fanbase, despite being popular with the show's intended demographic.
One of the show's biggest problem (and source of irritation to others, thus instigating the hatedom) is a Fan Dumb subset that thinks that it's their sacred and holy duty to attack people for not liking the show, not liking the direction the show is taking, or even preferring a previous generation. It gets especially egregious when they degrade to first-grade-school level attacks like insulting the critic's intelligence or calling rude names in the comment fields over a negative review. Even worse is the fact that they tend to make their assault as a group.

Max and Ruby, partly due to a Family-Unfriendly Aesop.
Any cartoon that is targeted towards adults and teens, and specializes in Getting Crap Past the Radar tends to have a Periphery Hatedom among deeply religious individuals, as well as those who just find the cartoons distasteful or offensive. Examples include South Park, Drawn Together and Family Guy.
As popular as it is, it seems that SpongeBob SquarePants is here among older fans of Nickelodeon who are just sick of the show and wish it would die to make room for many other better Nicktoons.
Any cartoon in general that is released in a new decade (especially true with 90s kids) will get some amount of hate from older generations, regardless of the show in question's actual merits. Even popular shows such as Avatar and Adventure Time will get this reaction from some groups.
Special Agent Oso, mostly from the "Every episode is the same!" school of thought.
Ultimate Spider-Man has become loathed by adult Marvel fans who find the show too comedic and immature compared to other Marvel cartoons from the same period, or the comic with the same name.