Jurassic World: Dominion Dominates Fandom Wikis - The Loop
Play Sound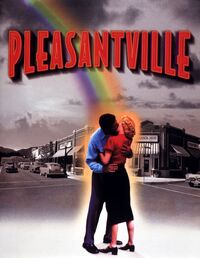 "There are some places that the road doesn't go in a circle. There are some places where the road keeps going."

—David

A deliberately troperrific 1998 movie starring Reese Witherspoon and Tobey Maguire, who play main characters Jennifer and David, a pair of siblings who — during an argument over who gets to use the big TV in the living room — wind up Trapped in TV Land due to a strange TV repairman and a stranger magical remote; specifically, they wind up in Pleasantville, an old black-and-white show portraying the stereotypical 1950s American suburb (along the lines of Leave It to Beaver or Father Knows Best, but even more idealistic). David is thrilled because it's his favorite show; it is a happy world where nothing bad ever happens (as a contrast to David and Jennifer's unstable home life). Jennifer, being more of a party girl, finds Pleasantville incredibly dull and wants to liven the place up. They both want to get home, and David wants to do so without upsetting the community - but the remote gets broken and the repairman gets antsy and they're stuck.
Their presence winds up throwing the heavily-idealized world into chaos. As things become less idealized and more like the real world, they begin to show up in color instead of black and white — people cease to be monochrome whenever they stop staying nice and snug within their boundaries and break out, displaying some inner truth about their character (in other words, they show their True Colors).
The movie is clever and well-written, but also Anvilicious in its parallels, and your enjoyment may depend upon your tolerance for such things. For an oddly similar experience in book form, try The Giver.
Tropes used in Pleasantville include:
Artistic License Sex Ed: Considering her inexperience, Betty makes that tree burst into flames amazingly quickly.

Or maybe it's because of her inexperience?

Ascended Fanboy: David becomes Bud which he loves at first.
Attempted Rape: We don't see it, but during the montage of vandalization and violence Margaret is seen running across the street in a panic with her blouse torn. It's pretty clear what Whitey and possibly some other black and white supremacists tried to do.

Before that, Whitey and a bunch of other guys chase Betty into an alley and corner her with the intent to strip her naked and have their way with her. Bud clocks Whitey a good one and chases them off before they can do anything, earning his color.

Bland-Name Product: TVTime for TVLand.
Blank Book: The entire library.
Blithe Spirit: The entire point of the kids' visit, which winds up changing everything in the town.
Brick Joke: David helping put out a fire is a hilarious example. First of all the movie establishes that all the firemen in town ever do is getting cats down from trees. Later, due to the Artistic License Sex Ed trope above a tree bursts into flame. David catches wind of it and runs to the nearest firestation. Of course due to its pleasantry fires never happened in Pleasantville and this happens:
 David: Fire! (Confused firemen stare at him.) FIRE!!!! (They still stare.) .....Cat? (They rush to the scene.)

(Later)

Fireman watching the tree burn:: Where's the cat?