Doctor Strange in The Multiverse o Madness - The Loop
Play Sound

YMMV •

Radar

•

Quotes

• (

Funny

•

Heartwarming

•
Awesome

) •

Fridge

•

Characters

•

Fanfic Recs

•

Nightmare Fuel

•
Shout Out

•

Plot

•

Tear Jerker

•

Headscratchers

•
Trivia

•

WMG

•

Recap

•

Ho Yay

•

Image Links

•

Memes

•

Haiku

•

Laconic

•
Source

•

Setting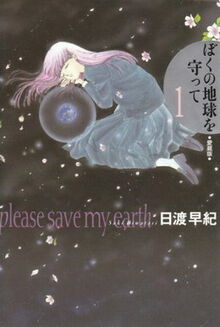 Alice Sakaguchi is an Ordinary High School Student and Friend to All Living Things. One day, as she's serving as the Badly-Battered Babysitter to the neighbor's trip-and-a-half of a boy (Rin Kobayashi), she has a chance encounter with the Yaoi Guys from her school class (Issei Nishikori and Jinpachi Ogura), and in the course of the discussion, it comes out that they and other three youngsters (Sakura Kokushou, Daisuke Dobashi, and Haruhiko Kazama) have been having dreams about being alien scientists on the moon studying earth, all in precisely the same continuity.
Eventually, all seven of the scientists at the base are found to have been reincarnated as Japanese teenagers. Their names are: Shion, Mokuren, Enju, Gyokuran, Shusuren, Hiiragi and Shuukaido). Their base — and all its weapons — is still operational, and the seven of them must find a way to balance their obligations from past lives with their new lives on Earth...
Please Save My Earth (ぼくの地球を守って, Boku no Chikyū o Mamotte) is a shōjo science fiction manga by Saki Hiwatari. It was published by Hakusensha from 1987 to 1994 in Hana to Yume and collected in 21 tankōbon volumes. The series was adapted as a six-part anime original video animation in 1993. It has sequel Embraced by the Moonlight (ボクを包む月の光, Boku o Tsutsumu Tsuki no Hikari), also published in Hana to Yume from 2003 to 2014; and Embraced itself has its own sequel, I Sing with the Earth (ぼくは地球と歌う, Boku wa Chikyū to Utau), which has been running in HtY from 2015.
Tropes used in Please Save My Earth include: