Jurassic World: Dominion Dominates Fandom Wikis - The Loop
Play Sound

YMMV

•

Radar

•

Quotes

• (
Funny

•

Heartwarming

•

Awesome

) •
Fridge

•

Characters

•

Fanfic Recs

•

Nightmare Fuel

•
Shout Out

•

Plot

•

Tear Jerker

•
Headscratchers

•
Trivia

•

WMG

•

Recap

•
Ho Yay

•
Image Links

•

Memes

•

Haiku

•

Laconic

•
Source

•

Setting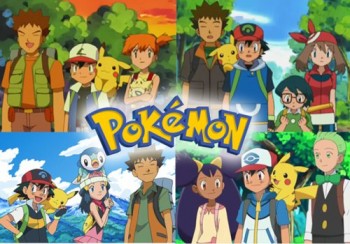 The anime series based on the Pokémon games. Given the success of the games, this series managed to make it to America as part of the marketing push, and, combined with the concurrent American airing of Dragon Ball Z, helped keep the new wave of Western anime adaptations (which started after Power Rangers) going.
It features the tale of Ash Ketchum and his pals (who change every saga), as well as the perennially ubiquitous Team Rocket trio of Jessie, James, and Meowth, who attempt to steal Pikachu or another rare Pokémon/item nearly every episode and are, with even greater frequency, sent flying sky-high with the Catch Phrase "Looks like Team Rocket's blasting off again! *Ding!*" (at least until Team Rocket Took a Level In Badass in Black and White).
For more info on the many, many characters see the character sheet. Save all character tropes there, not here.
A list of the various movies can be found here.
---
Tropes named by Pokémon include:
---
Tropes used in Pokémon include:
So you've reached the Plateau, but not yet a hero.
Are you ready to meet and defeat... the Elite?
Can I expect survival... against your rival?
---
Minna no Pokémon, getto da ze!
Gotta Catch 'Em All! Pokémon!