Jurassic World: Dominion Dominates Fandom Wikis - The Loop
Play Sound

YMMV •

Radar

•

Quotes

• (
Funny

•

Heartwarming •

Awesome

) •
Fridge

•

Characters •

Fanfic Recs

•

Nightmare Fuel

•
Shout Out

•

Plot

•

Tear Jerker

•
Headscratchers •
Trivia • WMG •

Recap

•
Ho Yay

•
Image Links

•

Memes

•

Haiku

•

Laconic

•
Source

•

Setting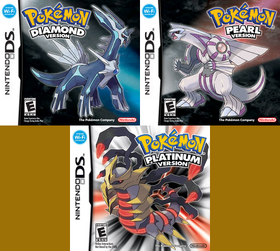 "Welcome to the next generation of Pokémon! As a rookie Pokémon Trainer, you will need to catch, train and battle Pokémon on your journey to become the Pokémon League Champion. You will face many challenges along the way, as you search for the Pokémon that rules time or space..."

—Blurb on the back of the boxes of Pokémon Diamond and Pearl Versions

Pokémon Diamond and Pearl versions are the fourth generation of Pokémon games. Hit the Nintendo DS in 2006, they take place in Sinnoh, the Pokémon world equivalent of the Hokkaido, Japan.
The plot doesn't stay far from the familiar territory of series. You and your hyperactive buddy are children from the little village of Twinleaf Town. One day, both of you have a fateful encounter with Professor Rowan, the local Pokémon researcher who just arrived from Kanto recently, and his assistant. Said encounter leaves you both with your first Pokémon, so naturally you set out To Be a Master, collecting monsters and badges and challenging other Trainers along the way.
At some point, you also encounter Team Galactic: A group that claims to be researching new forms of energy through Pokémon, but isn't above doing sinister acts in broad daylight... What exactly are their goals? As the Player Character, naturally you're on a crash course to find out...
A third version, titled Platinum, came out in 2009. Platinum brought with it a bit of tweak on the storyline, more characters and features, remodeling several Gyms, and including new challenges for players.
While the competitive aspects of Pokémon has been introduced back in Emerald, this generation marks the beginning of what would be the cornerstone of many proper battling aspects found in competitive plays today, mainly the divide between Physical and Special damage.
Not to be confused with seasons 10 through 13 of the Pokémon anime. For the bootleg under the name "Pokemon Diamond", see Telefang.
---
Tropes used in Diamond, Pearl and Platinum:
---
↑ Though the hot air balloon Pokémon is an understandable team member, the giant metal snake was formed by intense heat and pressure, and the Playboy Bunny is, well... hot, to be blunt.
↑ In Diamond/Pearl, you swipe your starter from Rowan's briefcase to defend yourself from a wild Starly attack, meaning you took them without permission; Rowan's comments afterward imply he only "gives" them to you because they've already imprinted on you and wouldn't work with anyone else anyway. Platinum, by contrast, has him giving them to you directly.