Spider-Man: No Way Home Trailer Dropped - The Loop
Play Sound

Quotes

•

Headscratchers

•

Playing With

•

Useful Notes

•

Analysis

•

Image Links

•

Haiku

•

Laconic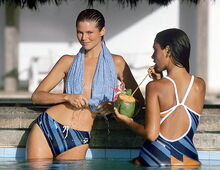 A pool area full of bikini-clad women (mostly), either sunbathing or swimming.
A particularly common element is for one of the female bikini-clad leads to get out of the pool in slo-mo, water glistening on her body.
An "interesting" meeting point in Spy Fiction (with the justification that it's harder to conceal a bug) and younger cousin of the Beach Episode. Not to be confused with Bad Guys Play Pool.
Examples of Pool Scene include:
Anime & Manga
Episode 8 of Excel Saga, appropriately entitled "Increase Ratings Week".
The first episode of Mai-Otome 0~S.ifr~ has a scene in a hotel pool. However, the main characters aren't actually swimming in it, but instead fall into it.
Mahou Sensei Negima has an episode which mostly takes place around the olympic-sized pool at the Class Rep's Big Fancy House.
The setting of the very first Sound Stage of Magical Girl Lyrical Nanoha. It featured Karaoke, nine-years-old girls in bathing suits, and a Monster of the Week made of water that tried to separate said nine-years-old girls from said bathing suits. Yes, the first season is quite blatant on its Fan Service.
Plenty of manga chapters in Ranma ½, due to Fûrinkan High's Phys. Ed. curriculum (and to show off Akane's Super Drowning Skills). For obvious reasons, Ranma always ends up on the women's side. Mind that these take place at school, and therefore the swimsuits are the standard regulation type rather than the sexy bikini type.
The manga of Fruits Basket has one of these scenes in the seventh volume, involving Uo in a bikini, Hana in a low-cut one-piece, and Tohru in

a school swimsuit

.
Suzumiya Haruhi's "Endless Eight". The sole purpose was to beat the number of swimsuit episodes in K-On! (which had two). Which it did. By six.
Shakugan no Shana has a pool episode where most of the class gets to go to a water park. Cue Gainaxing at every turn, especially from Margery Daw and Yoshida.
Maria Holic has Kanade expecting this. But when she gets to take part...
Code Geass: One of the Picture Dramas has the characters going to the pool. Cornelia in a bondage-inspired bikini, rawr. It also offers a more candid look at Guilford and Darlton.
Higurashi no Naku Koro ni. The Beach Arc of the manga becomes a Pool Arc in the anime.
Yoku Wakaru Gendai Mahou episode four is a pool episode.
Films — Live-Action
James Bond, specifically:

For Your Eyes Only (Notable as one of the women later turned out to have been a former man.)

The Starsky & Hutch film has one of these.
The iconic scene in Fast Times at Ridgemont High, wherein Brad masturbates while daydreaming about Linda getting out of the pool and taking her top off.
Gender-flipped in Phat Girlz when a glistening, speedo-clad Jimmy Jean-Louis emerges from the pool in slow motion (while Etta James' "At Last" plays).
The caddy invasion of the country club pool in Caddyshack; which results in at least one topless female character.
Several of these occur in the National Lampoon's Vacation franchise:

The scene with Clark Griswold (Chevy Chase) and Christie Brinkley, then Clark and Ellen (Beverly D'Angelo) in the hotel pool in the first Vacation movie.
Clark Griswold's fantasy sequence in Christmas Vacation.

Dana Delany and Stephanie Niznik swim nude in Exit to Eden.
One of the many pointless scenes in Laserblast involves teens in bikinis and board shorts enjoying the pool at some girl's birthday party. The main reason for the scene seems to be to pan across several dozen fairly ordinary-looking half-naked California teens, while the film takes a breather from its not-very-pulse-pounding plot.
The Pool. It's all in the name.
Literature
One of these appears in the Alex Rider novel Skeleton Key by Anthony Horowitz. Alex comments that they are unusual lifeguards.
The main characters of CHERUB all go swimming together at least once, and there are lots of scenes throughout the sreies of one or two of them in the pool at one time or another.
Live-Action TV
Airwolf, at least twice.
CSI: Miami, very frequently, but the main characters never end up in bikinis.
Knight Rider episode "The Scent of the Roses".
Alias, several times.
The Unit

One episode played with this, involving a most fanservicy scene of Summer Glau in a bikini, on a floaty chair... in a kid's inflatable wading pool.
Another episode does this straight, with Bridget getting out of the pool.

One scene in The Sarah Connor Chronicles has Jessie sunbathing at a pool while Derek Reese shows up to question her. There's no particular reason why that scene needed to be at a pool, except that it involves Stephanie Jacobson in a bikini, which is reason enough.
Burn Notice enjoys this trope. It really really enjoys it.
NCIS

One of Ziva David's very first scenes occurs in a pool. Since it's plot-related, she's swimming laps in a one-piece.
She does get bikini-time in season 5 — and it carries over to season 6 in photos the boys seem to appreciate.

Used frequently in Shark.
Thunder in Paradise is pretty much built around this. Oh, and it has a Cool Boat in it.
The "Xander gets out of the pool dripping wet and wearing only a Speedo" scene in the second season of Buffy the Vampire Slayer.
Another male example: In the short-lived Fox series New Amsterdam, the hero, 400-year-old hunk John Amsterdam, swims naked at the Y after hours. (He has a key, since he's one of the founding members.) His partner runs into him there and unexpectedly gets an eyeful when he climbs out.
In a Soap Opera Pool Scene, a real pool isn't featured. Instead, he or she will jump off camera followed a splash on the soundtrack and a bucket of water's thrown on the set.
Music Videos
The music video for "Jesus He Knows Me" by Genesis.
The video for "Hangin' In" by Tanya Tucker
Video Games
Valkyria Chronicles 2 has a pool scene. They cranked up the fanservice considerably with -Ahem- warm-up exercises.
Western Animation
Not bad so much as morally ambiguous, but Mayor Quimby has one in The Simpsons.
Happens in several episodes of Code Lyoko ("Marabounta", "Déjà Vu", "The Secret", "Kadic Bombshell"...), mostly for Phys. Ed. classes. Since this is set in France and not Japan, though, the swimsuits aren't regulated. Most of the girls are wearing one-pieces, however. Except Sissi.
The Pool Episode in Codename: Kids Next Door isn't exactly standard for this trope... since it involves fighting with Those Two Bad Lifeguards and their Humongous Mecha chair. Par for the course for the series, otherwise.