Spider-Man: No Way Home Trailer Dropped - The Loop
Play Sound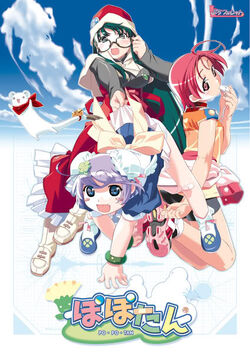 Popotan is a 2003 12 episode anime by Studio Shaft based on the H-game of the same name. The story is about three sisters and their not-quite human maid Mea who live in a mysterious mansion/Christmas shop that hopscotches through space and time on a mystical quest guided by magical flowers. Notable for being both explicitly sexy and extremely cutesy at the same time. The H-game version is an adult visual novel that covers much more material and characters.
The anime has a plotline that is completely unrelated to the game, with most episodes focusing on one of the three sisters (Ai, Mai and Mii) as they travel to various places and times in search of the eponymous "Popotan" which just happen to look exactly like ordinary dandelions ("tanpopo") in spite of their magical properties. See Japanese Honorifics to see why any anime show with '-tan' at the end is guaranteed cuteness.
Although the show is mostly a comedy, the overall tone varies from tearjerking to heartwarming. Of course, that doesn't stop the show from including panty and boob shots wherever it can. Add in the loli-appeal provided by Mii and the sometimes heart-wrenching effects the relentless transpositions have on Mai and it can make for a bit of a Mood Dissonance at times.
Popotan gained additional notoriety in the West in 2006 via Memetic Mutation in the form of a Caramelldansen Vid based upon the original game. However, it had already been released on DVD by Geneon USA in late 2004 and early 2005, and had been available fansubbed in English before that. The decision by Sentai Filmworks to re-release the series in 2007 may have been influenced by the increased memetic attention.
While Popotan is essentially the Japanese name for dandelion (Tanpopo) said backwards, the English equivalent ("liondandy") is never actually used in the dub, perhaps because it would conflict with the already well-known series title.
---
Provides examples of:
| | | |
| --- | --- | --- |
| |   Mai: ...Why are we in the lingerie section? | |
 Mii: Yes, that is what must have happened!

Unagi: (Dejectedly) Una...
| | | |
| --- | --- | --- |
| |   Mai: An apology won't cut it. | |
↑ except the series would then have to be called Raba, which doesn't sound as cute, admittedly