YMMV •

Radar

•

Quotes

• (
Funny

•

Heartwarming

•

Awesome

) •
Fridge

•

Characters

•

Fanfic Recs

•

Nightmare Fuel

•
Shout Out

•

Plot

•

Tear Jerker

•
Headscratchers

•
Trivia

•

WMG

•

Recap

•
Ho Yay

•
Image Links

•

Memes

•

Haiku

•

Laconic

•
Source

•

Setting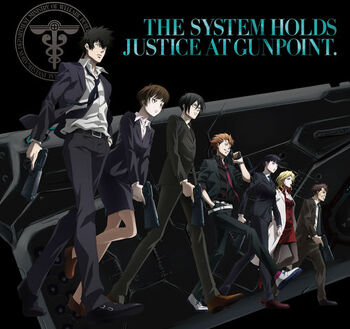 A Anime franchise that began in 2012 with an original TV Series made by Production I.G., created by Gen Urobuchi of Puella Magi Madoka Magica and Fate Zero fame, and with character designs by Akira Amano from Katekyo Hitman Reborn. It spans through three anime seasons (the original one from 2012, then one from 2014 and another from 2019), a movie set after Season 2 (released in 2015) plus a movie trilogy (Sinners of the System, from 2019) AND a second movie that follows the third season (First Inspector, from 2020), a Visual Novel (Mandatory Happiness, from 2016), several mangas, CD dramas and light novels, a stage play, etc.
In the future, the thoughts of the humans can be read by machines. Not only that, but they are able to read the level of likeness of a person to commit crimes based on their mental states. If that happens, well, you're likely to be arrested, even if you didn't commit any crime. There's still a chance for you, however, as it'll be seen below.
Akane Tsunemori is a novice and naive cop in her first night of work. She gets the responsibility of commanding a group of "latent criminals" that the police uses to hunt other latent criminals, nicknamed "Enforcers". The criminal in question that must be arrested, Nobuo Okura, is a man that apparently never did any wrongdoing, but easily slipped into a being truly a criminal by beating, torturing and raping a young woman named Chika Shimazu after the System decided he was dangerous and he cracked over it.
Also, it seems that this "mental pollution" can be transmitted to anyone nearby, like the unfortunate Chika. Tsunemori doesn't get this concept, and after Nobuo's threat is bloodily dealt with, she tries to prevent the terrified and maybe contaminated Chika from being killed, even to the point of non-lethally shooting the Enforcer she's working with - a rough and cynical, but ultimately good-hearted man named Shinya Kogami, who used to be an Inspector like Akane but was demoted to Enforcer due to his Dark and Troubled Past. And this is only the first episode.
Also, the first episode begins In Media Res. Meaning, it depicts something that will happen between the aforementioned Kogami and a mysterious, cruel-looking white-haired man named Shougo Makishima. But first, the viewers will have to see what led to their fight, and then follow the story to learn what will follow...
---
Tropes used in Psycho Pass include:
| | | |
| --- | --- | --- |
| | "Jesus told them another parable: The kingdom of Heaven is like a man who sowed good seed in his field. But while everyone was sleeping, his enemy came and sowed weeds among the wheat, and went away." | |