Jurassic World: Dominion Dominates Fandom Wikis - The Loop
Play Sound

YMMV •

Radar

•

Quotes

• (
Funny

•

Heartwarming

•

Awesome) •
Fridge •

Characters •

Fanfic Recs

•

Nightmare Fuel

•
Shout Out

•

Plot

•

Tear Jerker •
Headscratchers

•
Trivia •

WMG

•

Recap

•
Ho Yay

•
Image Links

•

Memes

•

Haiku

•

Laconic

•
Source

•

Setting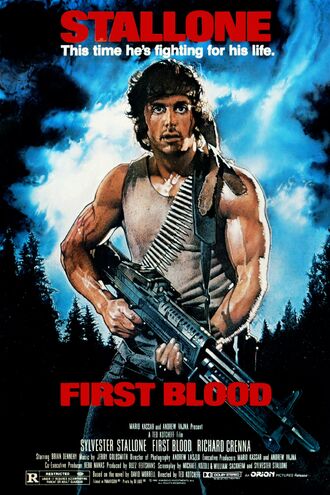 "You're always going to be tearing away at yourself until you come to terms with what you are. Until you come full circle"

—Col. Trautman
"NOTHING IS OVER! NOTHING!!

—Rambo

PaA series of action/drama films starring Sylvester Stallone as emotionally troubled Vietnam War veteran John Rambo, who was a former member of the United States Army Special Forces, a Green Beret, and a recipient of the Medal of Honor. First Blood, released in 1982 and the first film in the series, was based on the 1972 David Morrell novel of the same name.
First Blood deals with Rambo struggling to overcome the trauma he experienced during the Vietnam War. After a mini-war with the entire police station of a small Washington State town, Rambo confronts the sheriff at the station and is about to kill him when Rambo's former commanding officer, Colonel Trautman, tells him that it's over. Rambo replies with "Nothing is over!" and has an emotional breakdown where he tells Trautman about the protesters at the airport, how honor and loyalty mean nothing in the real world, and how his friend Joey was killed by a shoe-shining boy in a suicide attack. With nothing left to live for, Rambo decides to turn himself in to the authorities.
The film was followed by Rambo: First Blood Part II, which was released in 1985 and was an enormous success. In the film, Rambo is released from prison by Marshall Murdock and sent on a mission to find American POWs in Vietnam. When he does, Murdock orders that Rambo be abandoned and all evidence of the mission be destroyed. Rambo manages to escape from Vietnam, returns to Murdock's command center, destroys it with a machine gun, and threatens Murdock with a knife to get the POWs out of Vietnam. In the end, Rambo tells Trautman that he and other war veterans want their country to love them as much as they love it, and that he would gladly die for his country.
The third film, which was simply titled Rambo III and released in 1988, begins with Trautman tracking down Rambo and asking him to join him on a mission to Afghanistan to assist the Afghan freedom fighters who are fighting against the Soviets in the Soviet-Afghan war. Despite being shown pictures of suffering civilians, Rambo refuses and Trautman goes alone. But when Trautman is ambushed and captured by the Soviets, Rambo must go in and rescue him. Just like the James Bond film The Living Daylights, Rambo III features Afghan mujahideen as good guys, before they morphed into generic terrorists following the 9/11 attacks.
After a twenty-year hiatus, Stallone returned to the franchise with the fourth film in the series, titled simply Rambo (the film's original production title was John Rambo, partially because of Stallone's other major franchise sequel, Rocky Balboa). Living alone near the Burmese border, Rambo is asked by a group of American missionaries to take them to Burma on a humanitarian effort. While transporting them, they are ambushed by pirates. When negotiations fail, Rambo kills all the pirates, which disturbs the missionaries, but doesn't fully dissuade them from going to the village in Burma - where they end up being captured during an attack. After ten days, Rambo is asked by a pastor associated with the missionaries to lead a group of mercenaries on a rescue mission, to which he reluctantly agrees.
Prior to Rambo, however, a cute and heartwarming Gaiden of sorts was created in 2008 by British director Garth Jennings called Son of Rambow. The film details the misadventures of two boys in 1982 who tried to remake First Blood with a bulky VHS-Camera and the vibrant imagination of ten year olds. Sylvester Stallone himself is said to have loved the film.
A fifth Rambo film was planned, and details varied as to the plot of the film (one potential plot would have seen Rambo face off against some sort of supernatural/alien creature). However, that project seems to have stalled, and Rambo will remain the final film in the franchise at least with Stallone, who has said the rights holders may make their own sequel but once he finishes a few cuts on the Blu-ray he's done with the character.
Both the films and the character have enjoyed massive success and popularity, and - alongside the Rocky series - catapulted Stallone to the position of a major action hero and film star. After the release of the first three Rambo films, Morrell went on to write the novelizations of the first two Rambo sequels because he wanted to include characterization that he felt wasn't in said sequels. There was also a 1986 animated TV series called Rambo : the Force of Freedom that lasted 65 episodes and spawned a line of toys; a few comic books starring the character; a soundtrack for all films except Rambo III and the animated series; and many video games including the NES version of Rambo and the Sega Master System versions of Rambo: First Blood Part II and Rambo III.
---
This series of films provides examples of:
| | | |
| --- | --- | --- |
| |   Lewis "God didn't save your life! We did!" | |
 Sheriff Teasle: What would possess God in Heaven to make a man like Rambo?

Trautman: God didn't make Rambo. I made him!
Rambo III has Trautman's boast about Rambo coming to rescue him, and the Soviet forces won't be able to stop him.
 Soviet Commander: Who do you think he is? God?

Trautman: God would have mercy. He won't.
Followed later by Rambo introducing himself to the Soviet Commander over the radio of one of the Spetsnaz (Russian Special Forces, literally Rambo's opposite number) troopers he's just killed:
 Rambo: Are you listening?

Soviet Commander: Who are you!?

Rambo: Your worst nightmare.
| | | |
| --- | --- | --- |
| |  Trautman: Vagrancy, wasn't it? That's gonna look real good on his grave stone in Arlington: Here lies John Rambo, winner of the Congressional Medal of Honor, survivor of countless incursions behind enemy lines. Killed for vagrancy in Jerkwater, USA. | |
Trautman "I think we're getting soft, John"
Rambo "Maybe just a little"
Lock and Load Montage: Rambo prepping up to kick Viet Cong ass is the second film is the definitive version of this trope in action.
Made of Explodium: One of the police cars in the first film crashes into another car, and both cars explode.
Mamet Speak: This exchange from part 4:
 "Let's move!

"Where's the boatman?

"And Sarah?"

"15 minutes, that's the deal. We're leaving".

"Let's go!"

"5 more minutes!"

"Bullshit!"

"He knew the deal!"

"We came together and we fucking leave together!"

"Your life. Let's go."

"Not without Sarah!"
 Teasle: Are you telling me that 200 of our men against your boy is a no-win situation for us?

Trautman: You send that many, don't forget one thing.

Teasle: What?

Trautman: A good supply of body bags.
 Colonel Trautman: Well you did some pushing of your own, John.

John Rambo: They drew first blood, not me.

Colonel Trautman: Look, Johnny, let me come in and get you the hell out of there.

John Rambo: [to himself] They drew first blood.