Doctor Strange in The Multiverse o Madness - The Loop
Play Sound

YMMV •

Radar

•

Quotes • (

Funny •

Heartwarming •
Awesome) •

Fridge •

Characters •

Fanfic Recs •

Nightmare Fuel

•
Shout Out

•

Plot

•

Tear Jerker •

Headscratchers •
Trivia • WMG •

Recap

•

Ho Yay •

Image Links

•

Memes

•

Haiku

• Laconic •
Source

•

Setting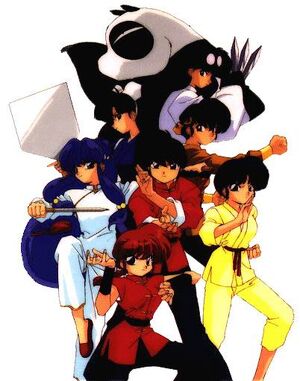 Ranma ½ is a long-running martial arts/comedy manga and anime series by Rumiko Takahashi. It has a lot of Urban Fantasy aspects and a generally light-hearted atmosphere.
It tells the story of Ranma Saotome, a teenage martial arts prodigy. Upon returning from a training journey with his father Genma, he finds himself engaged to marry Akane Tendo, another teenage martial artist prodigy and the daughter of Genma's best friend.
There's a small problem, though: during their training journey, both Saotome men had an accident at a magical training ground in China called Jusenkyo, and now bear shapechanging curses. Whenever Genma and Ranma are splashed with cold water, they transform; Genma turns into a giant panda, and Ranma turns into a busty girl. Getting splashed with hot water restores them to their normal selves. Further complications arise in the form of other engagements arranged by Ranma's amoral father, boys pursuing the girls so engaged, and various other persons wanting to either kill or marry Ranma (in either — or both! — of his forms). Several of these folks also bear Jusenkyo shapeshifting curses. Almost all of these people are world-class martial artists, which results in considerable property damage whenever a fight breaks out. Hilarity Ensues.
This is the series which brought the "Harem" trope to its ridiculous extreme — there's a reason that the Love Dodecahedron trope exists, and this series is that reason. The core cast numbered more than a dozen persons caught up in a complex web of love, hate, duty, honor, and rivalry — and all of it was played for laughs. More characters joined the madness every year, making for one of the larger ensemble casts in anime and manga. Drawn by popular mangaka Rumiko Takahashi, the manga ran in the Shōnen Sunday magazine from 1987 to 1996 and was later collected into thirty-eight tankoban and shinsoban volumes (which were condensed to fit into thirty-six volumes for the American version).
The anime adaptation lasted seven seasons; it was supplemented by eleven OVAs, one theatrical short (released as the twelfth OVA outside Japan), and two motion pictures. Production ended when Kitty Studios folded in 1996. A belated thirteenth OVA was released in 2008 (along with special episodes of Inuyasha and Urusei Yatsura) as part of the Rumic World art exhibition that commemorated the 50th anniversary of Takahashi's publisher, Shogakukan.
While the anime is considered a "classic", it suffers from several problems. It rapidly Overtook the Manga and was was canceled before it could complete the full storyline, ending three years before the manga itself concluded. The dearth of new material caused the show to become somewhat repetitious as the production team resorted to cookie-cutter Filler episodes that were unrelated to the original manga plot. (Of the final season's twenty-five episodes, only ten were based on the manga). This reflected a change in the manga itself, which had also abandoned an overarching plot in favor of smaller arcs and episodic comedy. The artistic quality of the show began to suffer noticeably early in its run — there is a visible decline in quality of animation, music, and writing starting in the second season — but around the fourth or fifth season, this tendency had begun to reverse itself; the final seasons showed considerable improvement in the animation department and the OVAs and movies are of superb quality.
Even with these problems the Ranma ½ anime was quite popular in its day — a popularity that surprisingly carried over to North America. It was one of the first major crossover hits that helped usher in the explosion of anime importation in the early-to-mid-1990s. The dub by Viz Video is thought by some to be one of the first decent efforts in the history of English anime adaptation. Cultural translation, bowdlerization, and localization were all minimized, in marked contrast to its near-contemporary Sailor Moon (most likely because it was released direct-to-video rather than syndicated broadcast). It was even briefly optioned for a live action Hollywood film in the late 1990s, although nothing ever came of it. It was also fortunate to arrive in the the English language market at about the same time that the internet emerged from academia into public life and rapidly acquired one of the first online fan communities (the Fan Fiction Mailing List or FFML was predominantly Ranma, despite the name) and perhaps the very first scanlation effort in the Ranma Scan project.
Despite its age Ranma ½ still has a remarkably large and vigorous North American fan community and is still responsible for a significant fraction of the anime fanfiction on the web, including a wide variety of crossovers. Ranma ½ is probably one of the most crossed-over series on the internet — on fanfiction.net alone, it has over 1,100 crossovers listed (with hundreds, if not thousands, listed elsewhere, not even counting unlisted crossovers, either there or elsewhere). To put that into perspective: while that's one-eighth the number of crossovers that Naruto has listed, Naruto also has over twenty-four times as many stories listed as Ranma does total. One sub-type of these crossovers — the Fuku Fic — is common enough that it has its own trope entry. The series' length and fanbase has predictably resulted in copious amounts of Fanon. It was even the main inspiration for the comic series Ninja High School, among many others.
On December 9, 2011, a two-hour live-action TV movie version aired on the Japanese network NTV. Based on an original story by Yoshihiro Izumi, it starred Kenta Kaku and Natsuna Watanabe as male and female Ranma, respectively, and Yui Aragaki as Akane, along with an impressive supporting cast. The official NTV site for this live-action special is here.
Trope Namer for The Glomp.
---
Ranma ½ provides examples of:
Abduction Is Love: Once to female Ranma in the manga, once to Akane in the first movie, and every female but Cologne in the second movie.

Given all the "female counterpart" rescues in that story (inverted when Kuno is too incompetent, and Nabiki rescues him instead), it would have been particularly funny to have seen one for Happosai and Cologne.
Female Ranma was also kidnapped for this purpose, and very nearly bewitched with a Love Potion in the Toraware no Hanayome PC Engine video game. Akane had to rescue her from being married to a

bear

prince.

Aborted Arc (manga only): Ranma's attempts to conceal his curse are quietly dropped in the middle of the "Full-body Cat's Tongue" arc and the story goes from no one at school knowing about his curse to everyone (except the Kunos, of course) knowing about it with hardly a comment from anybody, initiating the manga's shift from a Romantic Comedy to a status quo is darn near god Situation Comedy.
Absurdly Sharp Blade: Kuno. With a wooden sword, no less. Konatsu, Ryoga, and even Kodachi, are still more extreme. The former uses a sword made of paper, and the two others regular pieces of cloth.

An intentionally absurd justification is made for Kuno's wooden sword by showing that he's so fast with it that when he swings, it he can smash rocks from the air pressure alone.
Lampshaded in the Martial arts rhythmic gymnastic competition when Kodachi attacks with a steel bar: "she uses that rope like it's a steel bar...oh wait it is a steel bar"

Abusive Parents: Staggeringly none of the parental figures in either the manga or the anime are ever considered abusive within the setting despite their actions. The sole exceptions are: Genma, whom the Tendos call out for Jusenkyo and the Cat-Fist, and is called a monster by his best friend for knocking his own wife unconscious to preserve his and Ranma's secret; and Principal Kuno, who everyone calls out for being a lousy parent who tortured and eventually abandoned his children for his personal amusement whenever the issue of his parenthood comes up.

In the case of Nodoka, she allowed Genma to take Ranma away for training on the basis that he would turn their son into "a man among men," a statement too vague and subjective to truly be a valid measure of character, and even let him sign a Seppuku oath to that end — which was the only reason she let him take Ranma away in the first place. Her absolute devotion to this duty,

both before and after finding out about the curse

, constantly keeps Ranma on edge (especially since she was willing to go through with it once) and would be considered an even greater sort of emotional abuse even if Ranma himself weren't desperately willing to make her proud of him (and his manliness.) This dynamic is typically Played for Laughs, with no one batting an eye at it in-story, until the Values Dissonance sets in for the audience.

Accidental Engagement: Ranma and Shampoo; Kodachi's behavior is similar.
Adaptation Dye Job: Girl-Ranma, from black in the manga (and varicolored in random non-canon illustrations) to cherry-red in the anime. Likewise Shampoo, from black to lavender/purple. Often overlooked is Akane, who also had black hair in the manga but started getting illustrated consistently with brown hair in late Takahashi illustrations (around the same time Ranma's red hair leaked back into Takahashi's style) but was portrayed with midnight-blue in the anime.
Adaptation Expansion: The 13th OVA episode - which was done years after the originals as part of Shōnen Sunday's 50th anniversary - added more content than was in the original manga story it was based on. Most likely done to allow more of the old cast to play part as a service to the fans who hadn't seen them in years.
Affably Evil or Faux Affably Evil: Nabiki, Pantyhose Taro, Pink, Shampoo.
All Amazons Want Hercules: Shampoo towards Ranma.
All Cheering All the Time: Mariko, though we only ever see her when she's actively being a Combat Cheerleader so she might not talk that way in civvies. Then again, this is Ranma ½.
And Call Him Charlotte: Azusa Shiratori.
Anguished Declaration of Love: There exists Played for Laughs and at least one Played for Drama versions.
Anachronism Stew: Nabiki often carries an abacus (played for laughs), even though this is seemingly modern day Japan (well modern being set in the same decade as the show was produced), and hand-held calculators should have been readily available.

They were and are, but abaci were still in common use at the time.

Animation Bump: The OVAs to the show, especially the most recent, which beats out even the movies for slick animation.
Angst Nuke: The Shi-Shi Hokodan.
Anti-Hero: Soun, Konatsu, and if you feel charitable Kuno, are type I; Hinako is a type II; Ranma, Akane, and Ryoga are type II-III; Kumon Ryu is a type IV. Pantyhose Taro may be a type V. Nobody else has demonstrated any heroic aspirations.
Armor-Piercing Slap: Akane is capable of landing a slap to the cheek on anyone, regardless of how badly they may outclass her in terms of fighting skills. The catch is that they must first insult her fighting skills or general appearance. This effect is such an important part of her character that it was used in both the manga and the series to break her out of an amnesiac effect.
Arranged Marriage: The driving force of the series. Three times in the original manga (the Tendo promise, Ukyo, and Picolet Chardin,) plus an extra two time in the anime, once to serve as the justification for a Villain of the Week's Martial Arts and Crafts challenge and the second time as a gag at the end of the episode.
Art Major Biology: Akane somehow survives all of the water in her body being instantly evaporated by the Kinjakan. Of course, like almost everything else in the series, A Magical Device Did It.

Basically, the series consists of 36 volumes of Magic Curses that cause your body to transform into different creature in a split second, broken bones that heal in a week, Megaton Punches with Invulnerable Knuckles, Charles Atlas Superpowers, 300/100-year old, two-foot-tall old people (one of which was sealed in a cave with no food or water for ten years,) Ki Attacks, de-aging mushrooms, a woman who ages by Life Energy Absorption gaining and losing mass without explanation, not to mention the giant wildlife and sentient plants, food items that can either give you Super Strength (and whiskers) or cause your hair to grow in feet-per-second, people and animals being frozen in gigantic blocks of ice, and people breaking the laws of physics and biology with Supernatural Martial Arts on a daily basis.

Ash Face: A frequent result of Happosai's fire bombs.
Astonishingly Appropriate Appearance: Pick any of the visiting Martial Arts and Crafts people who come by.

The French Cuisine arc in the manga had the governess dressed in 20th century French gown, with her hair tied up to resemble a roast chicken. The gambling king looks exactly like the King playing card, right down to the swirly beard and crown.

Attack of the 50 Foot Whatever: The Orochi, Pantyhose Taro's monster form, and Happosai, Soun and Genma's Battle Aura manifestations. Not to mention the Dojo Destroyer, in the manga.
Attention Deficit Ooh Shiny: Hinako Ninomiya in child form.
Attractive Bent Gender: Ranma. All the guys at school cheer whenever Ranma suffers a Mode Lock as they seem to like ogling Ranma more than most of the real girls. Nyanniichuan victims in general seem to fall under this category, perhaps because it ups the embarrassment factor of the curse; see the Musk Dynasty, especially their prince, Herb.

Ranma's popularity as an ogling target might stem less from the fact s/he is attractive (though it's undeniable that s/he is) and more from the facts that Ranma has a tendency to suffer Clothing Damage due to his opponents often wielding blades or bombs, doesn't wear bras (for obvious reasons) and, most importantly, lacks "feminine modesty" and so is far less likely to get pissy/violent at them then any of the normal girls.

Author Tract: Almost completely bereft of them, as Takahashi is a very creative and diverse, almost purely entertainment-driven artist, but the self-stated ongoing message of her works is "be kind to others", and she has also stated that she "finds perfect characters boring," which fits with the goofy cast and overall tolerant tone.

Aw, Look — They Really Do Love Each Other

: Ranma and Akane. There is one moment of this in the second movie between Shampoo and Mousse.
Badass Family: The Saotomes, most obviously, with Ranma and Genma both being martial arts masters. Shampoo and Cologne, the latter being the former's great-grandmother also count. The Tendos could theoretically count, but only two of the four members are fighters, and rather weak ones compared to the other cast members (though not to anyone else).
Badass Longcoat: Shinnosuke. A janitor's coat, yes, but Shinnosuke makes it very badass; Arguably Mousse (for all of three panels)... he's pretty much a subversion from then on; right clothes, right skill level, wrong antics.

Given that Shinnosuke is constantly stumbling into his own traps because he forgets where he put them, wouldn't he also count as a subversion like Mousse? Or would that be more an amusing character quirk?

The guy fights a gigantic dragon of Japanese legend with a push-broom. He's allowed to fall into a couple of traps.

Barehanded Blade Block: Or, if their hands are full, barefooted blade block.
The Barnum: Nabiki to an extreme degree.
Bash Brothers: Mikado Sanzen'in and Azusa Shiratori, the Golden Pair of Martial Arts Ice Skating.
Battle Aura: Pretty much every martial artist in the series. Happosai can actually shape his into a giant copy of himself, effectively becoming kaiju-sized. One episode of the anime has Happosai split into seven clones (long story) and all of them do this at once.

In one arc, Happosai and Genma keep one-upping each other...until they both faint from exhaustion.
Moreso in the anime, but Genma and Soun can both become kaiju-sized, although Genma is always in his Panda form when he does this, and Soun is always dressed as a Samurai. This is regardless of whether or not Genma was human at the time... and Soun just seems to keep his armor, spear and bow in Hammerspace in case he needs to make a quick costume change.

Battle Harem: Ranma's Unwanted Harem is full of Hot Amazons and Action Girls. Not surprising, since he lives in a world where everybody gets their own style of martial arts.
Beautiful All Along: Inverted — Mousse is first introduced as what appears to be a stoic Bishonen... and then he puts on those incredibly stupid-looking Nerd Glasses and proceeds to make an idiot of himself.

Arguably moreso without the glasses.

Because You Were Nice to Me: Konatsu, raised by a psychologically abusive family, latches onto Ukyo because she treats him better than they did. Not by much, still better.

This is the entire reason that Maomolin tries to "help" Ryoga win Akane's heart in the anime-only story "Ryoga's Proposal".

Belligerent Sexual Tension: Ranma & Akane — the Trope Codifiers for anime.
Best Her to Bed Her: Shampoo, and indeed, all of the Chinese Amazons.
Big Bad: There isn't one, but Happosai, Pantyhose Taro, Ryu Kumon, Herb and Saffron have fit the role in long single storyarcs.
Big Damn Heroes: Quite a few times, but the best was when Ranma (who had all his strength taken away) was about to get ambushed by four of his old foes... Defenseless and pinned against a tree, Ranma closes his eyes and waits for it... But nothing happens. Looking up, he sees Ryoga, who had stepped in the way and defeated all four of the foes.
Big Eater: Ranma and Genma, the latter more than the former.

Both are put to shame by the whole Chardin family, and later by Kurumi "Tendo" in the OAV.
Nabiki Tendo has some traits of this, especially when she's being fed out of other peoples' wallets.

Big Fancy House: The Tendo home, which contains separate bedrooms for all three of the daughters, Soun himself, and two guest bedrooms — one downstairs used by Happosai, and another upstairs which Genma and Ranma share. It also includes a full traditional Japanese bathing area, an equally traditional dining/living room, a modern kitchen with a big worktable in the center of the floor, a garden with large pond, and a dojo large enough to comfortably seat virtually every character ever seen on the show as of the series' first Christmas episode. The Kuno Estate is a massive place that almost resembles a medieval Japanese fortress — particularly in the anime, where it has a literal labyrinth of secret passages, dungeons, and deathtraps.

One might assume that the Tendo Dojo would have some provisions for accommodating students. It is a dojo after all.

It's also implied that the house is rather old, they mention the wood rotting in the anime.

Bitch in Sheep's Clothing: Nabiki. Oneshot character Satori the psychic kid even more so.
Blessed with Suck: Most of the main characters with Jusenkyo curses, or other oddities, such as Ryoga's causality-bending complete lack of direction-sense. Ranma feels this way about his curse (though he does seem to get some enjoyment/use out of it), but it's fairly neutral in and of itself... compared to, say, turning into a defenseless little animal considered tasty-looking and edible by just about everyone, ala Ryoga Hibiki. Mostly, it's Blessed with Suck because of the Seppuku pledge his father and mother made, the fact he's physically weaker in that form, it results in various complications that wouldn't have happened if he didn't have it (first meeting with Akane, Shampoo trying to kill him, nightmares about having Tatewaki Kuno's children, etc.), and the fact it makes him the target of just about every pervert and degenerate to crawl out of the woodwork... including Dirty Old Man Happosai and his fiancée's unscrupulous and money-crazed elder sister.
Blind Without'Em: Mousse
Blow You Away: Ranma's most frequent Finishing Move is the Hi Ryū Shoten Ha, which creates a tornado. He's also fond of modifying it on the spot to beat the more serious enemies.
Boobs of Steel: Played straight with Shampoo and Female-Ranma, who have generous busts and are highly skilled martial artists, as well as Miss Hinako who is one of the most powerful characters in the series since she drains power from her opponents.

Atsuko Nakajima's OAV and movie character designs obviate the trope by making all of the girls extremely well-endowed, even the more modest ones.

Bow Ties Are Cool: Ranma's pastel orange shirt and little red bowtie combo.
Brainwashed and Crazy: Happens to Male Ranma when his female half is duplicated (though not split from him) and it seduces him in one anime episode.
Brought Down to Normal: When Happosai used moxibustion to rob Ranma of his prodigious strength, to the point where a toddler could beat him up.
Bully Hunter: Ranma does this occasionally, for example when she stopped Kodachi from beating up the Fūrinkan gymnastic team further or the time he stopped a group of masked kids that were bullying Gosunkugi.
Butt Monkey: Most of the regular characters of the show at one point or another get beaten for comic relief, the males more regularly than the females. Most frequently Ranma, as he is the main protagonist.
Call Back: To Akane and [male] Ranma's first encounter, twice: Shinnosuke running into Akane in the bath (confirming his identity to her) and Kiima posing as Akane walking in on Ranma in the exact same pose and angles as in the introductory chapter.
Calling Your Attacks: Almost entirely spoofed in the manga: nearly every attack, no matter how minor or improvised, has some sort of name. The Saotome school even has a named 'attack' that consists of running away until you can think of something else. But it's also played straight, particularly with Ranma and Ryoga's most devastating attacks.

Not to mention The Crouch of the Wild Tiger — a "maneuver" that has the martial artist dropping on all fours and begging for mercy from the "target".

Even better is the Howl of the Demon Dog, where the user slides backwards and shouts that he doesn't care that he's been beaten. Ranma quickly renamed it the Whine of the Beaten Dog.

Konatsu is the most extreme spoof of this. Almost everything he does, no matter how useless or unrelated to combat, is shouted out with a silly title, including coming up with multiple names for doing the same thing...
Don't forget the Carp on the Cutting Board...preluding the Cradle of Death.
Attack of a thousand clubs!!...it looks like she's using 10 or 20 clubs...oh wait she IS using 10 or 20 clubs.
Then there's both the Yamasenken and Umisenken, which have some seven attacks each, with Ranma and Ryu calling each attack when they're used.

Canon Foreigner: Sasuke Sarugakure, the Kunos' Ninja servant, in the anime.
Can't Catch Up: Akane and the Kuno siblings to Ranma.
Can't You Read the Sign?: Has oodles of fun with this trope. Characters sit on water mains with signs that read, "Danger: Do not Sit", laugh in areas where signs read, "Do not laugh loudly in the garden", and run on fences that read "Danger: Unstable". Rumiko Takahashi has quite a bit of fun with this gag.
Card-Carrying Villain: Happosai. However, just because he is the only character who is actually proud to be "evil", he really isn't nearly as bad as some of the others, and he always tries to be nice to little children.

He molests women, invades the privacy of women who are changing clothes or taking baths, steals underwear and food, racks up extortionate bills and sticks them on the Tendo dojo, bullies and beats and harasses his students... how does that make him better than anyone else in the cast?
But Happosai can't be beat. Even when he believes he's doing good, it's still used in his selfish pleasures down the road. Proof: as much as he says he taught the Happo Failure to Hinako when she was a kid so her health could improve (which it did, truth be told), in the end, he used it just so he could freely steal the nurses' panties as she drained their vital energies.

Catch Phrase: Many, but most notably Kasumi: "Oh My", Akane: "Honestly" and "Ranma no baka!" (roughly "dummy", or "Ranma you jerk" in the dub; she even has a "Baka Song"), Ranma's catchword "kawaiikune" ("uncute"), Happosai: "What a haul!" and "Sweeto!", Shampoo: "Nihao, Airen!" and, to a lesser extent, "Aiyaaa!" and of course Ryoga's "Ranma, Prepare to Die!"

He never follows through on it when he wins.

Akane in particular typically uses both of her catchphrases at least Once an Episode.
Cerebus Fandom: Despite being one of the "classic" comedy series, the fanbase is littered with angst and drama fics as all get out.

That's partially because the characters are so screwed up, partially because it's much harder to write intelligent comedy, and partially because the manga recurrently mixed very serious, with goofy, or even very dark gag comedy. It's a diverse mixture, and comes out particularly odd when a fanfic writer makes a serious effort to translate all of the aspects into another medium. Also, fanfic authors as a whole are not very happy people. It frequently goes so far that it has nothing to do with the original though. Ranma the nihilistic lolicon-fetishist cyberpunk pimp doesn't really work very well... and no that's not remotely an exaggeration.
As far as the actual series goes, if anything, it inverts it ("serious" arcs like Herb, Ryu Kumon, and Saffron notwithstanding). Whereas the earlier arcs with Shampoo and Mousse at least tried to create transition from one situation to the next, by the time Hinako showed up, Status Quo become God, and arcs like the Battle Dougi and Haunted Mirror typically ended with a single panel "conclusion" doing nothing but implying a Reset Button.

Changing Clothes Is a Free Action: Often as part of a sight gag, such as Ranma getting into or out of a costume to fool Ryoga in the space of a single panel, or Nodoka (who is in a full dress kimono) seeing Ranma for the first time (but wearing girl's clothes,) hugging him, and suddenly standing in proper Seppuku attire.
Characterization Marches On: Rumiko Takahashi herself stated in an interview that she originally intended Ranma to be "a clean-cut, nice boy with frank disposition", but that he kept surprising her and "turned out to be an indecisive, stubborn, sly guy."

The Tendos' characterisations are also more rounded in the first couple of books, with Kasumi dismissing younger men as boring, calling Genma out and being snarky, and Nabiki being a more normal high-schooler.

Character Development: Arguably Ryoga, who first appears as an enemy and gradually evolves into a rival, a reliable ally, and possibly a friend. (Of all the characters who crash the abortive wedding, Ryoga is the only one who is not trying to deliberately spoil the event.)

Akane, and to a lesser degree Mousse, also turn nicer as the story marches on.

Chef of Iron: Ukyo, master of Martial Arts Okonomiyaki and wielder of giant spatulas. Cologne to a degree with ramen noodle attacks and teaching Shampoo Martial Arts Takeout Delivery.
Chekhov's Gun: The horn whistle Shinnosuke gave Akane during their childhood is the only thing that can pacify the Orochi and send it back to sleep.

The photo of Akane that Nabiki sells to Ryoga winds up playing a role in snapping Ranma out of his stupor after falling down Saffron's pit trap — and winds up alerting the Phoenix to Akane's existence and leading to her kidnapping.

Chick Magnet: Ranma attracts a good number of female characters in the series, even one-shot gag characters.
Childhood Marriage Promise: Ukyo made a deal with Ranma while they were still kids who played together regularly that, in exchange for allowing Ranma to taste her family's secret okonomiyaki sauce recipe (which is Serious Business, even in the real world), Ranma would marry her if it tasted good.

The exact words she used were "would take care of her forever", but the intent was obvious. Plus, it doesn't matter, as Ranma manages to wheedle out of that promise — though not out of the Arranged Marriage between him and her.

Child Marriage Veto: Genma, and Mr. Tendo had arranged for Ranma and Akane to marry. The kids swear they won't because they hate each other, but most people who've seen the series swear it's more akin to

Aw, Look — They Really Do Love Each Other

.
Chuck Cunningham Syndrome: What the hell happened to Dr. Tofū after volume 12?

To elaborate: After being a significant supporting character in the first couple volumes, Dr. Tofu is gradually demoted to a plot device, then starts to appear more and more infrequently until, just over a third of the way through the series, he completely disappears and is never mentioned again. The anime averts this, having him show up in filler episodes right up to the final season.

Word of God says that Takahashi didn't like the character; when Cologne brought her knowledge and martial art prowess, Tofu got completely useless and was properly scrapped.

Also Shampoo's father in the manga. He appears in volume 4 with two lines of dialogue, then he can be seen helping out at the Cat Café for a little while, but then he's just gone.

Clingy Costume: Ranma gets stuck in a cursed swimsuit, which will drag 'her' into the depths of the sea unless she is honestly complimented by a particular man.
Clingy Jealous Girl: Shampoo, Ukyo, Kodachi, and most of the male suitors.
Cloning Blues: The Haunted Mirror.

Subverted in that arc is hilarious and all of the angst is played for laughs.

Clothing Damage: Pretty much every time Ranma fights as a girl.
Cobweb of Disuse: Happens within minutes to the Tendou household when they temporarily lose all their money due to shenanigans involving Nabiki.
Combat Pragmatist: Ranma and Genma. They've turned cheating, cheap shots, and taunting into an art form. Fear the mighty Crouch of the Wild Tiger!

Beg for your life!

Saotome Ultimate Technique! A special skill that relies on withdrawal, concealment, and deliberation. In other words, run away and hide until you can come up with a better idea.
| | | |
| --- | --- | --- |
| |  Genma: Hey, it's harder than it sounds! | |
 "Laying it on a bit thick, aren't you?"

"Good idea, we should have a Western ceremony!" or

"Leave me OUT of your sick fantasies!"
---
↑ Answer: They're one and the same.
↑

"Rakki" is Engrish for "lucky."

↑

Towards the end, the red color leaked back into the manga for color drawings.