YMMV •

Radar

•

Quotes

• (

Funny

•

Heartwarming

•
Awesome

) •

Fridge

•

Characters

•

Fanfic Recs

•

Nightmare Fuel

•
Shout Out

•

Plot

•

Tear Jerker

•

Headscratchers •
Trivia

•

WMG

•

Recap

•

Ho Yay

•

Image Links

•

Memes

•

Haiku

•

Laconic

•
Source

•

Setting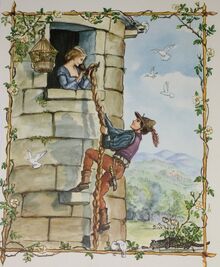 Once upon a time, a couple lived next door to a witch with a beautiful garden. The pregnant wife developed such a craving for the rampion in this garden that the husband snuck into the garden and stole her some. The longing increased, and the husband tried to steal more, only to be caught by the witch, who demanded their unborn child as a consequence.
Sure as her word, the witch took the couple's daughter and called her Rapunzel. When she was twelve, the witch shut Rapunzel into a tall tower without doors, whenever she wanted to enter, she would call, "Rapunzel, Rapunzel, let down your hair", and Rapunzel would lower her extremely long hair for the witch to climb. One day a prince overheard Rapunzel singing, and, having taken an interest in her situation, soon saw how the witch came and went.
He repeated the witch's trick, Rapunzel dutifully let her hair down, and the two made plans to elope. One day, however, Rapunzel accidentally revealed the Prince's existence to the witch, who cut off the girl's hair and banished her to the desert. The witch then lay in wait for the Prince, and pushed him off the tower into a bed of thorns, which blinded him.
The unlucky couple wandered the wasteland for some time (during which Rapunzel bore twins) before running into one another. Rapunzel immediately embraced him, weeping, and her tears fell on his eyes and healed them. He took her back to his kingdom, and they lived Happily Ever After.
The best known version of this story comes from The Brothers Grimm, probably based on Giambattista Basile's Petrosinella. Initially, Rapunzel betrayed the Prince's existence by remarking on how tight her dress was getting around the middle, but the Grimms decided that this was too raunchy and so in later versions, she instead remarked that the witch was much heavier to pull up than her Prince.
The story may have been based on St. Barbara, a Christian martyr said to have been locked away in a tower by her cruel father.
A Disney Animated Canon version of this fairy tale was released in 2010 under the title Tangled as a result of Executive Meddling figuring a non-gender specific title would bring more people in. It went on to become one of Walt Disney Animation Studios' highest-grossing movies of all time.
There's also a whole episode of Grimm's Fairy Tale Classics about this story.
---
"Rapunzel" contains examples of the following tropes: