Jurassic World: Dominion Dominates Fandom Wikis - The Loop
Play Sound

YMMV •

Radar

•

Quotes

• (
Funny •

Heartwarming •

Awesome) •
Fridge •

Characters •

Fanfic Recs •

Nightmare Fuel

•
Shout Out

•

Plot

•

Tear Jerker •
Headscratchers •
Trivia • WMG •

Recap

•
Ho Yay

•
Image Links

•

Memes

•

Haiku

• Laconic •
Source

•

Setting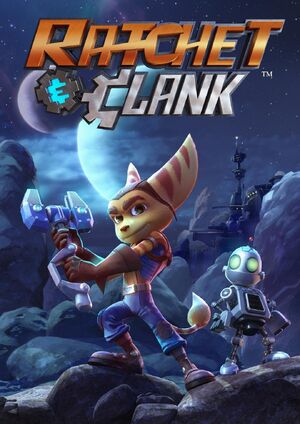 | | | |
| --- | --- | --- |
| | One of X weapons and gadgets not fit for this world. | |

The adventures of Funny Animal alien Ratchet and his Robot Buddy Clank as they save the galaxy through Platforming, Puzzle-solving, and Prodigious Firepower. The series is developed by Insomniac Games after they were finished with the first Spyro the Dragon games. This series maintains the whimsy and humor of those games, with a kitchen sink of sci-fi elements, and a bunch of Impossibly Cool Weapons.
The series so far consists of:
Ratchet & Clank Future: Quest for Booty (Downloadable Game)

Ratchet and Clank: All 4 One

Ratchet & Clank: Full Frontal Assault

Ratchet & Clank: Into the Nexus

Ratchet & Clank: Rift Apart
Insomniac and DC comics have a comic book mini-series, with the first issue out in September 2010. It is set after the events of A Crack in Time. After the defeat of Dr. Nefarious at Great Clock, Qwark is promoted to Galactic President and Ratchet and Clank return home for some rest and relaxation. However, something strange starts to happen, entire planets are beginning to disappear, and the Duo discover this to be the handiwork of Artemis Zogg, the planet thief. Word of God also confirms that Lawrence saved Dr. Nefarious from the crashing space station at the last second, and have retreated to a currently unknown location. Another recent development is revealed in the final issue, where Tachyon is revealed to be stuck in another dimension after Zogg is stuck there as well.
Alongside the announcement of Resistance 3, Insomniac has revealed Ratchet & Clank: All 4 One, a new game that features Co-op play as its main draw, with it being easy to join and leave games at any time. Characters you can play as are Ratchet, Clank, (now Galactic President) Qwark and Dr. Nefarious after they are all captured in a People Zoo, forcing an Enemy Mine situation.
A crossover was released where Ratchet and Clank team up with Sly Cooper and Jak and Daxter.
All 4 One, was followed by Ratchet & Clank: Full Frontal Assault (Q-Force in some countries), Ratchet & Clank: Into the Nexus, Ratchet & Clank: Before the Nexus along with an HD update of the first three games. The first game would later received an HD Continuity Reboot to tie in with a film adaptation, titled Ratchet & Clank, released in 2016.
As per The Wiki Rule, Ratchet and Clank have their own wiki at Ratchet and Clank Wiki.
---
Tropes used in Ratchet & Clank include:
| | | |
| --- | --- | --- |
| | Rusty Pete: Well, I was a bit sauced at the time. Woke up three days later wearing an evening gown and spooning a Kerchu. | |
No mention of the following dialogue, from Tools of Destruction?
Captain Slag: Pete! Skewer that saucy wench!
Rusty Pete: Aye, Cap'n! Skewering! (sounds of metal clashing)
Captain Slag: Arr! Me wee cannon balls!
Clank: "Is (Vorselon) always this dramatic?"
Ratchet: "Yeah, it's kinda his schtick."
Lantern Jaw of Justice: Captain Qwark.
Laughably Evil: Dr. Nefarious is this in spades. Every time he gets hammy, he'll likely malfunction and play a soap opera until one big knock to his head gets him back into consciousness.
Level Map Display: All the games have a map that you can look at when the game is paused. Each game also has a Mapper gadget you can find, which makes said map also show secret areas.
Macross Missile Massacre: The R.Y.N.O.
Malevolent Architecture: Present in all the games, although especially absurd in Secret Agent Clank.
Mascot with Attitude: In spades.
Medium Awareness: After slightly denting the Fourth Wall on a couple of prior occasions, the Plumber finally cracks it in Tools of Destruction, and "almost didn't recognize [Ratchet and Clank] in high-def."

To be fair, the "high-def" part was also referring to the fact that the Plumber was wearing glasses (which he had never worn before).
Captain Slag further demolishes it in Quest For Booty, accusing Ratchet of unplugging his controller during their boss fight in the previous game.

"After several lucky shots and a few cheat codes..."

Klunk

also yelled at Clank saying "No fair, you cheated!" when you beat him.

Dr. Nefarious

gets a good one in A Crack in Time:

Initiate super-wavy flashback effect!

In Going Commando, after Ratchet and Clank fail to catch up with

Angela

again, they take a few seconds to wonder why they're always late. They both proceed to look at the player accusingly.

Miles Gloriosus: Qwark.
Monster Arena: Gladiator Games and Megacorp Games in Going Commando, Annihilation Nation in Up Your Arsenal, the entire fricking game in Deadlocked, the Imperial Fight Festival in Tools of Destruction, Ratchet's segments in Secret Agent Clank, the Battleplex in A Crack in Time.
More Dakka: And then some.
The Musketeer: Ratchet wields his trusty omniwrench on top of his Hyperspace Arsenal. Its quite useful early in the game, though it gets less and less relevant as things progress.

Due to the way the hit points system operated in the first game, it was possible - though sometimes difficult - to progress through the whole game using only the wrench. In later installments it receives a number of upgrades to ensure that it remains useful for puzzle-solving even after it becomes redundant as a weapon.

Nanomachines: Used as healing items as well as the characters' health.
New Game+: Exists in every game except Quest for Booty - you keep all weapons, bolts and some gadgets and items, but lost everything else. From Going Commando onwards it's known as Challenge Mode and features a few more twists - the enemies are tougher, it's easier to score higher numbers of bolts, and you can purchase further upgrades for your weapons.
Ninja Pirate Zombie Robot: Zombie robots, ninja robots, zombie ninja robots, lawn ninjas, robot pirates, robot pirate ghosts—the list goes on.
No Indoor Voice: Dr. Nefarious neatly combines this with Large Ham.
Old Save Bonus: You can often get weapons from previous games for free if you have a save from that game with the weapon obtained.

Particularly interesting is Up Your Arsenal which doubles as a continuity bonus - you run into Slim Cognito who'll sell you Megacorp weapons from the previous game at a reduced rate because you're a "regular customer", and you'll receive a discount on Gadgetron weapons if you have a complete Ratchet & Clank save. Near the end of the first game, Ratchet and Clank actually get a job as publicists for Gadgetron devices, and are told that the employee discount won't kick in for two years - when, in real time, the third game was released.
With A Crack In Time, you'll earn discounts in the weapon shop, and a pirate hat for Ratchet if you've completed Quest for Booty.

One Lombax Army: And he has the weapons to count for it, too!
Pass Through the Rings: Going Commando, Deadlocked, and Tools of Destruction.
Planet of Hats: Most alien races seem to be homogenized groups who all do one particular thing. Terachnoids are brainy geeks, Grummels are merchants, even Lombaxes themselves are all inventors.
Punny Name: Slim Cognito, Otto Destruct.
Real Time Weapon Change: When the "Quick Select" menu is not set to pause when using.
Recurring Traveller: The Plumber, lampshaded in the fourth game where he doesn't show up and is mentioned in the credits as such. A lesser example would be The Smuggler, who appears in all three of the "Future" games.
Rewarding Vandalism: Almost everything can be smashed. Smashing almost anything gives you at least a few bolts. This means that randomly tossing explosives at scenery can result in profit.

Just the opposite in the Great Clock, where you fix broken things.

Ridiculously-Human Robots: Where to begin?
Robot Buddy: Clank.
Running Gag: Several, such as "No <animals of the game> were harmed in the making of this game.", the inclusion of Dan Johnson (before it became out of respect), Dr. Nefarious malfunctioning, Dr. Nefarious yelling someone's name (usually Lawrence or Qwark), Qwark's crudely drawn "plans," et cetera.

The "No <animals of the game> were harmed" message takes it even further, being a gag in the credits for the original Spyro trilogy before Ratchet and Clank!
The Great Clock is located in the exact center of the universe!...give or take fifty feet.

Sawn Off Shotgun/Short-Range Shotgun: The double barrel mod in A Crack In Time turns your Constructo Shotgun into this, doubling the spread at the cost of range. The Choke Barrel does the opposite.
Score Multiplier: They've done this since the second game. The New Game+ mode gives a bolt multiplier that lasts until Ratchet takes damage.
Servile Snarker: Lawerence, full-on. He takes Nefarious' crap with stride and passive-aggressiveness.
Sharing a Body:

Captain Slag and Captain Darkwater

in Quest For Booty.
Shout-Out

Ratchet & Clank uses at least parts of the game engine from Jak and Daxter. As such, both series frequently make shout outs to each other.

One of the best comes on planet Damosel in Going Commando when Ratchet and Clank perform same dance that Jak and Daxter did whenever they found a Power Cell in The Precursor Legacy. Numerous posters of the duo are also found throughout the game.
Another clear one comes in Up Your Arsenal when Al informs Ratchet that he'll need to travel to planet Daxx (which is Daxter's nickname in Jak and Daxter series) - upon hearing the name, Ratchet pauses and says it to himself.
Jak is an unlockable skin in Deadlocked (and Ratchet is an unlockable racer in Jak X: Combat Racing).

And to another Naughty Dog franchise, when Qwark suggests "A leisurely stroll through this Uncharted jungle."
In Ratchet: Deadlocked, Green, a combat robot, sometimes yells "Wolverines!" while fighting. A literal Shout-Out to the movie Red Dawn (1984).
After defeating Captain Slag in Tools of Destruction, Rusty Pete offers Ratchet a "gimmicky pirate name" since the code apparently says Ratchet is Captain now:
In A Crack in Time, The Plumber appears before Clank in a dream sequence, standing in front of a familiar looking green pipe which he encourages Clank to enter. Clank asks if the Plumber is coming too, but the Plumber points out that jumping down every pipe you see would be a ridiculous thing for a plumber to do.
Due to A Crack in Time having a lot to do with time-travel, the Play Station 3 trophy you get for beating it is called 88 MPH.
Also in A Crack in Time:
Show Within a Game: Secret Agent Clank, which plays a large role in the third game and is the basis for the duo's second PSP venture.

Also, the Captain Qwark-themed Games Within a Game in Up Your Arsenal.
And DreadZone from Deadlocked, of course.
There are dozens of others mentioned in dialogue, and many commercials for these shows are used to introduce new planets via Infobots and telescreens.

Soap Within a Show: Dr. Nefarious is prone to broadcasting such a show when he breaks down.
Space Opera: Especially in the Future games.
Squishy Wizard: Clank is essentially one in his solo gameplay sequences - low HP, physically weak, and needs to rely on special abilities or commandable allies. (Somewhat ironic considering that "squishy" is an in-game nickname/insult for organic lifeforms...)
Standard FPS Guns: Along with the crazy stuff like portable black hole launchers and devices that make your enemies dance uncontrollably, Ratchet's weaponry in each game usually includes a knife wrench, a pistol (which eventually becomes an automatic), a grenade launcher, a rocket launcher, a shotgun, a gun that turns your enemies into animals and the RYNO—with the occasional sniper rifle or flamethrower thrown in. These guns usually also have their own quirks, such as ricocheting bullets or buckshot that freezes your enemies. And then explodes.
Stealth Insult: Pretty much any other line Lawrence has about his boss.
| | | |
| --- | --- | --- |
| | Lawrence: "If there's anyone equipped to beat an utter moron at his own game, it's you, sir." | |
| | | |
| --- | --- | --- |
| | Qwark: The key to surviving situations like this is to avoid phrases like "It's too quiet in here" or "Everything is going to be alright." | |
Though he goes ahead and does it to himself again later in the game...
| | | |
| --- | --- | --- |
| | Qwark: It usually results in catastrophe when I say this but, what the hey? Mission Accomplished! | |
Villains Out Shopping: Your enemies seem to have a large number of hobbies. For example, Dr. Nefarious - when not plotting organic genocide or universal domination - Obsessively watches Secret Agent Clank, plays video games, rehearses his epic romantic action comedy space opera, calls in to radio shows to bitch about the season finale of his favorite soap opera, and hooks up with the leader of a robotic Amazon Brigade.
Weapons That Suck: The Suck Cannon

Don't forget the Rift Inducer in the third game (In A Crack in Time, it was changed so that it opened a portal for an Eldritch Abomination to grab enemies).

Whip It Good: Plasma/Quantum whip in Up Your Arsenal, Lightning Ravager in Tools of Destruction.