Doctor Strange in The Multiverse o Madness - The Loop
Play Sound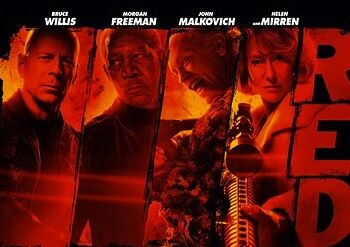 Red is an American action-comedy film loosely based on the three-issue comic book limited series of the same name created by Warren Ellis and Cully Hamner, and published by the DC Comics imprint Homage. The film stars Bruce Willis, Morgan Freeman, Mary Louise Parker, Karl Urban, John Malkovich, Brian Cox, Helen Mirren, Ernest Borgnine and Richard Dreyfuss with Robert Schwentke directing a screenplay by Jon Hoeber and Erich Hoeber.
Frank Moses (Bruce Willis) is a retired CIA agent trying to make the best of his simple life. For the past few months, he had been developing a tentative relationship with Sara Ross (Mary Louise Parker), who was one of the agents helping him with pension checks. He had been planning on going to Kansas City to see her when the next night, a CIA team bursts into his house and tries to have him killed. Frank quickly notes that they must have had him under surveillance, and thus would know about Sara, so he's forced to kidnap her while he seeks out another retired member of the CIA, Joe Matheson (Morgan Freeman). Meanwhile, CIA Agent William Cooper (Karl Urban) has been ordered to take out Frank no questions asked, only to find that he's not so easily killed and that the entire ordeal doesn't seem to add up. Frank gathers up his old CIA crew to find answers and get to bottom of their new R.E.D (Retired, Extremely Dangerous) titles.
A sequel, Red 2, was released in 2013. A third film and a spin-off television series have been discussed but both seem stuck in Development Hell.
Tropes used in Red include:
| | | |
| --- | --- | --- |
| |  Sarah: The general has dropped his contact lens. Perhaps you could help us? | |
| | | |
| --- | --- | --- |
| |  Victoria: This is going to be fun! | |
| | | |
| --- | --- | --- |
| |   Victoria: You're all hard on the outside, but all gooey on the inside. Gooey. | |
Cassandra Truth: Boggs. He is almost always right when he assumes someone or something is a threat. Of course, no one believes him until it's too late.
CIA Evil, FBI Good: Minus the FBI part,

and the CIA doesn't know that they're being used. Well, not the lower tiers of the CIA

.
Cloudcuckoolander: Marvin Boggs. Justified:
 Sara: Wow. This guy's insane.

Frank: Well, he thought he was the subject of a secret government mind control project. As it turns out, he really was being given daily doses of LSD for 11 years.

Sara: Well, in that case, he looks great.

Frank: Fantastic.
 Frank: Six one, cute hair?

Archivist: Hair was cute!
They could quite easily just be mocking the younger agent, who clearly spends a bit of time in front of the mirror every morning styling his hair.

Getting Crap Past the Radar: While Red is rated PG-13 and its violence is not overly brutal or gory, during the airport sequence, two of the couple of people Frank and company face are blown apart on screen. While one is better seen than the other, you can see limbs flying.
Girl with Psycho Weapon: Victoria and her wonderful arsenal of automatic weapons.

The woman who Boggs threatens at gunpoint and her wonderful RPG.

Government Conspiracy -

Turns out, not really. The Vice President's apparent cover up for his election is just a cover up for an Arms Dealer.

Grandma, What Massive Hotness You Have!: Victoria Brown, naturally.
Grenade Hot Potato: Boggs does a variant of this, sending back a grenade with the butt of a grenade launcher. Batter up!
Guilty Pleasures: Sarah Ross likes to read trashy romance novels which she tells Frank Moses are terrible but so addictive.
Hand Cannon: Boggs' revolver and Cooper's compensated SIG both count.
Heel Face Turn: Sort of. For a given value of "face". Cooper may be ruthless and ambitious, but he's more of a Designated Villain and an Unwitting Pawn than anything else. Throughout the movie, his loyalties never actually change. Sure, he is first seen casually planting evidence before faking a man's suicide, but we're never given anything to actually indicate his target was a good guy... much like Frank before his retirement.
Heroic Comedic Sociopath: God bless John Malkovich.
Heroic Sacrifice:

Joe, who lets himself be killed by a sniper to let the rest of the team escape.

If You Ever Do Anything To Hurt Him: Victoria to Sara: "So if you break his heart, I will kill you. And bury your body in the woods." Softened by Sarah's reaction: "Oh... wow... Okay." while nodding agreeably.

Also somewhat subverted by the fact Victoria herself has no romantic designs on Frank; she's just speaking as a friend.

I Have Your Wife:

Played with when Cooper and Moses do it to each other. Cooper captures Sara, then Moses calls him to let him know that he is in Cooper's house and won't harm his family, in return for a guarantee of Sara's safety.

I Just Want to Be Normal: Moses, sorta. He doesn't want to be normal, but he'd really prefer it if people would stop shooting at him.

Though he mourns the boredom with his life asking Victoria how she deals with it, who reveals she became a mercenary to deal with the boredom.

Idiosyncratic Episode Naming: Each of the titles of the score album contains the acronym RED. Examples include "Retired Extremely Dangerous", "Rapidly, Executioners Destroyed", "Revenge Es Delicioso", etc.
Improvised Weapon: Combined with Batter Up, Boggs uses a grenade launcher like a bat and hits a grenade right back at the the guy who threw it.
Improbable Aiming Skills: Boggs shoots down an RPG with his S&W. Dead center.

Also notable is the absurd timing. Rocket Propelled Grenades are fast. Boggs put a bullet dead center on the tip of an rocket propelled grenade, after it had been fired, but before the shooter was outside the blast radius. Holy Shit.

Also a trope busted by the Myth Busters. While a bullet could

set off the RPG round

, if it managed to hit it, it still would have been far more fatal to the guy shooting the gun, than the guy who

fired the RPG

. Over this particular engagement range the bullet is faster, and should have impacted before RPG round's safety disengaged but the reaction time is still this trope.

Inspector Javert: Cooper.

He turns when he finds out what's really going on.

Jumped At the Call: Sara, in an interesting variant; while the only reason she got involved was because Frank kidnapped her, which she definitely isn't happy about, once the true situation was explained she became an enthusiastic participant.

A clearer example is when

Ivan explains the nature of the "favor" he wants from Frank,

and Sara turns around and childishly begs, "Can we go?"

Lady of War: Victoria.
Lighter and Softer: A LOT, compared to its source material.
Living on Borrowed Time:

Joe, who decides to sacrifice himself due to terminal cancer.

Locking MacGyver in the Store Cupboard: Invoked by Moses when he hides in a broom closet long enough to build a bomb out of the materials he finds.
Lzherusskie: Brian Cox (a Scot) as Ivan.
The Man Behind the Man: Or rather "The Man In Front Of The Man" - Dunning is the real Big Bad, and Wilkes is his Dragon. Stanton is a mere pawn and scapegoat. Cooper is just doing his job.
Mandatory Unretirement: Well, he was just trying to be normal, until the assassins kicked in his door.
Master Apprentice Chain: brought up in this exchange; Moses has Cooper in an arm-lock;
 Moses: Kordeski trained you?

Cooper: Yeah...

Moses: I trained Kordeski.

[SNAP]