Jurassic World: Dominion Dominates Fandom Wikis - The Loop
Play Sound

YMMV •

Radar

•

Quotes

• (
Funny •

Heartwarming

•

Awesome) •
Fridge •

Characters

•

Fanfic Recs

•

Nightmare Fuel •
Shout Out •

Plot

•

Tear Jerker •
Headscratchers •
Trivia •

WMG

•

Recap

•
Ho Yay

•
Image Links

•

Memes

•

Haiku

• Laconic •
Source

•

Setting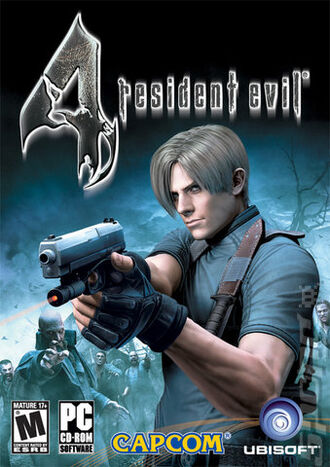 Resident Evil 4 is a 2005 Game Cube game which was eventually ported to the Play Station 2, PC, and the Wii (in 2007); an HD remake for the PlayStation 3 and Xbox 360 was released in 2011. RE4 was an adrenaline shot to the Survival Horror genre (and Capcom's Resident Evil franchise in general): it features an over-the-shoulder camera angle (compared to the fixed camera angles of prior Resident Evil games) and a more action-oriented slant on gameplay, which helped in averting Capcom Sequel Stagnation. RE4's success kicked off a wave of Follow the Leader, as numerous Third Person Shooters began using the Always Over the Shoulder perspective—and numerous survival horror games now resemble third person shooters.
RE4's story takes place six years after the "Raccoon City Incident" (as outlined in Resident Evil 2 and Resident Evil 3 Nemesis); the story was conceived as a fresh starting point for a new chapter in the franchise's storyline. The Umbrella Corporation—the Big Bad of previous Resident Evil games—is a dead corporation (as explained during opening cutscenes), rural Europe (rather than Raccoon City) is the setting, and zombies are replaced with creepy villagers infected by an ancient parasite and cultists looking to capitalize on this new outbreak.
Leon S. Kennedy is now a secret agent for the United States government, who've decided Leon's a bad enough dude to rescue the president's kidnapped daughter from a group of crazed European cultists who have kidnapped her. As this is a Resident Evil game, Leon soon finds that he has bigger things to deal with than a missing person. Much bigger. Three-stories-tall bigger.
This game has a Shout Out page.
---
Got a selection of good tropes on sale, stranger!
| | | |
| --- | --- | --- |
| | | |
AKA-47: Most, but not all weapons; the Striker is an exception, so is the TMP. "Chicago Typewriter" is a common nickname, as is the Red 9 (there was a 9x19mm version of the Mauser C96 with a big red "9" engraved into the grip, called "the Red-9"—you can actually see that nine on the model.)
Always Over the Shoulder: The game pioneered the over-the-shoulder perspective now used in nearly all Third-Person Shooter games.
America Saves the Day: Lampshaded by

Saddler. Though played straight when Leon kicks his ass all over the place.

Anachronism Stew: Much of the area you travel through looks like it's trapped in the middle ages, in particular the village and the castle, the occasional car or gatling gun turret notwithstanding. It's probably justified, as it is strongly implied to be cut off from the rest of society.
And Your Reward Is Clothes: The original GC version had Leon's RPD outfit from RE2 and a pop star-esque outfit for Ashley.

The later ports added a gangster suit for Leon (complete with a Tommy gun) and a suit of mediaval armor for Ashley that actually affects the game (it makes invulnerable to enemies).

Ada also wears three different outfits: her main Chinese dress outfit, a black spysuit in "Assignment: Ada" and an updated version of her red dress from RE2 in "The Mercenaries". Strangely, her main outfit wasn't usable by the player until the "Separate Ways" scenario added in later versions.
Animated Armour: Once you reach the castle, be on the lookout for seemingly inanimate suits of armor.
Anti-Frustration Features: Ashley's sequence. Normally, you need to hit the enemies in the first room with three lamps to kill them. There are two of them in the room and only six lamps, and they run fast enough to potentially dodge them when you throw them. Die enough times, however, and they stop running and will only take two hits to kill.
Anti-Villain: Krauser is retroactively implied to be this given the events of Resident Evil: The Darkside Chronicles. Also, in the game itself, he himself states that he took the President's daughter to get himself close enough to the Los Illuminados cult to gain the Queen Plagas, which implies that he'll interfere with the Queen Plagas injection into Ashley Graham, although whether that means he'll return the president's daughter to her father without risk of a Plagas outbreak or whether he'll kill her is never specified.
Arbitrary Gun Power: 7 shots to the head (with a handgun) can't kill the Ganados on Professional, and they still have their nervous system! And that's not even getting to the part with the minibosses...
Arm Cannon: Second type for Leon with the Mine Thrower and the PRL.
Arms Dealer: Naturally, the Merchant.
Aside Glance: Leon's description of the Special Rocket Launcher acknowledges it's a "perfect weapon to exterminate the boss."
The Atoner:

Luis Sera used to work for Saddler.

Awesome but Impractical:

The Mine Thrower. Awesome firepower with a tracking upgrade, but typically not worth the inventory space. This is made worse by the fact that ammo for it tends to be even rarer than Magnum ammo. It is also quite easy to kill yourself with it, if you're careless.

Ammo does, however, become more common the more an item is used, making Mine Thrower ammo potentially pop up all the time.

The Killer7 (yes, that Killer 7) Magnum. Its rival, the Broken Butterfly, has more power (35.0 vs 50.0), a a badass reload animation, and it can be found mid-game for free. The Killer7... holds two more bullets and has a faster reload. It's also only available in the end game, has no exclusive upgrade, and the Broken Butterfly surpasses it most of the time anyway because its upgrades are available earlier on.
The Large Carp. It's easy to find in the village's well and lake, is practically free and restores life completely...but it's HUGE (you could store six First-Aid Sprays or twelve Golden Eggs in the same space) and doesn't even sell too well (only 2300 Pesetas, slightly more than a hand grenade). Though it's good to catch one and heal up on the go after fighting Del Lago in order to save herbs and sprays.
The Matilda burst fire pistol. Looks cool, but pretty much all of the normal handguns use bullets more efficiently and take less space. It's also a New Game+ weapon, meaning you've unlocked the Infinity Plus One Guns already.
The Handgun and Punisher's exclusive upgrades. The Handgun's instant kill head-shot can be more of a hindrance than a help since it can cause Plagas to spawn, and the Punisher's exclusive of piercing up to five enemies is mostly useless, since if you're faced with a group that large, you'll likely be wanting to use something more powerful and with spread such as a Shotgun. They are both also far too weak for the mid to late game, even fully upgraded, which is why the Red9 and Blacktail see more use.

Awesome Yet Practical: The Red9. It's basically a red Mauser C96 pistol converted to use 9mm rounds. Thanks to the high (for handgun standards) firepower, relatively high firing speed, and the abundant ammo, it chews through Ganados, Colmillos, and Novistadors in no time, and even comes in handy against Chainsaw Ganados and even some weaker bosses. Not only that, it's also the only handgun that can be fitted with a stock, allowing for easier targeting over longer distances. It's considered by many experienced players to be the best handgun-class weapon in the game.
Back From the Dead:
Badass: Leon, several times over. He was previously seen as a police officer on his first day, barely surviving an encounter with zombies and other horrors. Now, after extensive training, he's supposed to be Ashley's protector, but she was kidnapped before he could start his duties. So he heads to a village somewhere in Spain, armed with only a handgun. He kills the 1000 members of a moderately superpowered evil cult.
Badass Spaniard: Luis, as the cabin siege sequence can attest. "Did you send out those invitations!? I told you, no more than FEEEFTY PEOPLE!"
Bare Your Midriff: Ashley's popstar outfit and Ada's tactical outfit.
Big Damn Heroes: If you help the dog in the bear trap at the start of the game, it repays the favor by coming to your aid during the El Gigante fight.
Bilingual Bonus: For the most part, the Ganados' Spanish consists of curse words and threats, but sneak attacks from behind will always, always be announced with "¡Detrás de ti, imbécil!" (Behind you, imbecile!) in both the village and island levels (zealots in the castle just chuckle evilly), giving the player ample time to pull a 180 and open fire.
Black Comedy: Upon discovering a woman nailed to the wall by way of a pitchfork through the face:
| | | |
| --- | --- | --- |
| |   "Guess there's no sex discrimination here..." | |
| | | |
| --- | --- | --- |
| |   Merchant: "Stranger! *laughs* What d'you need that for? Goin' huntin' an elephant?" | |
| | | |
| --- | --- | --- |
| |   Ashley: "Oh, you pervert!" | |
 Salazar: I've sent my right hand to dispose of you.

Leon: You're right hand comes off?
Younger Than They Look/Older Than They Look: Ramon Salazar has the skin and hair of a man in his seventies, but the stature and voice of a twelve-year-old. In reality, he is twenty years old.
Your Head Asplode: From headshots, obviously (and a certain end-game upgrade makes this much easier to invoke). Also possible when you suplex or kick enemies. With a little bending of the rules, it can even be done with chicken eggs.
---
Where's everyone going? Bingo?
↑

Krauser's being visible during the later fight where he's shirtless.