Jurassic World: Dominion Dominates Fandom Wikis - The Loop
Play Sound

YMMV •

Radar

•

Quotes

• (
Funny •

Heartwarming

•

Awesome

) •
Fridge

•

Characters •

Fanfic Recs

•

Nightmare Fuel

•
Shout Out

•

Plot

•

Tear Jerker

•
Headscratchers

•
Trivia •

WMG

•

Recap

•
Ho Yay

•
Image Links

•

Memes

•

Haiku

•

Laconic

•
Source

•

Setting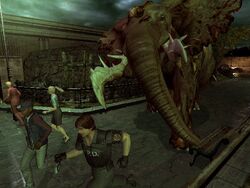 Resident Evil Outbreak, along with its sequel Outbreak File #2, are online entries in the Resident Evil series exclusively for the Play Station 2.
Both games take place during the Raccoon City viral outbreak covered in Resident Evil 2 and 3 centering on how an octet of normal citizens — Kevin Ryman, Mark Wilkins, Jim Chapman, David King, George Hamilton, Cindy Lennox, Alyssa Ashcroft, and Yoko Suzuki — react to the disaster, along with their efforts to escape the city safely.
They really don't have a singular overarching story, per se, and instead are presented as a series of short scenarios which pit a group of characters in a location and task them with following its story to the conclusion and subsequent escape. These games' place in official RE canon is often the subject of dispute, due to the fact that they need to accommodate all eight characters, as well as contradictions present in these titles compared to the primary series.
Notable in that Capcom made a conscious decision not to implement voice chat capability, to try and keep the game "in character" (they didn't want a man's voice coming out of Yoko, for example) and also to ramp up the tension. You decide if they succeeded in this venture, but it's rather a moot point now that it's restricted to offline play only, which itself is restricted to single player with AI-controlled partners.
In June, the Outbreak line was revived as a social network-based game known as Resident Evil: Outbreak Survive. Details are slim for now, but what is known is that players will cooperate to solve puzzles and share items, and it will also be an Allegedly Free Game — free to play, but items can be purchased with real-life funds.
See also Left 4 Dead.
---
These games provide examples of: