YMMV •

Radar

•

Quotes

• (
Funny

•

Heartwarming

•

Awesome

) •
Fridge

•

Characters

•

Fanfic Recs

•

Nightmare Fuel

•
Shout Out

•

Plot

•

Tear Jerker

•
Headscratchers

•
Trivia •

WMG

•

Recap

•
Ho Yay

•
Image Links

•

Memes

•

Haiku

•

Laconic

•
Source

•

Setting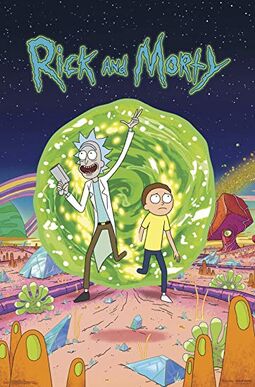 An Adult Swim original series created by Dan Harmon (Community) and Justin Roiland, Rick and Morty premiered in 2013, based on a series of bizarre Back to the Future parodies.
The protagonists are the eponymous Rick Sánchez, a super intelligent but perpetually drunk mix of Mad Scientist and Byronic Hero, and Morty, his more level-headed but Hormone-Addled Teenager grandson. The series itself follows Rick dragging Morty on outlandish adventures across The Multiverse, much to the ire of Morty's parents, who view Rick as a bad influence...
In 2015, Oni Comics began publishing a comic book series based on the show.
---
Tropes used in Rick and Morty include:
A Date with Rosie Palms: If there was but one trope to define Morty...
A God Am I: Rick claims to have worked his way into the god business.
Aborted Arc: The first few episodes hint that Morty has some kind of learning disability, but it's quickly dropped.
Abusive Parents:

Rick constantly abuses everyone in the family, having outright referred to Morty as "a piece of shit", and called out how stupid he is, several times.
Beth is only slightly better. She neglects her children and regularly puts the whole family in danger as part of her worship of Rick.

Actually Pretty Funny: In "Close Rick-counters of the Rick Kind", Rick loves that one of Evil Rick's henchman laughs at his zingers. Much to his dismay, that's just a random noise it makes every ten seconds, unrelated to the jokes.
Alien Blood: The Memory Parasites bleed hot pink.
Alien Invasion: The Galactic Federation invades Earth in the Season 2 finale to prevent Rick from running back there with the New Galactic Federation invading with the intention of destroying Earth in Season 4.
All for Nothing: By the end of Season 3, all of Rick's attempts to change the family dynamic come undone, largely thanks to his own selfishness and lack of impulse control, and Beth outright says that they're back to the Season 1 dynamic.
Alternate Self: They show up constantly. In episode 6, Rick and Morty abandon their universe for a new reality and a new Jerry, Beth, and Summer. In particular, Jerry C-131 seems a tad more spineless than Jerry from the Cronoberged Dimension .
Alternate Universe Reed Richards Is Awesome:

Doofus Rick.
In Dimension C-500A, Beth and Jerry became hugely successful. But also Lonely At the Top.

Alternate Reality Episode: The terms are slightly blurred in a show like this but "Tales From the Citadel" focuses on the Ricks and Mortys living on the Citadel while Rick and Morty C-137 go on a fun, fresh, self-contained adventure to Atlantis.
Ambiguous Situation: "The ABC's of Beth" ends with Rick saying that he can create a clone of Beth that's identical in every way, and that can be remotely terminated, that will live her life while she's off exploring the galaxy. In "The Rickchurian Mortydate", an innocent statement by Summer causes Beth to question if she's the clone. Rick says she's not a clone but as Morty points out, what else would someone tell a clone in that situation? The Season 4 finale reveals that Rick did in fact clone Beth but deliberately made it so that no one would ever know which one was the clone, though Pocket Mortys suggested, before a patch changed the name, that it was Space Beth.
And This Is For: Played for Laughs when Rick kills Tammy for making him go to a wedding. He then realizes he probably should have led with her killing his best friend.
Ass Shove: Rick has Morty smuggle some seeds through customs by putting them waaaay up his butt.
Attack of the 50 Foot Whatever: Both Beth and Summer in "The Whirly Dirly Conspiracy".
Attention Whore: Rick. Despite his indifference towards most things, he adores being at the centre of the attention, even going so far as to seek out Jerry's company on one occasion. As the New Galactic Federation lampshades in the fourth season finale, if left alone, Rick is no threat to anyone.
Armor-Piercing Question: As is asked in The Rickchurian Mortydate, if Rick is such a nihilist, why doesn't he go find a version of the family that shares his beliefs?
Awesome McCoolname: Averted. Even staring down the barrel of a gun can't make anyone remember "Beth Smith" and speaks volumes to the "sheer forgetability" of it.

Aw, Look — They Really Do Love Each Other

: Even if he considers it an "irrational attachment", Rick really does love Morty.
The Bad Guy Wins: In "Tales From the Citadel", Evil Morty becomes the Citadel's new President.

Then in "Rickmurai Jack", he manages to escape the Central Finite Curve and access the full multiverse.

Batman Gambit: The whole point of "One Crew Over the Crewcoo's Morty" was so Morty would realize how cliché his heist script was and that he'd back off from pitching it to Netflix.
Be Careful What You Wish For: In "Edge of Tomorty: Rick Die Rickpeat", Rick wants to return to the classic set-up of him and Morty going on adventures whenever they want. One bout of Operation Phoenix later and he's stuck with Fascist Morty.
Become Their Own Antithesis: Rick accuses the Citadel of Ricks of this. They wanted to escape the government so they became a government of their own. Candidate

/Evil

 Morty reiterates this belief in "Tales From the Citadel", noting that most versions of Rick who fled to the Citadel of Ricks have had to become working class men, never being allowed to use their genius.
Beethoven Was an Alien Spy: Ice-T is actually Water-T. He was frozen and banished from his homeworld for not caring about anything.
Body Backup Drive: "Operation Phoenix".
Both Sides Have a Point: Both Rick and Jerry in "The Whirly Dirly Conspiracy". On Rick's side, he's right that Jerry always pulls a Wounded Gazelle Gambit whenever there's trouble and that Beth and Jerry's relationship was overflowing with problems long before Rick came back into their lives. On Jerry's side, Rick regularly puts the Smith family in danger and did manipulate events to have Beth and Jerry divorce.
Breaking the Fourth Wall: Happens quite frequently.
Butt Monkey:

Jerry Smith, full stop.
Morty.
Revolio Clockberg Jr., otherwise known as "Gearhead", seems to take a good amount of shit whenever he shows up.

Byronic Hero: Rick. Unquestionably brilliant but powerfully passionate and unable to control his impulses or properly connect with others.
Can't Take Criticism: As "The Vat of Acid Episode" demonstrates about Rick.
Card-Carrying Villain: Krombopulos Michael hands Morty a business card, complete with Twitter and Facebook profiles, in case he ever needs to put out a hit on someone.
Casual Interstellar Travel: Very casual. Ships that can traverse the galaxy in mere hours are no more expensive than a second-hand car and about the same size.
City of Adventure: The Citadel of Ricks.
Contrived Coincidence: The B-plot of "Get Schwifty" in a nutshell. Everything the head cult did just happened to sync up with the Cromulons reacting to "Planet Music".
Control Freak: Rick. To the point that he has a private planet that he uses as a bathroom.
The Corrupter: Rick to Morty in Season 3. Rick manages to beautifully shoot himself in the foot in the finale however and Morty quickly realizes that being like Rick leads to nothing be trouble and loneliness.
Cosmic Horror Story: The Multiverse is a beautiful place but it's filled with creatures and horrors far beyond human comprehension whose power humanity cannot combat against.
Crapsack World: The default universe type is apparently "fascist dystopia".
Crazy Prepared: Rick has guns stashed everywhere.
Crossover: The titular duo literally crashed into the Couch Gag of the Season 26 finale of The Simpsons. Most critics viewed it as the highpoint of the episode.
Cyborg:

Rick has several cybernetic augmentations. Even his heart has a metallic shield.
Phoenix Person.

Deconstruction: Everything in the Season 3 finale happens like any other episode but notably lacks someone Eviler Than Thou to Rick. Without a larger threat, all of Rick's Sociopathic Hero tendencies amount to showing how big of a sociopath he is. Even Morty is freaked out to the point that he was ready to cut ties with Rick forever. The Season 4 finale shows more of his cowardly tendencies, noting that Rick's habit of simply abandoning a universe whenever things go pear-shaped.
Department of Redundancy Department: Rick's opinion on Crocubot. Half-cold unfeeling machine, half-cold unfeeling reptile.
Did You Just Punch Out Cthulhu?: In "Childrick of Mort", a stoned Morty and Summer ram their hijacked spaceship into Reggie ("a Zeus")'s eyeball, killing him.
Disproportionate Retribution: The Vat of Acid Episode is little more than Rick putting Morty through hell for critiquing his vat of acid idea.
Dirty Old Man:

Rick is openly pansexual.
Mr. Goldenfold has sexual fantasies about Summer and has shown reception to Morty fondling him.

Does This Remind You of Anything?: The living situation of the Ricks and the Mortys on the Citadel is a clear analogue of whites and minorities, respectively. Released during the controversial 2016 US election, the parallels were very much intentional.
The Dog Bites Back: More than once across the multiverse, Morty has given Rick as good as he gets.

Evil Morty in particular was quite successful at taking control of the Citadel of Ricks and then all but destroying it during his escape to the Central Finite Curve.

Downer Ending: The Season 4 finale. As the family happily bonds, Rick is left alone in the garage, unable to joke about or deflect what a terrible father he was.
Dyson Sphere: The Cromulans built one around their sun.
Eagle Land: The Season 3 finale deconstructs this trope, with Rick noting America's need to be the Big Man on Campus. The President even outright says that his office can't co-exist with powerful entities that won't submit to it.
Eats Babies: Blim Blam the Baby Eater.
Early Installment Weirdness: The first episode has:

Rick's stutter and belching being more pronounced along with his voice not being as harsh.
The Portal Gun having a charge.
The Galactic Federation has inter-dimensional portals. Later episodes would make clear that the Federation lacks this technology and acquiring it is one of the main reasons that they're warring with Rick.

Easily Forgiven: Rick doesn't take it personally when anyone tries to kill him.
Even Evil Has Standards: Averted. Krombopulos Michael has outright says that he has none. Woman, children, old people, animals, he'll kill anyone.
Everyone Has Standards:

When Rick sees that King Jellybean tried to rape Morty, he goes into full Tranquil Fury mode.
Rick fully admits that he was a bad and neglectful father to Beth, but she was so dangerous as a child that he built Froopy Land to protect the rest of the neighbourhood from her (admittedly partly motivated by the fact that he had to clean up after her).
For how much Morty began looking up to and emulating his grandfather in Season 3, he was openly horrified by Rick's actions in "The Rickchurian Mortydate" and was ready to cut ties with him to protect the rest of the family.
Rick is not down with fascist dystopias.
When Rick and Morty are rampaging across the Facehugger planet, they decide against recreating 9/11. Pearl Harbor on the other hand...

Evil Counterpart:

Riq IV and Evil Rick to Rick.

Eviler Than Thou: Rick proves to be more of a bastard than Lucifer himself.
Expendable Alternate Universe: As far as Rick is concerned, every universe is this. He outright refers to saving the Earth as "gravy" on the basis that there's infinite replacements. That said, he doesn't seem to enjoy the hassle that comes with changing realities.

"Rickmurai Jack" reveals that in Dimension C-137, Rick's Diane and Beth died. He felt no attachment to anyone or to any place until he met Morty.

Face Hugger: They appear in "Promortymus", though they're not evil, merely another alien society. Though they're heavily deconstructed as it's noted that killing your host after such a short time leads to massively stunted growth as a people.
Fail O'Suckyname: Principal Vagina. But he doesn't let it get him down.
Fauxshadow:

It was hinted that Evil Morty was Rick's first Morty who is after revenge.

The Season 5 finale reveals that the two have no personal gripes with one another with Rick having been only dimly aware of him.
The backstory that Rick gave in the Season 3 opener was hinted to actually be Simple Rick's.

It actually is Rick C-137's.

The Federation: Though in practice it's more a People's Republic of Tyranny.
First-Name Basis: Morty always refers to Rick as such, contrasting Summer who usually calls him "Grandpa".
Flying Saucer: Rick's ship.
Freeze-Frame Bonus:

If you freeze at just the right point in "The Whirly Dirly Conspiracy", you can see that Rick has two penises.
Some sets in the Season 3 finale indicate that the moon landing was faked and that 9/11 was an inside job.

Gambit Pileup: "One Crew Over the Crewcoo's Morty".
Great Offscreen War: The Gear Wars.
Guilt-Free Extermination War: Rick and Morty wage one on the Facehuggers in "Promortymus". Though as they later learn, the Facehuggers are not Always Chaotic Evil, merely having a Blue and Orange Morality.
He Knows Too Much: Upon learning that C-137 has been captured by the Federation, Seal Team Rick is dispatched to kill him.
Honey Trap: Tammy to Bird Person. The fourth season confirms that he really did love her.
Hormone-Addled Teenager: Morty.
Human Shield: Morty's idiot brainwaves cancel out Rick's genius ones, hiding him from detection. Rick goes so far as to say that Morty is an impenetrable suit of human armor.
Kangaroo Court: The Council of Ricks. To their credit, they don't even bother trying to hide it.
Idiosyncratic Episode Naming: Most episode incorporate "Rick" and/or "Morty" into a parody title.
Ignored Epiphany: Jerry, Rick and Risotto in "The Whirly Dirly Conspiracy". Justified though. One has to stay in the field to stay in a euphoric state.
In Spite of a Nail:

"Most timelines have a Rick and most Ricks have a Morty."
Whether Rick is a shrimp, a teddy bear or a wasp, his house still looks exactly the same.
The Snake Planet, despite being populated by snakes, is identical to Earth in every major way. They had their own versions of Hitler, Abraham Lincoln and Back to the Future.
Every Rick dreams up the vat of acid gambit.

Informed Ability: Rick mentions Beth's high intelligence and how she could have gone far if not for being impregnated but there's very little to support this. She's clever enough and can quickly adapt but doesn't display intelligence anywhere near Rick's level.
Informed Flaw: It's often said that Morty is really dumb, but he's quite good at Indy Ploys. When he spends more time around Rick, he also picks things up quickly, yet is still regarded as only slightly more intelligent than Jerry.
Interdimensional Travel Device: The Portal Gun.
It's All About Me: Beth.
Laser-Guided Amnesia: Rick has such a device. Its usage forms the basis of the plot of "Morty's Mind Blowers" as Morty shifts through all the trauma that he's had Rick cut out or the cut out moments that make Rick look bad (such as thinking "taken for granted" was "taken for granite").
Lack of Empathy: Both Healthy Rick and Healthy Morty.

While Healthy Rick is very polite, he doesn't have what he considers "irrational attachments", such as his love for his grandson.
Healthy Morty is very popular but doesn't care about anyone, simply knowing how to manipulate them.

Lego Genetics: Lizard Morty.
Literal Split Personality: Toxic Rick and Toxic Morty. The machine removed the toxic aspects of their personality, alright.
Lotus Eater Machine: The Memory Parasites. Though they can infect someone's mind, they can only create good memories.
Love Potion: Morty uses one on Jessica in "Rick Potion #9", though, as Rick points out, this is tantamount to a roofie.
Magic Versus Science: It's not even funny how hard science wins each and every time. Claw and Hoarder: Special Ricktim's Morty, is the show's middle finger to most magical tropes, showing how common sense can trump most magic users.
The Man Behind the Man: The Shadow Council of Ricks to the Council of Ricks.
Manipulative Bastard:

Rick really shows this off in "M. Night Shaym-Aliens!"

Evil Morty

is also quite good at it.

Meet Your Early Installment Weirdness: Toxic Rick and Toxic Morty are essentially exaggerated version of the two's characterizations from Season 1.
The Mind Is a Plaything of the Body: Tiny Rick, a teenaged clone of Rick, was filled with teenage angst and hormones despite having a 70 year old mind. When he got back to his body, Rick destroyed all the other Operation Phoenix clones to avoid this from happening again. Though "Edge of Tomorty: Rick Die Rickpeat" shows that if he'd kept working on the project, he would have overcome this.
Mood Whiplash: The Season 4 finale features a sombre song as Rick mourns what he's lost before The Stinger features upbeat adventures about Jerry going on heroics with his invisible garbage truck. Until he runs out of gas and can't find the tank.
MST3K Mantra: The Talking Cat refuses to explain how it can talk based on this. As Rick points out, and Jerry agrees with, the insinuation that one cannot both ask questions and have fun is rather condescending.
The Multiverse: Shows up constantly. The main Rick is from universe C-137. "Rickmurai Jack" reveals that the multiverse that Ricks explore is actually just a small fraction of the whole thing. The Central Finite Curve, as they call it, is merely the collection of universes where Rick is the smartest man in the universe.

And Evil Morty manages to escape it and break into the true multiverse at the episode's end.

My Species Doth Protest Too Much: Assuming that Ricks are counted as a race:

Then Rick C-137 and his anarchist lifestyle that includes genuine love for his grandchildren, all of which, according to Riq IV, is the hallmark of "a rogue Rick." Though given C-137's claims, the very idea of the Council of Ricks could make them this to Ricks in general.
Doofus Rick is quite different from the other Ricks. Not only is he an emotionally stable Nice Guy instead of a Byronic Hero, he's kind to Jerry and embodies Alternate Universe Reed Richards Is Awesome, having cured cancer, instead of Rick's Reed Richards Is Useless.
Cop Rick has a strong sense of honor and responsibility, outright refusing to engage in any criminal activity, along with being appalled by how his counterparts treat Mortys, outright telling Cop Morty that You Are Better Than You Think You Are.

Mysterious Past:

Rick. Beth describes his backstory as "incredibly vague".

"Rickmurai Jack" finally reveals it. Rick C-137 was ready to abandon super-science and be a family man only for another Rick to kill his wife and daughter. Rick went on a multiversal rampage to try and kill the Rick responsible but eventually struck a truce with his various other selves that he would stop his crusade if he helped them rebuild the Citadel. In a drunken depression, he crashed on a version of Earth where a grown-up Beth had been abandoned and moved in.

He also has memories of holding Morty as a baby, something that contradicts everything else that was established.
Candidate

/Evil

Morty denies answering what reality he comes from and where his Rick is.

Never My Fault: Beth in a nutshell, placing the blame for every problem in their marriage on Jerry. When they briefly divorce in Season 3, she blames her kids and Rick. Summer even lampshades this in "Total Rickall". Though as "Promortymus" shows, Summer isn't immune to it either.

Beth's situation in the Season 4 finale is a fine example. Though Rick's non-choice was terrible, Beth had empowered him to make the decision for her yet acts like she was a helpless victim.

No Accounting for Taste: Beth and Jerry. Even a Planet of Hats whose hat is marriage counselling says that they shouldn't be together.
Nominal Hero: Rick. He's saved the day but equally he's made things worse or just sort of blundered around, having changed essentially nothing.
Noodle Incident:

The opening credits of each season are half clips from episodes, half this.
All of the adventures shown in "Morty's Mind Blowers".
When using the Re-spawn Button, Morty managed to tick off the #MeToo movement and Supreme Court Justice Sonia Sotomayor.

Not So Different: The argument of any alternate Rick and Morty. Which the main characters lampshade immediately.
Nothing Is the Same Anymore: The Season 5 finale ends with

the Citadel all but destroyed as Evil Morty shatters the Central Finite Curve, Rick's backstory revealed and he and Morty adrift in space with no obvious way home.

Only Known by Their Nickname: Ever heard of Revolio Clockberg Jr.? He's more commonly called "Gearhead".
Our Presidents Are Different: The President is visually based off of Barack Obama, but has policies more akin to Donald Trump.
Outliving One's Offspring:

Ricks have outlived several Mortys across the multiverse, even killing a few.
Jaguar outlived his beloved daughter, Katarina. Revealing this was the last mistake that the Agency Director ever made.

Rick

's Cynicism Catalyst. His

Beth

died decades ago.

Papa Wolf: For all his flaws, Rick. Hurting one of his grandchildren is a surefire way to unleash the full wrath of the smartest man in the universe.

Per Word of God, and supported by Doofus Rick and "The Whirly Dirly Conspiracy", Rick's main reason for hating Jerry is impregnating Beth and stealing away her future. They'd get along if it weren't for that.

Planet of Steves: The Citadel of Ricks. Full of Ricks and Mortys.
Product Placement: Parodied with the NX-5 Planet Remover. It was partially developed by Wrangler and thus can't incinerate Wrangler jeans.
Protagonist-Centered Morality: In the Season 4 opener, Rick refers to the Crystal Poachers, who illegally mine Death Crystals, as low-life scavengers. When Morty asks what they makes them, as they were mining Death Crystals, Rick answers, in a "duh" tone of voice, that they're Rick and Morty.
Rape Is a Special Kind of Evil: For all the lines that the show has crossed, they won't cross this one. No matter the circumstances, every Double Standard about rape is averted, with the rapist always being portrayed as a monster.
Real After All: Rick's fabricated origin story in the Season 3 opener is revealed to have, largely, happened in the Season 5 finale.

To the main Rick.

Reed Richards Is Useless: Rick. He's tried to go legitimate but it's just not his style.
Related in the Adaptation: In The Real Animated Adventures of Doc and Mharti, Doc Smith was simply a friend of Mharti McDonhalds. Here, Rick is Morty's grandson.
The Remnant: After the Season 3 opener burns down most of the Galactic Federation, The Stinger shows that Tammy is in control of what's left. They come back in the Season 4 finale as the "New Galactic Federation."
Replacement Goldfish: With an infinite number of universes, there are an infinite amount of Smith families to slide into. Rick even notes in the Season 3 premiere that the Summer that Riq IV is holding hostage isn't even his original Summer.
Robot War: The robots wage one against the Lizards in "The Old Man and the Seat". Needing information to find out who used his private bathroom, Rick ends it in the robots' favour.
Screw Yourself: The Creepy Morty is a temple to Morty's sexual deviances with everyone wearing his face.
Senseless Sacrifice: Dr. Xenon Bloom. The train could be run on automatic. He tries to board, but the E.coli swarm rips him apart.
Serious Business: To quote Mr. Goldenfold: "Now look, we're going to be dealing with some real serious stuff today. If you haven't heard of it it's called math! And without it, none of us would even exist."
Sliding Scale of Cynicism Versus Idealism: Easily one of the most cynical cartoons ever produced. Nothing matters, no one's alive for a reason... come watch TV?
Shout-Out: Space Beth's get-up has a few shades of Evil!Britta.
Show Within a Show:

Along with Summer, the titular duo are big fans of an A-Team parody called "Ball Fondlers".
Morty's teacher, Mr. Goldenfold, is seen watching (and later dreaming about the main character of) a sitcom called "The Days and Nights of Mrs. Pancakes". Rick is a full season behind him.
"Get Schwifty" focuses on the Cromulons' musical reality show, "Planet Music".

Small Role, Big Impact: Weird Rick. After being revealed as Real After All, "Rickmurai Jack" reveals that his

killing of Rick C-137's original Beth and his wife Diane

was Rick's Cynicism Catalyst and what set him on his apathetic path that led to Rick fighting against the Federation and the founding of the Citadel of Ricks. Weird Rick, despite C-137's best efforts, was never seen again but he had a massive impact on everything.
Soapbox Sadie: Holo-Rick. To him, Everything Is Racist and holophobic... until he gains mass.
Space Whale Aesop: As Rattlestar Ricklactica puts it: Stay in the car or else you'll give snakes Time Travel technology which they'll use to target you and potentially destroy the universe.
Spiritual Antithesis: Superficially, Rick and Morty is the exact same thing as Doctor Who. Both shows follow a Science Hero who shows their companion the myriad of the cosmic horrors and wonders beyond Earth.[1] In practice, they couldn't be more different. While the Doctor believes that everyone and everything matters, Rick has most empathically said that nothing, even the life of his own family, matters, casually murdering people and whole civilizations that the Doctor would go out of his way to save. While Doctor Who speaks of the wonders of Time Travel and rarely explores Alternate Universes, Rick and Morty eschews Time Travel, barring one Time Travel Episode, instead focusing on exploring The Multiverse.
Sufficiently Analyzed Magic: Happens every time that magic is brought into the series.
Superman Stays Out of Gotham: Justified. Regardless of Rick's intelligence, he's unreliable, boorish, sadistic, and overall just a Jerkass so the Vindicators don't want to call him.
Suspiciously Specific Denial: Rick's Hollywood Acid vats are definitely not Mountain Dew in a hot tub.
Take a Third Option: In "The ABC's of Beth", Beth is offered two choices: Go explore the galaxy while perfect a clone of her lives out her life on Earth or stay on Earth and break the cycle of abandonment. She chooses to have Rick choose for her.

He chose both. He cloned Beth, made it impossible to determine which of the two was the clone, and sent one into space. The show is not shy about framing Rick as an awful person for this non-choice.

Take That: It's a Dan Harmon show. They come fast and unsubtle.

There's a subtle one with the box marked "Time Travel Stuff" constantly being on a shelf. In other words, time travel has been shelved.
Entering dreams is like Inception... "except it'll make sense."
"Vindicators 3" is a giant middle finger to the superhero genre, the Marvel Cinematic Universe and Guardians of the Galaxy in particular. The heroes are all portrayed as vain idiots who do far more harm than good, despite being touted as different, they all have a Dark and Troubled Past and Rick outright says that what they do in a year could probably be knocked out in a few hours.
"Vindicators 3" also has a memorable jab at Saw where Rick claims that he wouldn't copy Saw on the basis that "I'm a drunk, not a hack".
"One Crew Over the Crewcoo's Morty" is a middle finger to every heist film ever made. The phrase "contrived bullshit" is tossed around a few times. Rick even has "anti-movie suits" that casually No Sell all the defences of an Indiana Jones style tomb.
"Claw and Hoarder: Special Ricktim's Morty" summarizes how the crew views the magic genre in one infinitely quotable line: "Stop trying to pretend like magic involves skill or thought."
Take every cheap joke about the The Terminator and you have "Rattlestar Ricklactica".
Zig-zagged in "Never Ricking Morty". On the one hand, calling down Jesus destroys the story's marketability, relatability and broad appeal, and Morty lampshades the cheap shot, but as Rick points out, the story ended by Jesus literally coming down from above and saving the day. How is that offensive to Christians?
As indicated by the title, "Star Mort Rickturn of the Jerri" is the series' jab at more than a few Star Wars tropes. Not only do they take a jab at the Death Star's thermal exhaust port, but the bad guys here are smart enough not to fall for the "stolen shuttle" ruse and actually think to guard their superlaser.

Take That, Audience!:

In the Season 3 finale, Mr. Poopybutthole reappears, having gotten married and gone back to school during the hiatus. He's sure that the audience didn't spend all that time just waiting for new episodes.
Fascist Morty in Season 4. He represents those that don't want to be challenged by anything they watch and those who claim that they don't want politics in media, when what they really want is no liberal politics. As Rick lampshades, all Fascist Morty does is say what he doesn't want to see, rather than offering any concrete ideas for what "classic Rick and Morty" entails.
"Never Ricking Morty" is unsubtle about it. A show doesn't need to be serialized to be fun. Though the season finale then followed up on some lingering plot threads of Seasons 2 and 3. Make of this what you will.

Teen Pregnancy: Beth became pregnant with Summer at age seventeen.
Tele Frag: In the Season 3 opener, Rick teleports the Citadel into a Galactic Federation superprison.
The Little Shop That Wasn't There Yesterday: Summer gets a job there in "Something Ricked This Way Comes".
The Thing That Would Not Leave: How Jerry views Rick.
Thinking Up Portals: The portal gun.
This Was His True Form: The Memory Parasites.
Time Police: They look like testicles and are all Angry Black Men.
Time Travel Episode: "Rattlestar Ricklactica". Rick lampshades it. Even the shelved box marked "Time Travel Stuff" falls over and spills its contents.
Too Dumb to Live: In "Rattlestar Ricklactica", the family has a moment of horrified realization that yes, it is possible for Jerry to screw up wearing shoes.
Took a Level In Badass:

After being totally reliant on Rick in Season 2, the President is able to stalemate him down to fisticuffs in Season 3.
Bird Person is brought back as Phoenix Person, able to fight Rick on equal footing, nearly killing him, something that even the Vindicators couldn't hope to accomplish.

Took a Level In Dumbass: Jerry wasn't exactly a genius in Season 1, but he was still reasonably intelligent. By Season 3, he's bordering on Too Dumb to Live.
Took a Level In Jerkass:

Morty becomes quite irritable in Season 3 when exposed to Rick 24/7. Thankfully, he realizes this by the end.
After being rather amenable in "Get Schwifty", the President becomes very stubborn and aggressive in The Rickchurian Mortydate.

Tsundere: Rick is a non-romantic one to Morty. For all that he bashes on his grandson, it's shown that he does care about him greatly and outright craves his attention.
Twenty Minutes Into the Future: The US government has some tech that can fight Rick on a reasonably equal footing. There's also Kirkland-brand Meeseeks boxes.
Ungovernable Galaxy: The galaxy is full of galactic terrorists, sub-galactic dictators, alien mobs, Eldritch Abominations... and Rick, who is probably more dangerous than all of them put together. The Federation does fight them and, aside from Rick, they seem quite good at it... but it's also a People's Republic of Tyranny that's mainly interested in wealth. Rick outright says that everyone in the galaxy wants to conquer the galaxy.
The Unmasqued World: Everyone knows that Rick is a super-genius and that aliens and monsters exist, but it's otherwise no different from the real world.
Unreliable Narrator: Rick's origin story in "The Rickshank Redemption". He says that it's totally fabricated

but about 95% of it did happen

.
The Unreveal:

So what was in that talking cat's mind? It's so horrifying that Jerry vomits before going into a Troubled Fetal Position and Rick contemplates suicide.

There are two Beths. Which is the original and which is the clone is unclear.

Unusually Uninteresting Sight: Everything. Aliens, monsters, super-science, dragons, talking cats and anything in-between are just a fact of life.
We Can Rebuild Him: Phoenix Person.
Wedding Day: The Season 2 finale, "The Wedding Squanchers". It was a set-up to catch all the rebels of the Galactic Federation.
Whole-Plot Reference: Frequently. For example, the Morty subplot from "Tales From the Citadel" is Stand by Me while Cop Rick's is Training Day.
You Are Number Six: Many Ricks on the Citadel refer to themselves by the number of their universe. The main Rick is C-137. Others include D-99, C-131, K-22, J-22, and D716.

The notable exception is Doofus Rick who wants to be called Rick J19ζ7 but keeps getting bullied by the other Ricks.

You Do NOT Want to Know: Why the Smith house has blast shields.
You Keep Using That Word: Like most media that deals with Alternate Universes, the show doesn't quite seem to grasp that "dimension" and "universe" are not synonyms. A dimension is just a set of directions (up/down, left/right, forward/back).
↑ For bonus points, the Doctor's first companion was his granddaughter just as Rick travels with his grandson