Jurassic World: Dominion Dominates Fandom Wikis - The Loop
Play Sound

YMMV •

Radar

•

Quotes

• (
Funny

•

Heartwarming

•

Awesome

) •
Fridge

•

Characters

•

Fanfic Recs

•

Nightmare Fuel

•
Shout Out

•

Plot

•

Tear Jerker

•
Headscratchers

•
Trivia

•

WMG

•

Recap

•
Ho Yay

•
Image Links

•

Memes

•

Haiku

•

Laconic

•
Source

•

Setting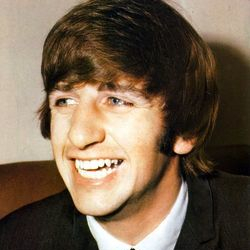 Ringo Starr (born Richard Starkey July 7, 1940) was the more notable of the two drummers for The Beatles, replacing Pete Best. And he is awesome. Following his career with the Fab Four, he has had a very successful solo career.
Aside from his musical career, he's also a pretty accomplished actor, starring in the prehistoric comedy film Caveman, and had a co-starring role with Peter Sellers in The Magic Christian, and has appeared in many other films over the years.
Some see him as the the Beatles' Garfunkel, having only been credited for writing two Beatles songs which are mostly viewed as Album Filler (although "Octopus' Garden" appeared on a Greatest Hits Album). Ringo himself is often very Self Deprecating about this. The other Beatles tried to avoid this, however, by giving him at least one song to sing on every album, and have repeatedly declared his importance for the band in interviews. John Lennon, who often hired Ringo as his drummer after the breakup because he had gotten used to his groove, noted in an interview that "Ringo's a damn good drummer. He always was a good drummer. He's not technically good, but I think Ringo's drumming is underrated the same way as Paul's bass playing is underrated."
Oh, and did we mention he provided narration for a large number of episodes in the Thomas the Tank Engine series, and also played the Conductor?
Solo Discography:
Sentimental Journey - 1970 (A Cover Album of Tin Pan Alley standards, decades before Paul McCartney, Rod Stewart and other singers did the same thing)
Beaucoups of Blues - 1970 (Another Cover Album, this time of Country Music songs)
Ringo -1973
Goodnight Vienna - 1974
Ringo's Rotogravure - 1976
Ringo the 4th - 1977
Bad Boy - 1978
Stop and Smell the Roses - 1981
Old Wave - 1983
Time Takes Time - 1992
Vertical Man - 1998
Ringo Rama - 2003
Choose Love - 2005
Liverpool 8 - 2008
Y Not - 2010
Ringo 2012 - 2012
---
Ringo Starr provides examples of:
↑

For those who don't get it, "ringo" is Japanese for apple and "sutta" means squeezed.